The all Aussie Three Way
6 December 2018 Dan Bowden

The story for this begins back when we first made our Wheely Clean some eight years ago. This wheel cleaning formula goes a purple when it reacts with iron deposits that have strongly bonded to wheels, this reaction helps remove them quick and safe. One day we sprayed it on our work van's front guard and was amazed to see it react strongly, no doubt due to the brake dust that had been building up from the thousands of km's it had done. What amazed us even more was when we sprayed it on the bonnet and roof it had an even more dramatic reaction! It made us realise that iron contamination was happening all over the cars. Initial thoughts would be that clay barring would remove them, but this proved to be false. It did help, but we would spray a freshly clayed and super smooth feeling panel with the Wheely Clean and the purple reaction of these little iron specs was still occurring, as they were embedding deep into the paint, far from where the clay could get to them.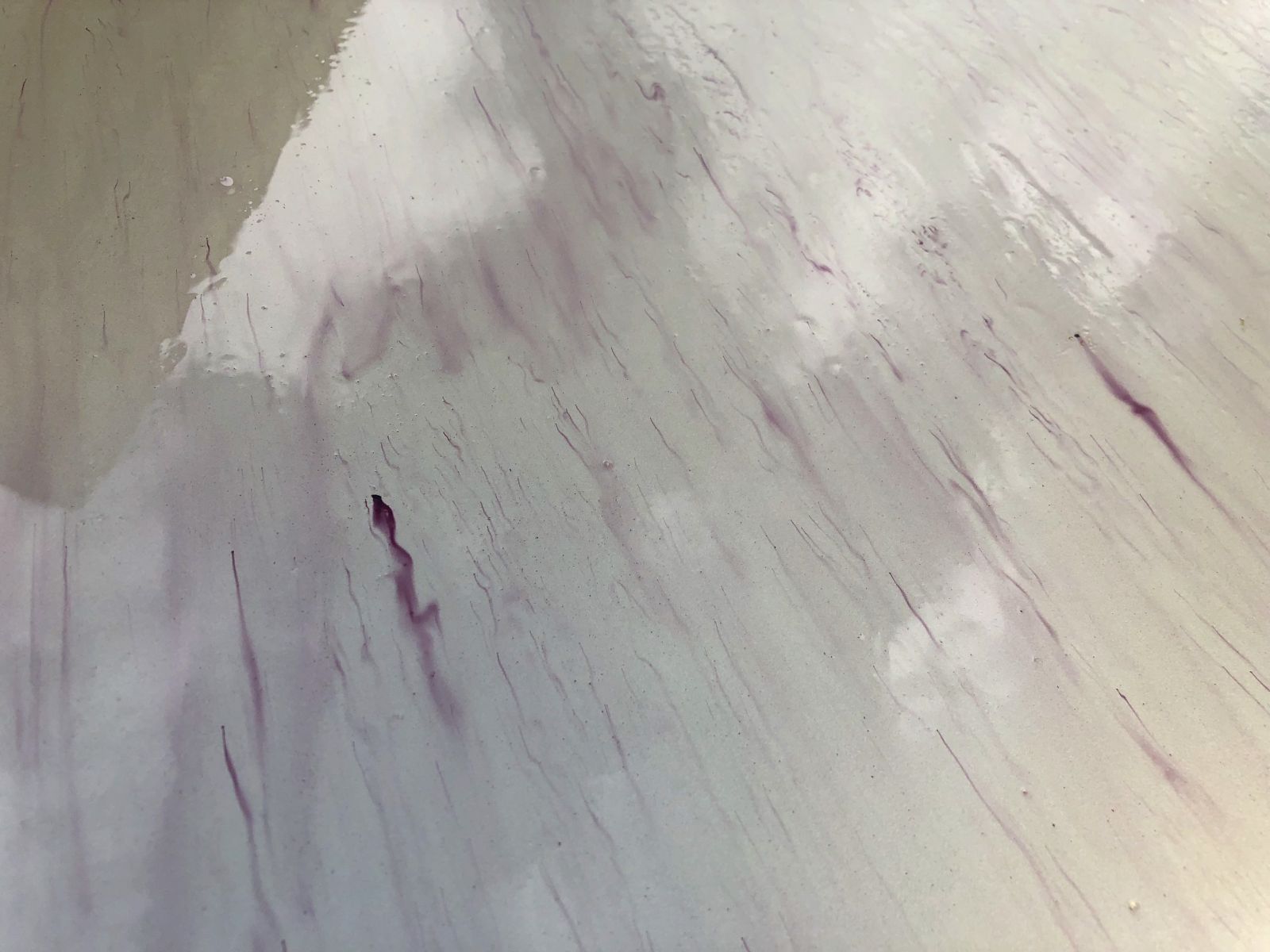 So the easy answer was to use Wheely Clean as a decontamination/ iron removing product, which sounds good when here typing it, but for those who remember this early version of the product will never forget its quite pungent, nose singeing smell… Spraying smaller wheel areas is one thing, doing huge body panels, let alone a whole car was a new arena and there was no way a normal enthusiast could ever be subjected to such a radical stench and then be able to look at our bird logo without being scarred by the experience!! So we shelved ever using Wheely Clean for this job (and saved countless peoples nose hairs too) unless we had someone contact us with severe issues of iron paint contamination and they had no choice but to use it.
Two years ago we began the journey into our latest version of Wheely Clean, with a new low odour active ingredients which reopened the talk with our chemists to formulate a decontamination spray. After they had finished working on the Wheely Clean formula another 6 months of solid work was put into more lab testing to nail the chemical reaction and achieve the best iron dissolving effective blend possible. (From what was learned, we made a 2nd version of Wheely Clean now known as version (B), the ballistic version due to the way it reacts so strongly with iron!) Our 3 chemists futher formulated from our feedback and created a fantastic blend that removes the iron contamination, as well as cleaning off older waxes and sealants. To top it off, it was made to be used as clay lube as well, meaning you can do an entire paint decontamination process in one job which is why we have given it the name of Three Way. Having one product do these 3 jobs in one application is game changing and will save car fanatics some precious time and money as well.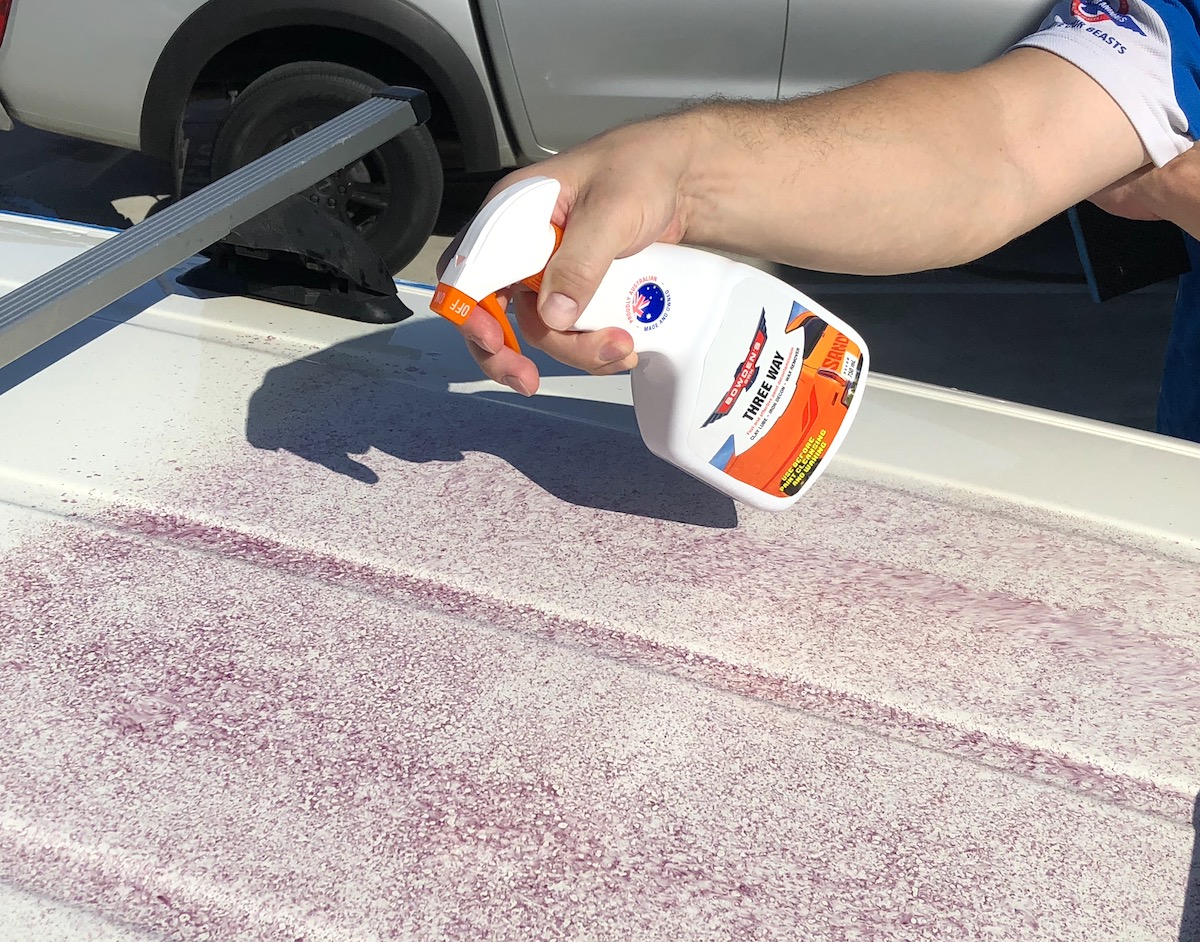 Three Way is a specialised product developed for the intensive removal of embedded ferrous iron and other hard to remove contaminants before paint cleansing, waxing and sealing. Althought they might seem similar on the outside, this paint decontamination product is formulated quite differently to a wheel cleaning product. The main difference is that Three Way does not have the set of degreasers built into its formula that are targeted to help clean grime and built up dirt on the filthiest wheels. We found they are simply not needed and can affect how well the paint decontamination product will work. Three Way also has a greater concentration of the active ingredients, targeted purely for the iron removal process, in fact it's one of the highest concentrations we have found of any purpose made decontamination product on the planet.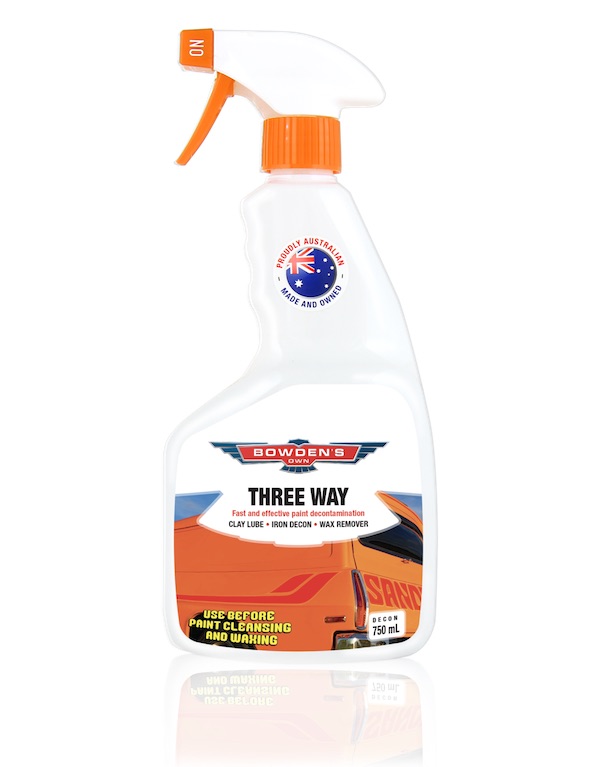 Three Way was created after 6 months of intensive lab testing and real world trial and error to work amazing at its job, as well as be practical to use here in SE Qld, so it has some really different attributes which we'll run though right here:
• Powerful and super-fast reacting formula effectively dissolves iron contaminants safely from your paint.
• Created to be super lubricating for use with our clay bars, claying rubber pads and towels.
• pH neutral formula uses unique paint safe cleaners to help remove old waxes and sealants.
• Thick liquid for slower drying and effective dwell time on your side panels.
• Unlike wheel cleaners, it does not worry if Three Way dries while using it, as it can simply be washed off, even days later.
• Hydrophilic formula spreads better over paint surfaces, to better aid iron removal and let you use less product.
• Safe on modern clear coat paint, polycarbonate headlights, exterior plastic trims, chrome, glass and rubber. It's not compatible for porous single stage paints or rattle can spray jobs.
• It doesn't smell of death, or burn a hole through your nose. It has a different and some say slightly better smell than our current Wheely Clean. Note that we actually made a formula that got rid of this smell completely, but it was very slow to react with the iron as well as being only a quarter as effective. It would have been cheaper to reduce the expensive active ingredients in it, but having something that works bloody awesome has always been far more important to us than the smell...
• Comes in a big 750ml bottle that can do even the biggest and most contmainated of cars in one application.
• Leaves a great clean surface, ready for easier paint cleansing, waxing & sealing.
• Safe to use on paint protection coatings, can even help bring back some from the dead if they are badly contaminated.
• All developed and made in Australia by our passionate team of detailers & chemists.
Using it is very easy, simply spray it onto a clean and dry panel, wait a minute or two for the purple reaction. The more iron in the paint, the better its reaction will be. Also note that darker colours won't show the purple reaction, like a white car will, even though it's still happening. After two minutes, hose the panel off and continue to the next one. After it's all done, wash and then dry the car. If the contamination is quite bad, which you can tell by the reaction you'll get, we would reccomend drying the panel and then repeating the above process for a 2nd treatment, or use it with our new Claying Rubber as per this next bit below.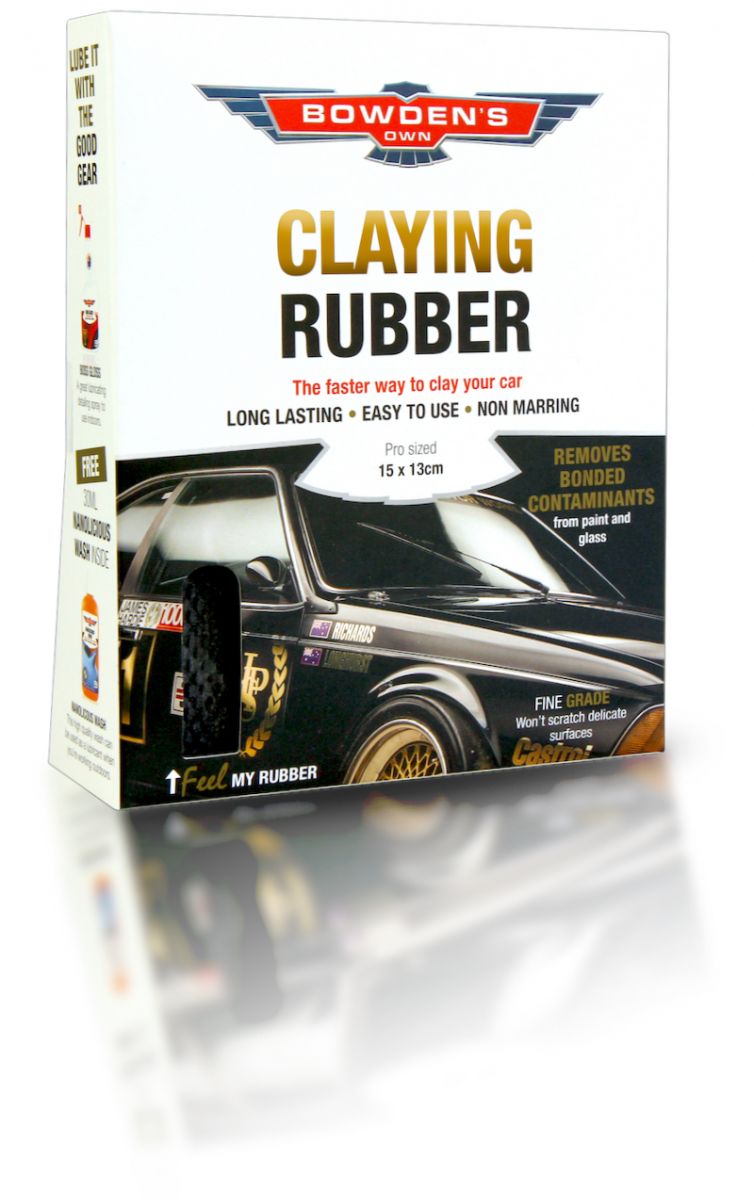 But we've found for the most effective decontamination, use Three Way as the lube for our new Claying Rubber. This is a very specialised rubber compound that that we've found to be super fine and won't ever micro-scratch or marr even the softest paints. It has replaced our older Clay Towels as it lasts longer, is more effective, as well as being just as fast and easy to use on larger panel areas.
Use it in the shade, with gloves. Spray it onto a clean, dry panel and wait one minute for the product to begin reacting. Then mist Three Way onto the rubber pad and gently rub the large rubber pad using no pressure in straight lines over the area you've treated. Use it the same as you would use a clay bar to remove the contamination. Do this for a minute, and the combo of the rubber pad and the product do a safe, deep clean like nothing else. Keep gently rubbing it over the panel till it feels smooth over the entire surface. Wait a further minute and then hose off with fresh water and continue to the next panel. Wash the car and dry and its ready for the next step of paint cleaning before you apply your favourite Aussie made wax or sealant.
The Three Way can be found through all of our participating retailers. Part code to quote if has sold out is BO3WAY. Be careful of Googling for more information on this one if you're at work as well…
The Claying Rubber that we recommend to use with it will be in stores the following week, you can special order it from any of our suppliers with part code BOFCRBIG.

If you have any questions, please email info@bowdensown.com.au or FREECALL our office on 1800 351 308.
Love the Three Way,
Dan Bowden
---
---
Comments (2)
Fantastic products

By:

John Welsh

on 16 December 2018

The 3 way with rubber cloying just work fabulously. Once again, thanks for your passion to car care.
---
bloody wow

By:

rob grant

on 6 December 2018

Oh Bowdens you have done it again!!!!
---