"Tru Blu", our latest formula of the Metal Polish
20 October 2017

Not being the type to make a product and then kept it the same for any long period of time, we are always on the constant search for new ways to create better solutions for our car care range.
Our Metal Polish has given us a lot of fans over the years, and was well overdue for a look at with the last revision of it being over 6 years ago. So last year we got back into it, finding out what new things could be done to make it even better...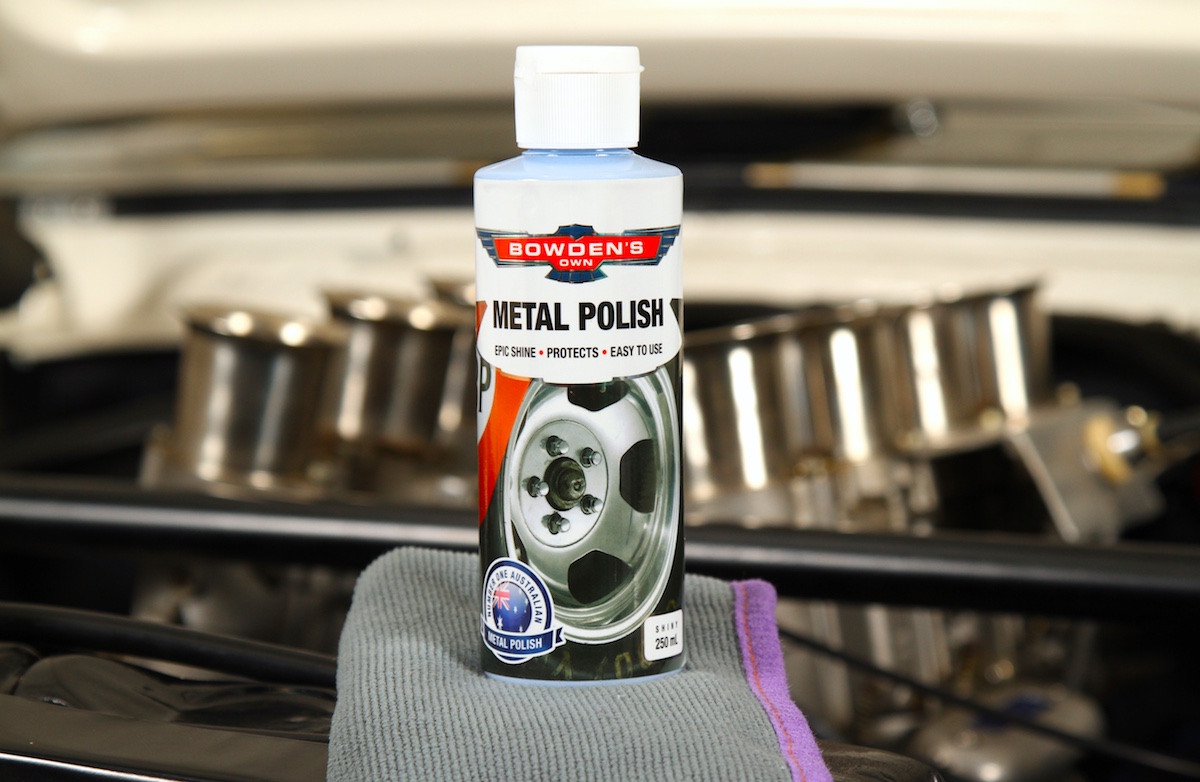 What we found in our search was a few super interesting fine rouges/ polishes and nice lubricating additives that gave us very worthy updates in the usability and shine.
For those who have used our gear for a while, you'd know that our original formula from 2004 was a really heavy feeling one, as it was piled full of great jewellers compounds that made hand polishing a complete breeze. However, it had issues... the biggest being that it was no good to use with polishing machines, balls or cones, as it would dry out too fast.
So we made a new "red" formula that was great for both use by hand and machine. We've kept this same formula for the last 6+ years with no complaints, so the new combination is has a bit from both previous formulas. It's back to having a lot more of the good polishing gear in it, so you'll feel the weight of it! But with a different updated set of abrasives and lubricants so it won't dry out and is a good step up in being equally good for both machines and hand use.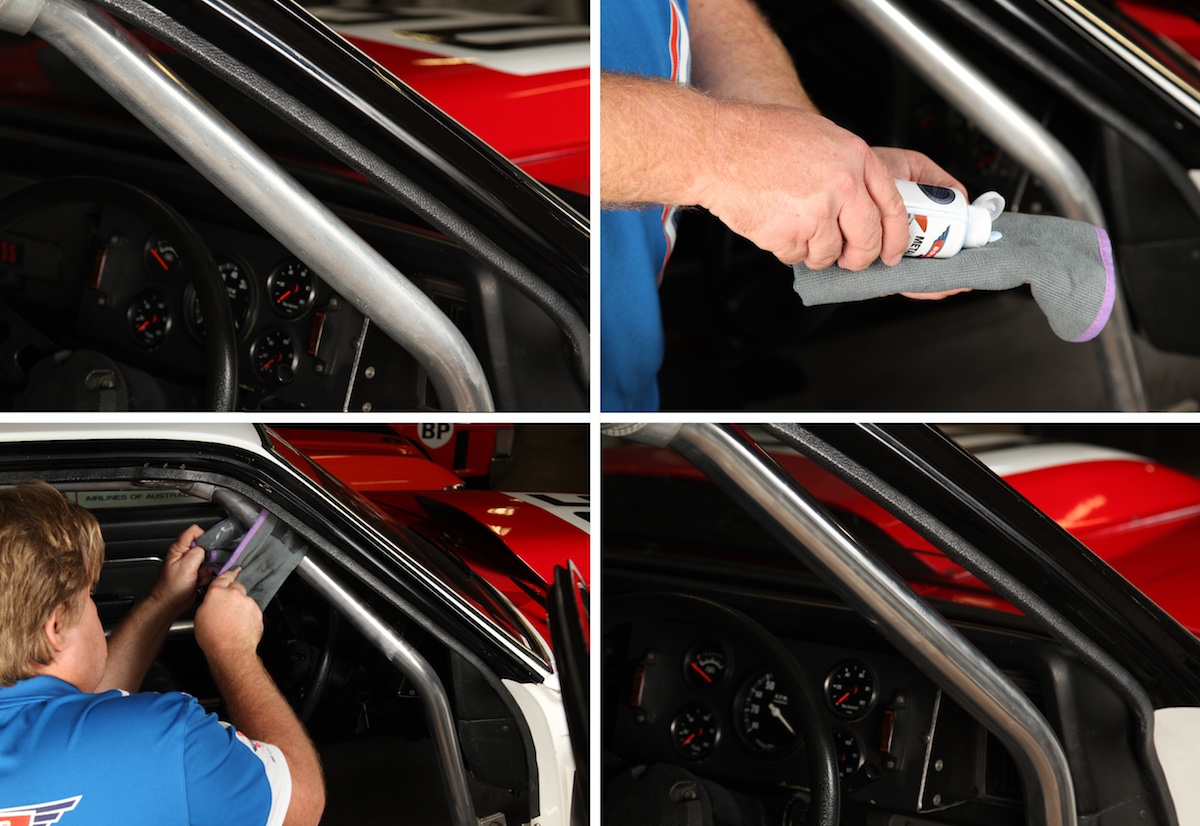 This new looking "Tru Blu" formula is a bit faster and easier to use, the shine it leaves now lasts a bit longer. Most importantly is that it still leaves that lovely mirror finish that people have come to expect from our Metal Polish. Here's a few images from an afternoon of polishing many different areas and metals on our cars in the sheds.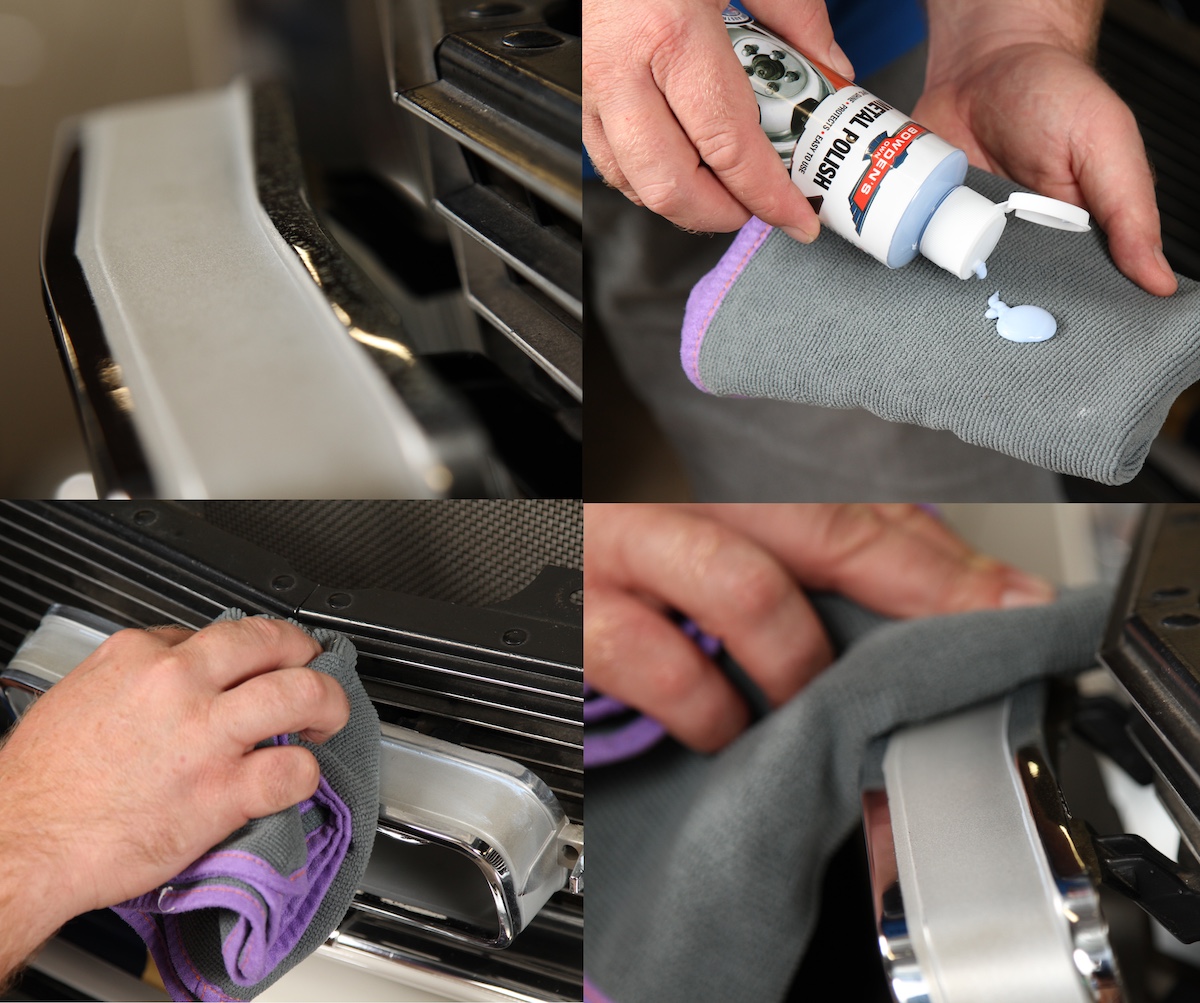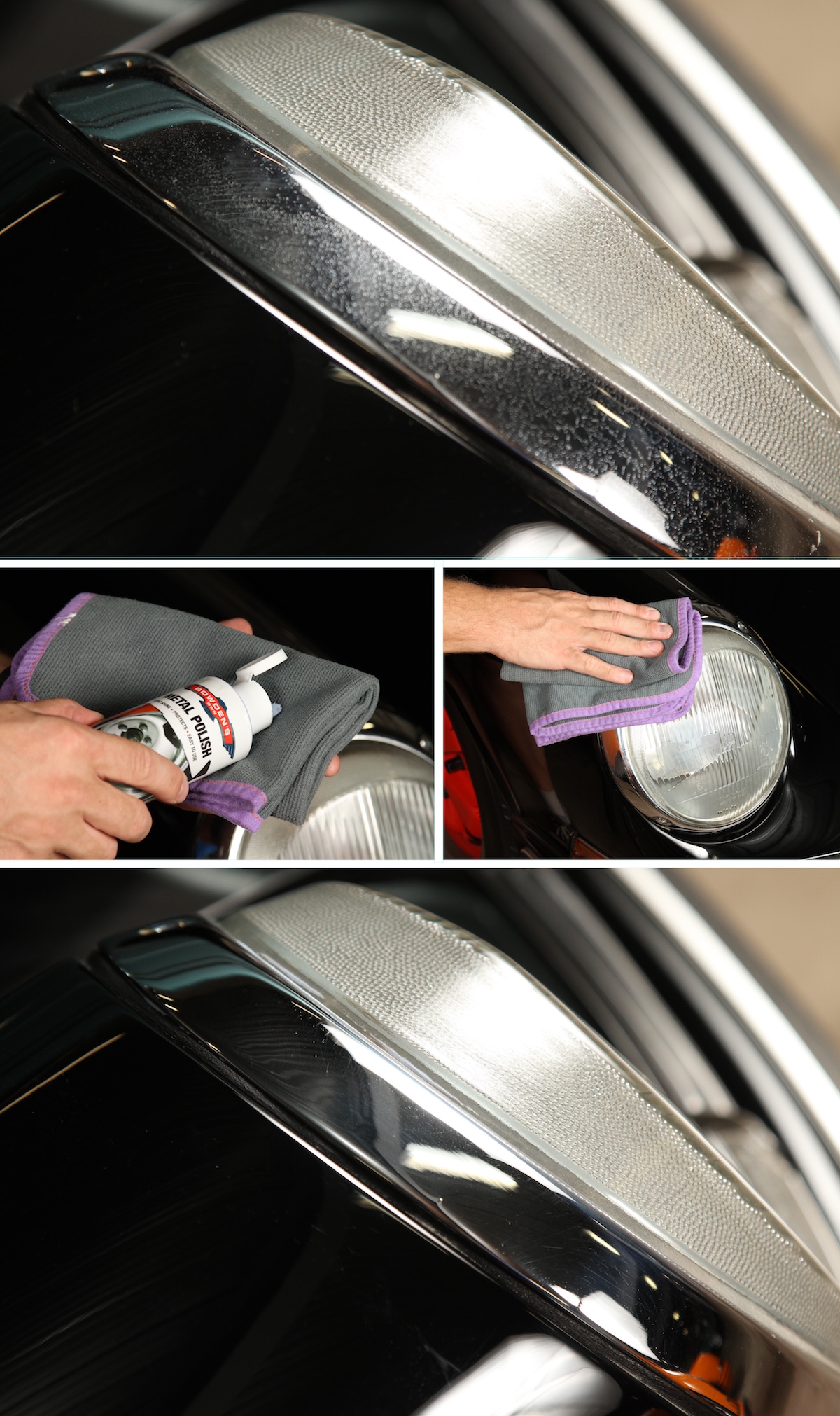 Another cool thing about this new version is as we have so much polishing material in it, that you don't need to use much. A pea sized drop is more than enough for it to work really well. We always find that less is best for this one, making the 250ml bottle pretty solid value.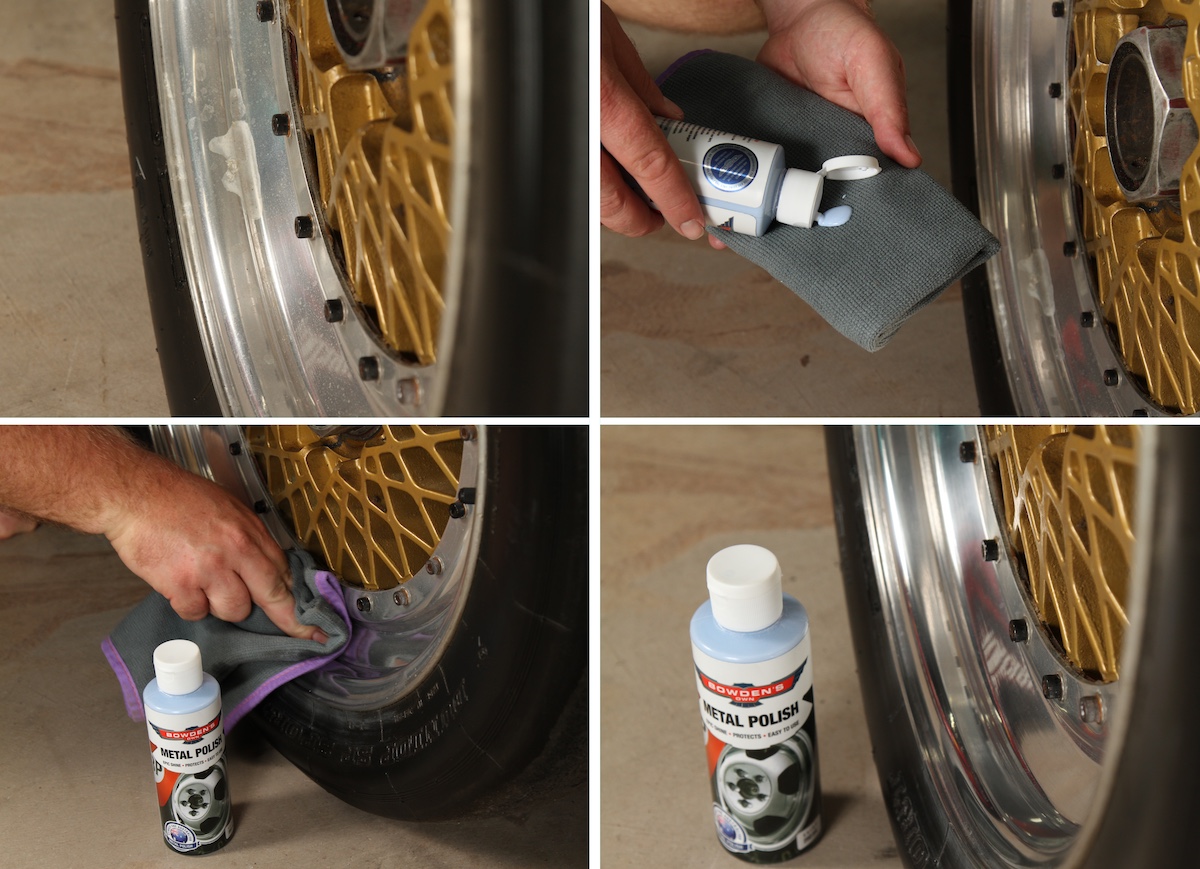 Now all this shiny stuff is all great to see, but the thing we love is how you can now wash the black polishing residue from your hands with just water... Oh yes, you read that right. Just. Water. We did this as so many metal polishes have that heavy black residue that stays in your hands for days after the job (shows proof that you do work), unless you use a commercial, heavy duty hand cleaner to remove it. My skin is pretty sensitive and I cannot use any harsh detergents as it dries and rips it apart, so this was something I really needed and my hands are pretty happy we did!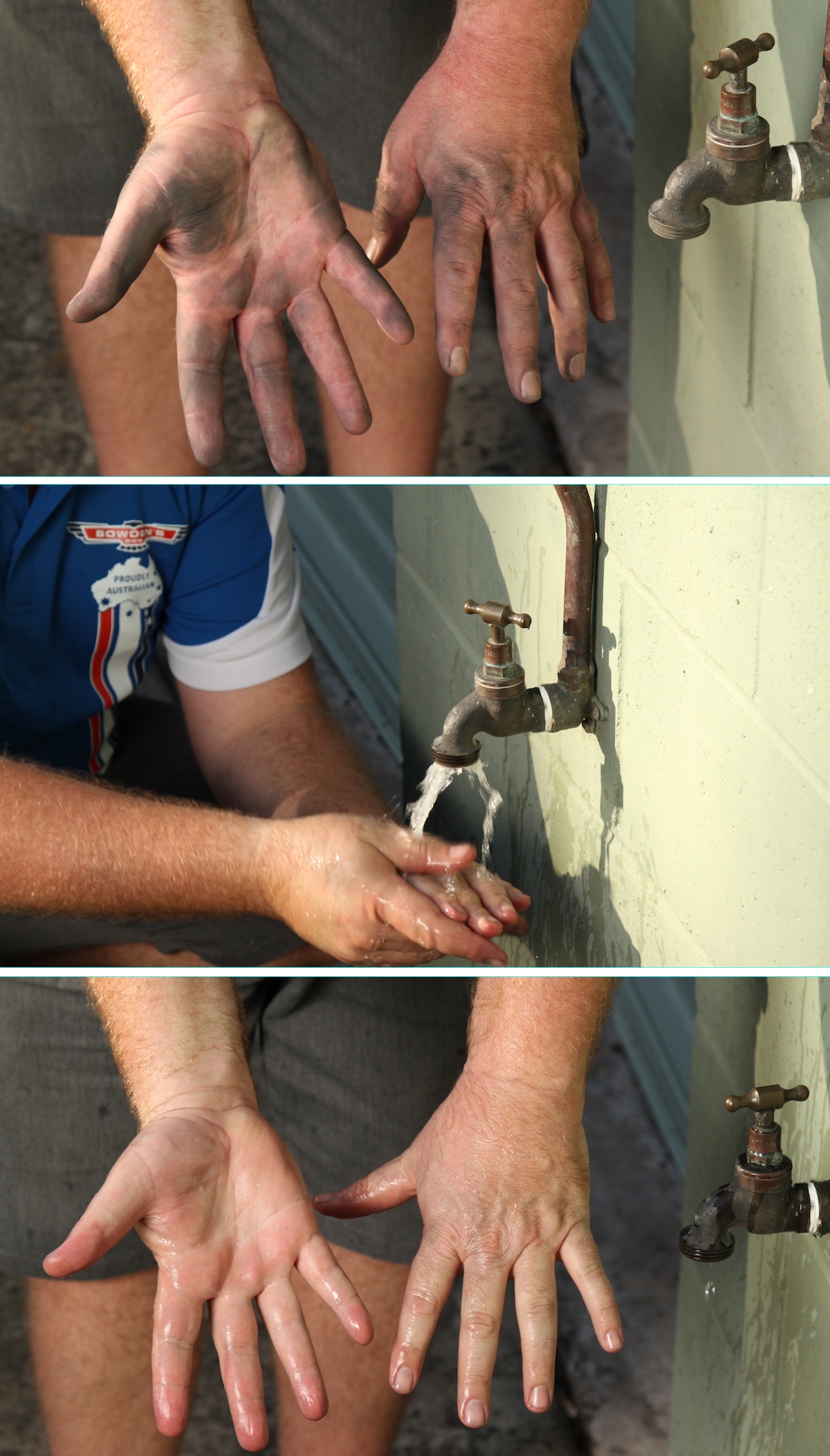 This new formula is something we are very proud of and is guaranteed to bring up a shine to any dull or tarnished polishable alloy, stainless steel, chrome, glass (yes it's a great glass polish) and even brass as well.
This new blue colour for it makes it very easy to spot and has only begun filtering into stores over the last few weeks, so keep an eye out for this new Aussie made product next time you're in one of our great supporting stores.
If you have any questions, please email info@bowdensown.com.au or FREECALL our office on 1800 351 308.
Love a good polish,
Dan.

---
---