Wipe Out - the windscreen wash additive for fanatics
30 October 2018 Dan Bowden

Since we have had cars, I've always been apprehensive about hitting the washer stalk for fear of any washer liquid getting on the paint and leaving those messy water spots or etch marks when it dried. I'd rather drive dangerously into the afternoon sun, or have plain water in the washer system that smears over the screen than having to remove any water marks from the paint. Crazy I know, but this is me!
About 6 years ago we asked a local chemist to develop a windscreen wash additive for us, but everything we received and tested never quite worked how we wanted, so the product was shelved. Two years ago we began looking into it again and a bunch of new formulas were made up, again to face similar conclusions and failures we had years ago. Then, just before we began a big road trip to Sydney, we recieved another new formula to trial. In that 2500km road trip we finally had something we kind of liked and from that we began further development to hone it over the next 6 months into our latest new product; Wipe Out.


What's special about this one?
Won't leave water spot / etch marks, especially when used with distilled or filtered rain water.
Vaporises away with no streaking or smearing, for perfectly clean windscreens.
No aggressive solvents, ammonia or salt, safe for all paint, rubbers, chrome and plastic trims.
Won't remove or affect quality waxes, sealants or paint protection coatings at the regular daily use ratios.
Easily cleans off heavier kamikaze bugs and road grime at the bigger road trip mix ratio.
Does not damage or create stress cracks in polycarbonate headlights.
Lubricates wipers so they work better and reduces wiper chatter.
Anti-corrosives to stop rust forming on wiper arms and around windscreens.
Smells great, so you (or the car behind if you have poorly adjusted wiper jets) can faintly smell it through the car after each use.
All Australian developed and made!
Good value concentrate
Wipe Out is a stronger concentrate and after much testing we have recommended a 20:1 ratio to be ideal for daily use. This means the 1.1 litre bottle makes up to 23 litres, giving great value. We have also added a measuring ruler on the side of the label, (that our label crew needed to apply the in just the right spot) to help get the right dilution ratio. If you're going on a road trip, a stronger 5:1 mixture is better helping with the Aussie kamikaze summer bugs.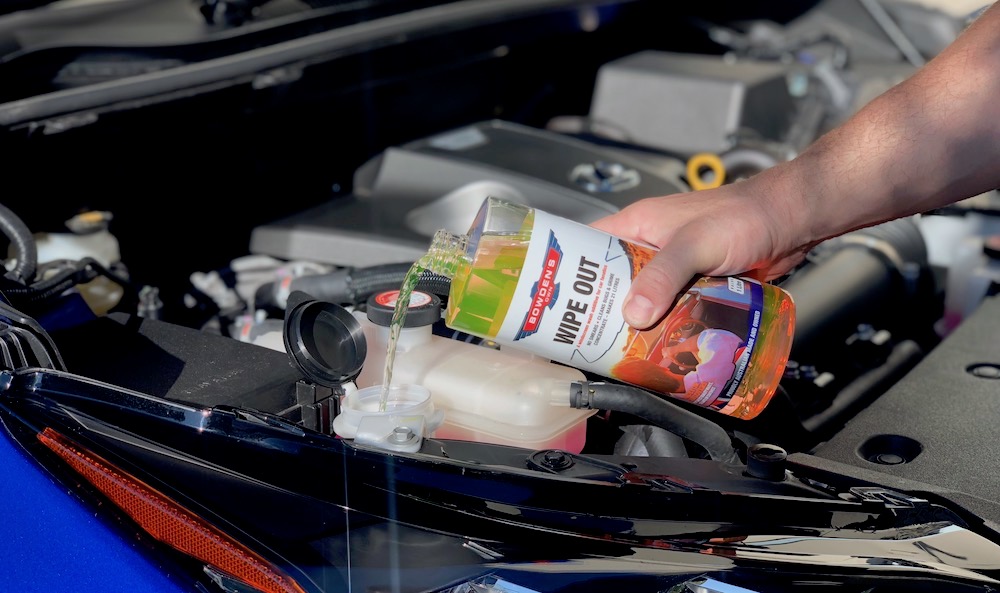 When adding to your windscreen washer reservoir, first find out what capacity it has either from the factory manual or online. Pump or let it run out of the previous wash solution (don't mix this with others), and then add another litre of water to rinse clean the reservoir and washer lines. Then add half the amount of water, followed by the amount of Wipe Out you need, then fill it up with water so it mixes in well. Another easy option (if you cannot find what size your reservoir holds) is to mix it in a seperate jug or bottle. If you're really fastidious, we suggest you use a demineralised water over tap water, to minimise the chance of potentially harder water leaving marks when it evaporates. For this reason we have decided to offer some other options for you...
Other size bottles and a higher end pre-mix
We have made Wipe Out concentrate available in bigger 5 and 20 litre bottles, as well as smaller 125ml Mini Me too. Then for the most hardcore fanatics, we have also made it in a pre-mix, with a super expensive food grade, filtered, dimineralised/distilled water, so you never have to worry about water spots ever!

It's available in many stores now
You can now get the Wipe Out one litre concentrate from many AutObarn stores, or special order it in with part code: BOWOUT from many of our other supporting resellers. The premix and concentrate bulk drums are also available to order and coming very soon:
Concentrate part codes:
Mini Me 125ml - BOWOUTMINIME
5 litres - BOWOUT5L
20 Litres - BOWOUT20L
Pre-mix part codes:
5 litres - BOWOUTPM5L
20 litres - BOWOUTPM20L
I hope you can all now lose your fear for the washer stalk and enjoy using this as much as we now do!

If you have any questions, please email info@bowdensown.com.au or FREECALL our office on 1800 351 308.
Love your car,
Dan Bowden
---
---