Meet our Big Black One & Little Chubby
12 April 2018 Dan Bowden

For years we've been testing lots of different wheel brushes - breaking just about every brush possible! We have now given the tick of approval to two brushes that we were lucky enough to get custom created for us by a local Queensland brush maker. So let me introduce the Big Black One and the Little Chubby.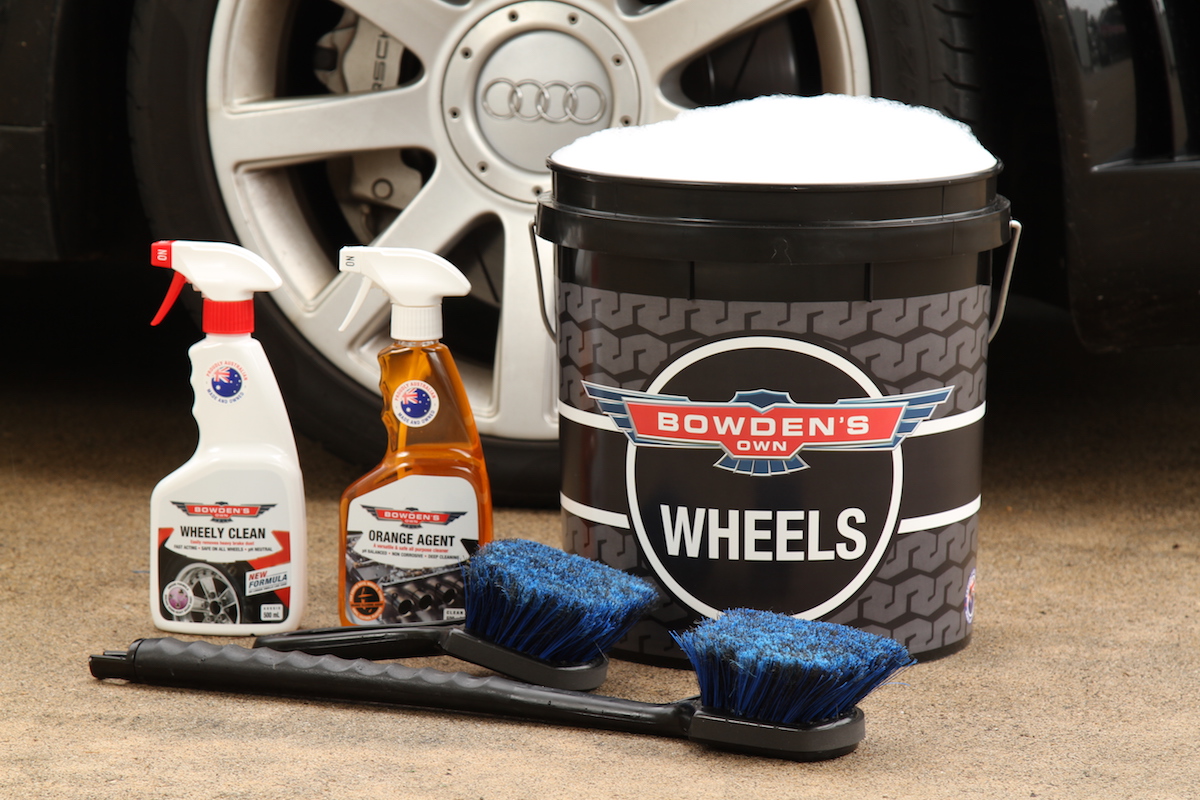 These brushes both use a solid plastic construction for the main part of the brush, so you won't ever break them! After a bit of testing, we chose a blue and black mix of synthetic bristles, as we were finding that natural horse or boar hair bristles could become brittle and sometimes fall out over time. These new bristles are still soft, but have better rigidity and greater density so they will clean really well, rather than fall over like the softer types can. We have also had the bristle ends machine feathered, to be safer on more delicate surfaces and areas. It's great to know that over time these bristles will keep flexible, soft and very effective for years of great detailing.
The other little touch our team add before they are sent out; applying a chemical resistant neoprene bumper to the outside hard edge of the brush, that further reduces the accidental chance of ever banging into and damaging your wheels or areas around them. It's all the little details that count.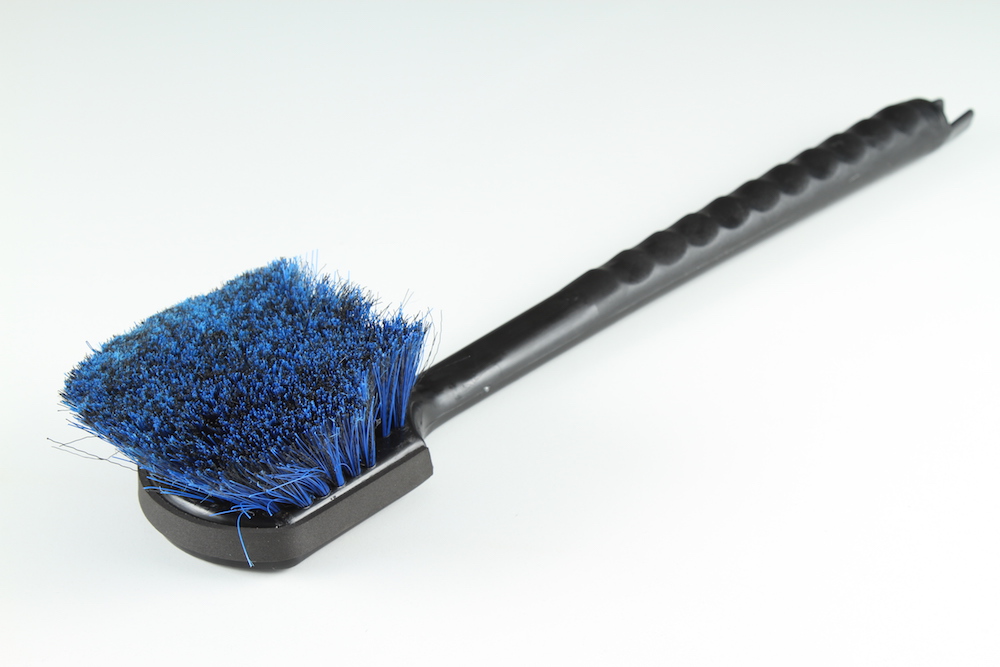 Big Black One
This 20 inch long handled brush has been made for easy cleaning of hard to reach inner guards, ute tonneaus, van awnings and those annoyingly hard to reach middle back itches. It uses the sturdy, soft and durable synthetic bristles that are compatible with our detailing liquids. It boasts an ergonomic finger hugging and a non slip handle design. Best used with Orange Agent for the wheel arches and stubborn stains, Sublime Clean for tonneaus and fabric awnings and Wheely Clean with our purpose made Wheels Bucket and car wash formulas for wheels.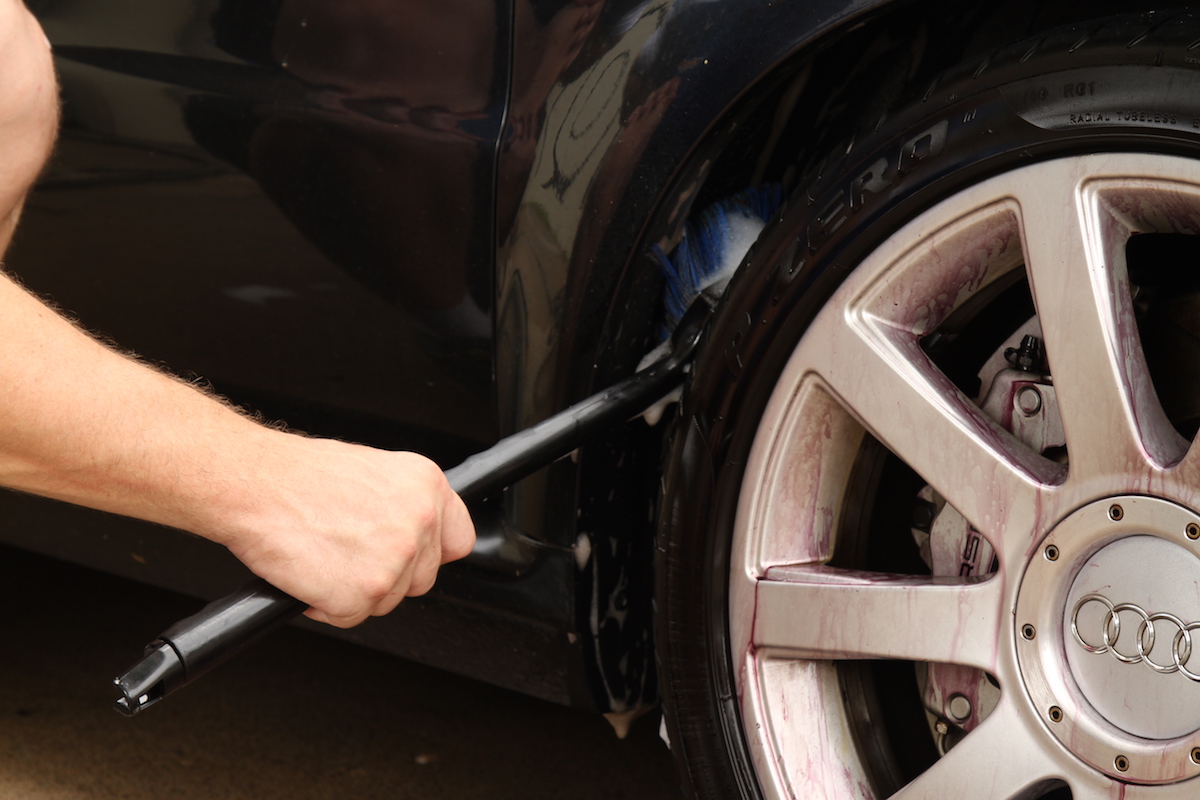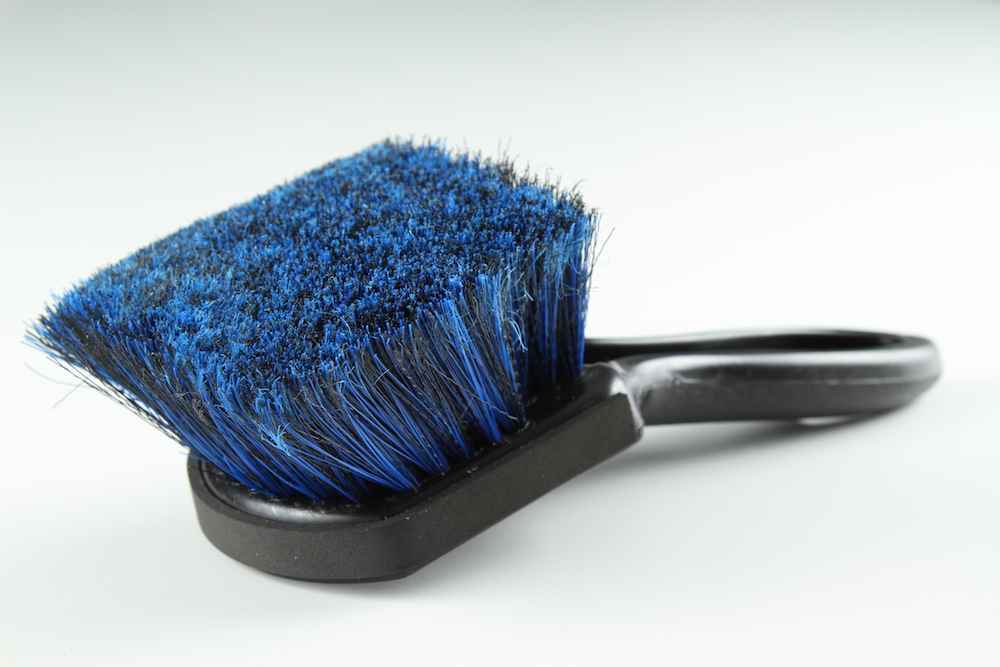 Little Chubby
If you have flatter faced wheels, you'll love this smaller handled 9 inch brush for easier cleaning of your wheels and tyres, as well as for ute tonneaus and the bigger flat areas in engine bays. The feathered bristle ends again make it gentle, but their rigidity is strong enough that they help to quickly remove the heaviest of road grime. The handle textured to be non slip (very important on a smaller handled brush) and slightly angled to keep be more ergonomic by keeping the brush flush on the surface as you use it. Its chemical resistant neoprene bumper will further reduces the chance of ever harming your wheels. It's best used with Orange Agent, Wheely Clean and our dedicated Wheels Bucket with your favourite wash suds mix in it.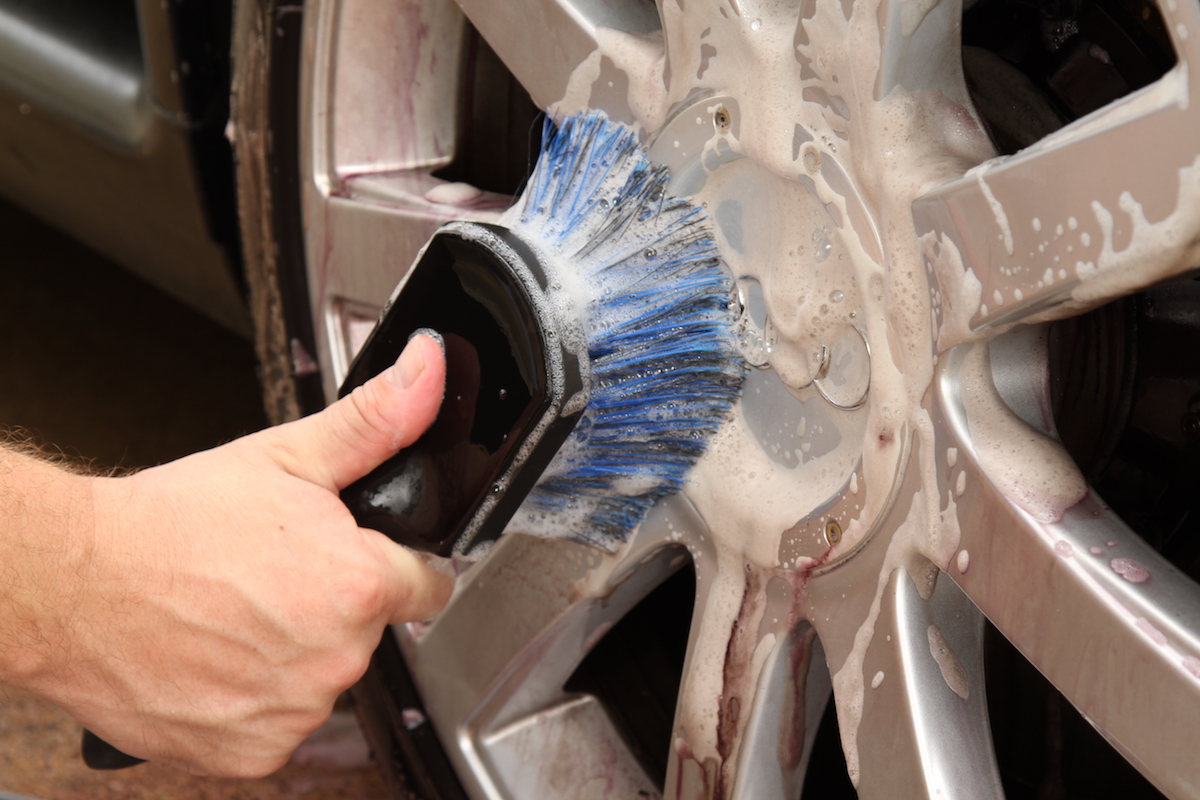 Our Favourite Combo
For wheel and under guard cleaning we always use these brushes with a cap-ful of Wax Wash or Nanolicious Wash in the dedicated Wheels Bucket. It's great to use in conjunction with our Wheely Clean and Orange Agent, to help get a totally perfect, no fuss clean (watch our video above here). Put a Great Barrier Thingy in the bucket bottom and then half to 3/4 fill the bucket with water, add a capful of wash and give a quick squirt of water to mix the suds and get a nice little head of foam. Then dip your brush in the bucket and take the rich wash mixture to the wheels or inner guards. The bristle density means the brushes will suck up and transfer heaps of suds, for an even more fantastic clean. After running the brush over the area, bring it back to the bucket and thrash it about, before going again on the next section you need to clean. Rinse the wheels off with a strong jet of water and then with both brushes in the bucket you move onto your next wheel, till the job's all done.
If you're cleaning really dirty or mud caked wheels, it's recomended to use a two bucket method with both the Wheels Bucket and a separate Rinse Bucket as well, rinsing the grit and grime from the brushes in the Rinse Bucket before putting them back into the Wheels wash mix. This really helps keep your wash water clean and grit free as you do all four wheel arches and wheels. Be sure to wash and wipe out the Rinse Bucket if you'll be later using it with the Wash Bucket on your cars paint.
Once you're done, rinse the brushes out in fresh water and hang them by the hooks on the handle ends with the bristles facing outwards, or place them in the Wheels Bucket with the brushes facing outwards or upwards, to not disfigure them. If they do ever get a bit mashed down or up by mistake, just run hot water over the bristles with them facing downwards to help regain their shape.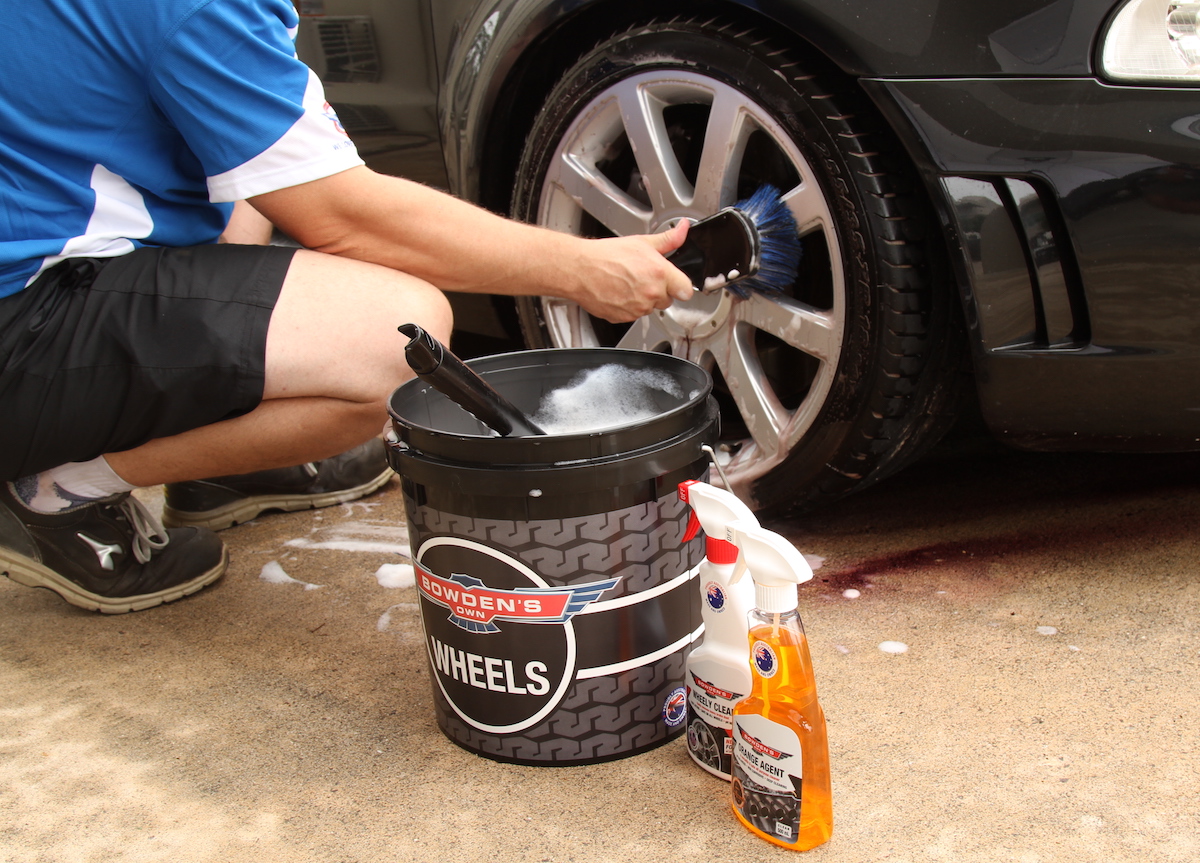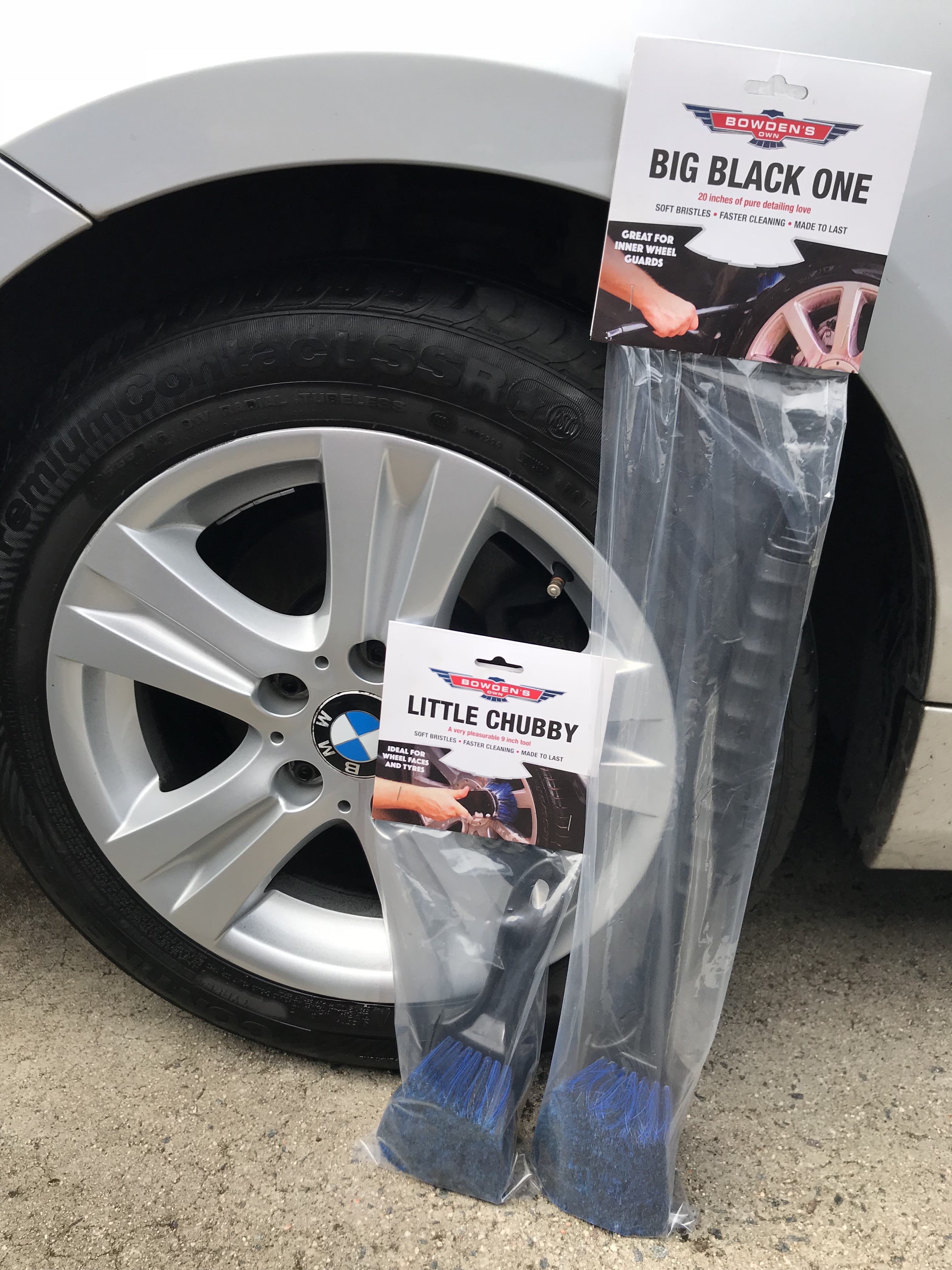 A lot of testing was conducted on these brushes, making sure they were the right ones for the job. We believe we've hit a real winner with these! We know you'll love using them too. A few of our better suppliers have now gotten these on shelves and you can order them from your local Bowden's Own reseller with part numbers BOBLACK and BOCHUBBY, respectively.

If you have any questions, please email info@bowdensown.com.au or FREECALL our office on 1800 351 308.
Love your car,
Dan Bowden
---
---