How we use the SpotClean with our car care products
What is it?
The Bissell SpotClean is a great little shampoo extraction machine, perfect for use in your car or your house. We've been using one at our HQ for quite a while now, and it's saved us and team members' cars many times!
If you do need some justification to go and buy one, just tell your minister of finance how it's also awesome for small spills and mishaps in the house, ranging from couch and carpet stain removal, even for restoring an entire lounge suite. We think the little Bissell is a great consumer machine that's well worth getting. It does have its faults (like the smaller tanks, shorter hose, not as powerful as expensive professional machines), but the pluses of having this super portable and affordable machine far outweigh any negatives in our eyes.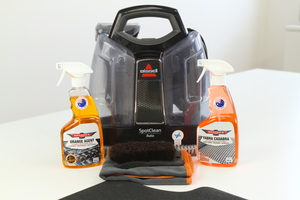 What you'll need + how to use it
For this machine cleaning technique you'll need a combination of our car care products - Fabra Cadabra, a Plush Brush, Dirty Deeds microfibre cloth and the Orange Agent pH neutral all purpose cleaner as well.
Do this job in the shade on a warmer day that's not raining. Work on smaller sections at a time, like one mat once removed from the car, or a section of carpet inside the car.
1. The Spot Clean tank has a capcity of 1L, so before you start cleaning, prepare by filling the left side "Clean" shampoo tank with just on 1L of water, then top it with 20ml of Orange Agent. It's a very good idea to use warmer water, not hot, especially if you have more grease or oil based stains.
2. Remove the heavier parts of what's created the mess with your hands (gloves are good if it's a messy job, or something you don't wish to touch) or a spatula.
3. Get your Dirty Deeds microfibre cloth wet with water and then wring out as much as you can. With a gentle blot technique (don't rub), pull off and away as much of the heavier grime or food materials sitting on top of the carpet as possible with the cloth. Don't rub it in! You don't want to push the foreign materials back deeper into the carpet or fabric it's resting upon. It's also important to keep blotting on a new, clean bit of the microfibre cloth, so keep turning the cloth often to a new side with each area, otherwise you could transfer some of the food stain back from your cloth, into the area you are trying to clean.
4. Now we do a pre treatment with Fabra Cadabra. Mist it over the area you're cleaning, spraying a little extra on the sections the stains are. Just get it slightly damp to touch, do not drown or oversaturate it. Leave it to sit for a minute, as the way Fabra Cadabra works is to release the stains and bonded particles from the fibres of the material, while not doing anything to affect the feel or colour of the cloth.
5. After waiting a minute, get the soft bristle Plush Brush and gently rub it back and forth over the area you have sprayed, again use it in an up/down direction and then a side to side motion. If the stains are in a harder to reach section that the Plush Brush cannot get into, you can use our "The Pouncer" round detailing brush from The Foursome brush set. Spray some Fabra Cadabra into the bristles and gently rub back and forth over the area you need to clean.
6. Turn on the Spot Clean machine and hold the machines' head/handle above the stain or area you're wanting to clean. Pull the trigger for the Orange Agent shampoo solution to begin coming out just next to the brush area. Hold 10 cm above the surface and pre treat the whole area with a light spray of product, then with your finger still on the trigger, use an up and down scrubbing motion to clean the area. Then turn and go back over the same area in a side to side motion, still with the trigger held down. DO NOT over saturate the surface.
7. After you have done this, go back over the area with the up/down, then side to side same motion, but this time without the trigger held down, using a firm pressure and allowing the machine head to suck up as much liquid as possible. This might take multiple passses over the area. You will see the water and junk being sucked up through the machines head, when no more water comes out, it's done.
8. Place the mat in the sun for an hour or two to dry, or leave the car with the doors open or windows down in the sun for the day so it can dry out. Once dry you can spray them with a few mists of our Pong-Go spray to remove up any last remaining smells that might be in the mats or carpet.

Other tips
The dirty water tank is quite small in the SpotClean, so be prepared to empty it often if you're doing more than just a small area. When you hear the sound of the machine change to a higher pitch noise, it's time to empty it out. It operates off a float device inside the dirty solution tank to stop the machine when it's full (note that the "FULL" mark on the side of the tank is a bit high). Pull the tank off and drain it, noting how much ingrained dirt, grime and junk you have now pulled out from the carpet. Once it's empty, give the tank a gentle shake so that the float inside settles back to the bottom of the tank.
Leave the rubber stoppers on the tanks open slightly so the tanks can air out after use. If you close them off, there's a chance they can build up mould and other nasties.
Wrap the hose around the machine and place it in the supplied holder points to avoid the hose cracking.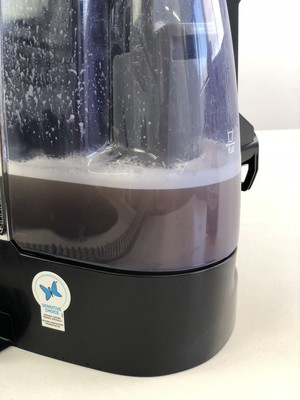 Protect your fabrics
To make the fabrics you've just cleaned super easy to clean in future, as well as help repel water, drinks, mud, dirt and food stains, as well as numerous other marks, use our water based and safe Fabratection spray as per its directions once dry.
Reapply the Fabratection yearly or after you have had to give the carpet or mats a clean like we have done in this article here.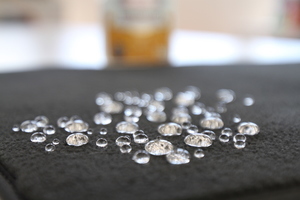 The different Bissell SpotClean machines
Here's the lowdown on the main differences between Bissell SpotClean models (maybe grab a cuppa, because it's a lengthy read):
All machines function the same fundamentally - they will remove most spots, stains, embedded dirt/grime and odours from carpets, rugs, fabric upholstery, car interiors, and mattresses. It's mostly the attachment set, and warranty that differs. Little Green and SpotClean (all colours) have the same motor power (275 - 330w), and SpotClean Turbo (750w) has the largest.
THE VARIOUS SPOTCLEAN MODELS:
ORANGE - (SpotClean Professional) has three attachments + three year warranty + 90 Day Money Back Guarantee. Attachments are 3" Brush, 6" Brush, and Stain Trapper Tool.
PURPLE - has two attachments + two year warranty + 60 Day Money Back Guarantee. Attachments are 3" Brush, and 6" Brush.
BLACK - (SpotClean Auto) has three attachments + two year warranty. Attachments are 6" Brush, 3-in-1 Upholstery Brush, and Crevice Tool.
RED - (Emergency SpotClean) has one attachment + one year warranty. Attachment is the 3" Brush.
SPOTCLEAN PROHEAT PROFESSIONAL - has a longer hose (2.3m) + four attachments + three year warranty + 90 Day Money Back Guarantee. Attachments are 3" Brush, Stain Trapper Tool, Hydro-Rinse Tool, and 6" Brush.
SPOTCLEAN TURBO - has a bigger motor and capacity, plus has six attachments + two year warranty + 60 Day Money Back Guarantee. Attachments are 3" Brush, 6" Brush, 3-in-1 Stair/Upholstery Brush, HydroRinse Tool for cleaning the hose, Deep Stain Tool (for plush rugs/carpets), and Crevice Tool.
SPOTCLEAN TURBO PROFESSIONAL - has six attachments + three year warranty + 90 Day Money Back Guarantee + full size bottle of formula. Attachments are 3-in-1 Upholstery Tool, 2-in-1 Crevice Tool, 3-in-1 Tool, 6-inch Brush, Deep Stain Tool, Hydro Rinse Self Cleaning Tool, and Tool Storage Bag.
LITTLE GREEN - (first generation of spot cleaning machine prior to SpotClean) has one attachment + a one year warranty. Attachment is 3" Brush.
Remember to always check the care label on anything you're going to clean to make sure it's compatible with a wet cleaning system like SpotClean! Codes W or WS on the label generally mean it's fine.

Where do I buy it?
The Bissell SpotClean is available at many auto stores, including Supercheap Auto - https://www.supercheapauto.com.au/p/bissell-bissell-auto-spot-clean-carpet-shampooer/384355.html
Fabra Cadabra, Orange Agent and the Plush Brush can be found in our best supporting stores across the country. You can find your closest one by clicking the Stockists link at the bottom of this page. Fabratection is available at our supporting autObarn, Supercheap Auto, Repco stores, plus other independent resellers as well, using part code: BOFTECT.
If you have any more questions in regards to our products or process used here, feel free to email info@bowdensown.com.au or call us during business hours on 1800 351 308.

---