Easy leather care with Leather Love and Leather Guard
Keeping it simple
Leather care is something we are very passionate about at Bowden's Own, and it's also something we believe should be an easy task. With the help of our research chemists, we've made a very simple and effecttive leather care system for modern, PU coated leather. This article will take you through the basic steps to clean, condition and protect your leather, so that it looks and feels like new for years to come.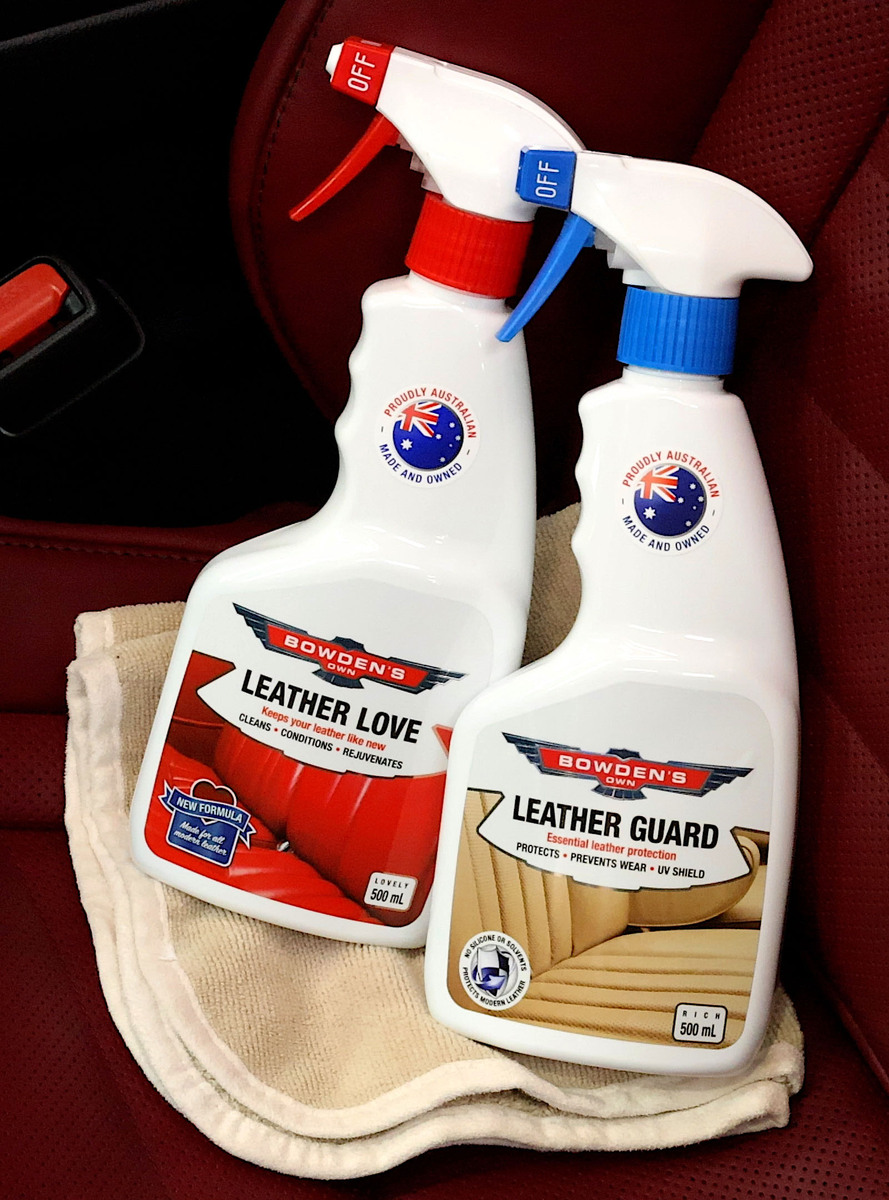 The quick clean
Step 1
Firstly, get rid of any grit or bigger particles by cleaning the seats down with a vacuum cleaner, (soft brush extractor on the end is best). Make sure the car is in a cool area and the leather is not warm to touch, as heat tends to evaporate the products good stuff before it can get into the leather hide.
Step 2
Spray the Leather Love into one of our Square Bear microfibre applicator pads. It's made for this type of product application, long loops in its weave give effective cleaning on the leathers undulating surface.
Step 3
Gently massage away into the leather, using a gentle circular motion. Cover the entire surface and let the product do the work; you don't need to rub hard or apply extreme pressure. Pay extra attention to high wearing points, as well as areas that your skin or sweat can come into contact with; seat backs, side bolsters and your steering wheel.
Step 4
While the Leather Love is still wet, wipe off with a folded, low pile side of our Plush Daddy interior microfibre cloth. This wet residue will contain all the dirt and grime that was built up on the surface, so fold it to a clean side often, so you don't wipe the same dirt back into the leather.
Apply the Leather Love a 2nd time as per above with the Square Bear (not a brush), but this time leave it sit for a couple of minutes before buffing off any remaining residue. This is good to do if the leather is older, extra dirty, or seems quite dry.
When the Square Bear pad is starting to look a bit dirty, it will pay to hand wash it in a bucket of water, rather than continually rubbing the built up dirt back into the rest of your leather. Wring it dry and continue with your cleaning.
The deep clean
We have a product in our range for deeper cleaning of leather, the super versatile Orange Agent cleaner. This citrus based, uniquely pH neutral all purpose cleaner works a treat on more stubborn built up grime.
Step 1
As with the quick clean, remove any bigger particles of dirt and grit by vacuuming the area first with the soft brush attachment on your vacuum, and make sure the car is in a cool area and the leather is not warm to touch.
Step 2
If your leather is quite dirty, or there is ingrained dirt and grime in the porous holes of the leather, we recommend using the first application of Orange Agent with a brush that uses super soft horse hair (like our leather specific Plush Brush or Foursome Brush Set), to really help release the built up dirt and grime. These brushes can also be used with the Leather Love for some extra cleaning power.
If your leather doesn't need the extra oomph of the brush, spray Orange Agent to lightly dampen one side of a Square Bear microfibre applicator pad. Work in small sections at a time, applying in a gentle circular motion to the affected leather surface.
Step 3
Now this is the important bit; wipe off the Orange Agent with a folded, clean, low pile microfibre cloth like our Plush Daddy or Dirty Deeds while it's still wet. You remove it wet, so the embedded grime you've cleaned off is wiped into the cloth with the cleaning solution, as if you let it dry, it will bond back onto the leather surface you're trying to clean. Be sure to inspect the cloth after each use and fold to a fresh, clean side when you begin seeing any dirt and grime building up in it.
If you notice the microfibre applicator getting slightly dirty, (especially when cleaning more grime affected surfaces) you can hand wash it out in fresh water, then wring it out till it's dry/damp, apply Orange Agent and carry on cleaning.
Continue doing this system of cleaning, till the leather is clean. Follow up with Leather Love and Leather Guard.
This product leaves a very stark finish, so use our Leather Love cleaner/conditioner on the area straight afterwards to get the leather looking and feeling back to how it should be, then follow up with the Leather Guard to help protect the leather from wear and tear.
IMPORTANT TIP: If the leather you're treating is extremely dry and in desperate need of hydration; after you've completed this cleaning step, you can apply Leather Love very liberally and leave it to penetrate the surface overnight. This will help the leather to absorb the product and become supple again. Come back next morning and apply another layer of Leather Love, then remove any remaining residue. Always finish with Leather Guard too!
Protecting your leather
The Leather Guard gets applied exactly the same way as the Leather Love. With these products being water based, just wash the applicator pad you've been using with the Leather Love out in a bucket of water, then gently wring it out. If it's really dirty, add 5mls of our Microfibre Wash to the bucket and hand wash. After this, the pad is ready to be used again with the Leather Guard.
Use the Leather Guard exactly the same as the Leather Love above. It's very important to pay extra attention to the high wear areas of the seats; side bolsters and support areas, to help stop the gradual wearing away and degrading the PU coating each time you get in and out of the car.
Leave it sit for 5 minutes and then wipe away any remaining residue with the low pile side of the Plush Daddy microfibre cloth.
That's it, all done! Look, feel and smell that leather. This quick process is all that is needed to help keep it like new for a long time to come.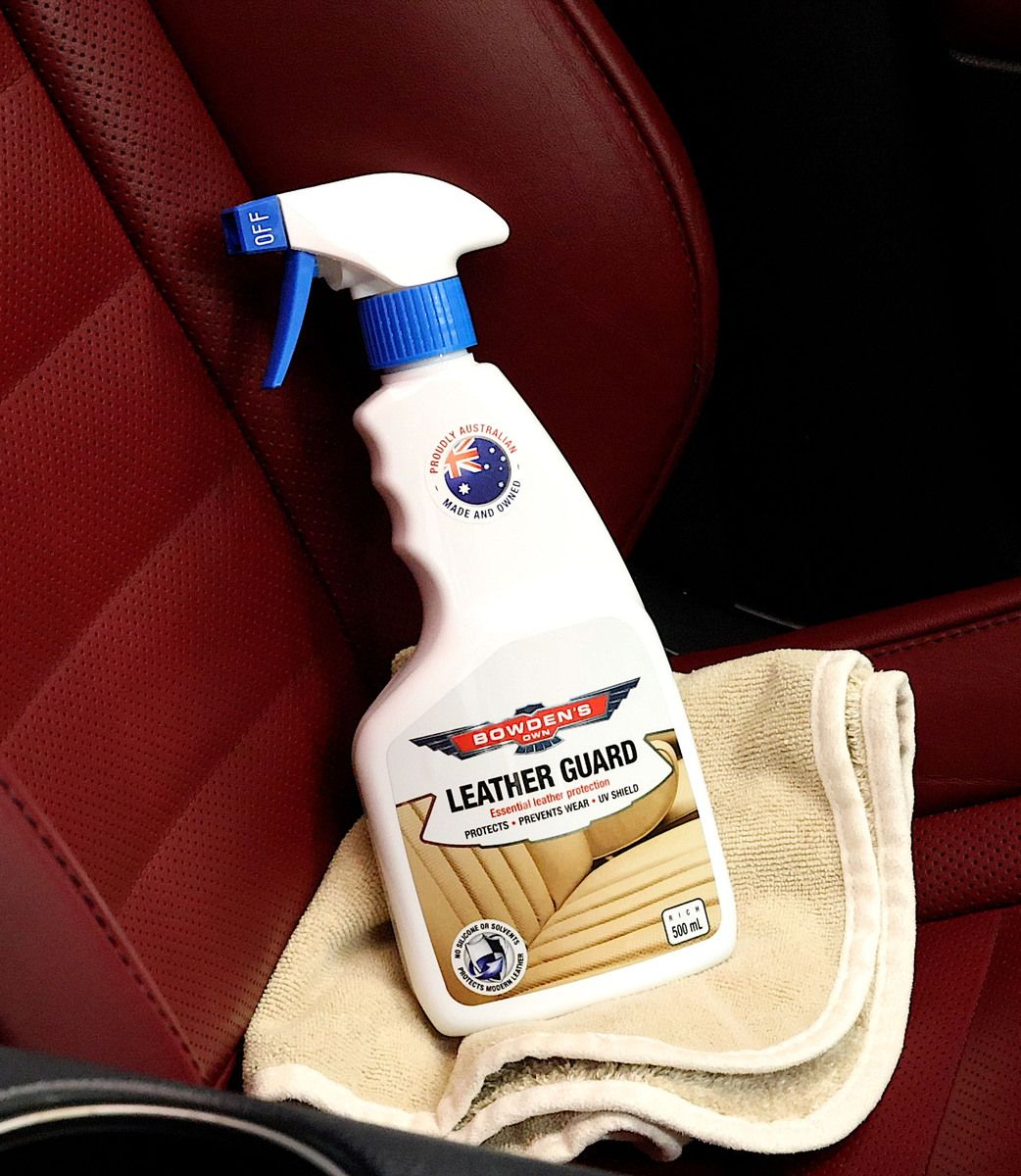 How often should I use it?
Leather Love should be used to clean and rehydrate/condition your seats at least every 1 to 2 months, using it more often in the hotter, summer months. Leather Guard should be re-applied on every 2nd or 3rd application of the Leather Love. This is due to the wonders of modern chemistry, as the Leather Love does not want to remove the protective qualities of the Leather Guard. It is however, a sacrificial product and the protectant slowly dissipates over time, so doing it several times every year will maintain the protection the leather surface needs.
And don't worry, you can never over-do it with either of these two products, use as often as you feel you need it.
Using this system will give your leather the best possible chance to survive our harsh climate, as well as keeping it looking and feeling like new for many years to come.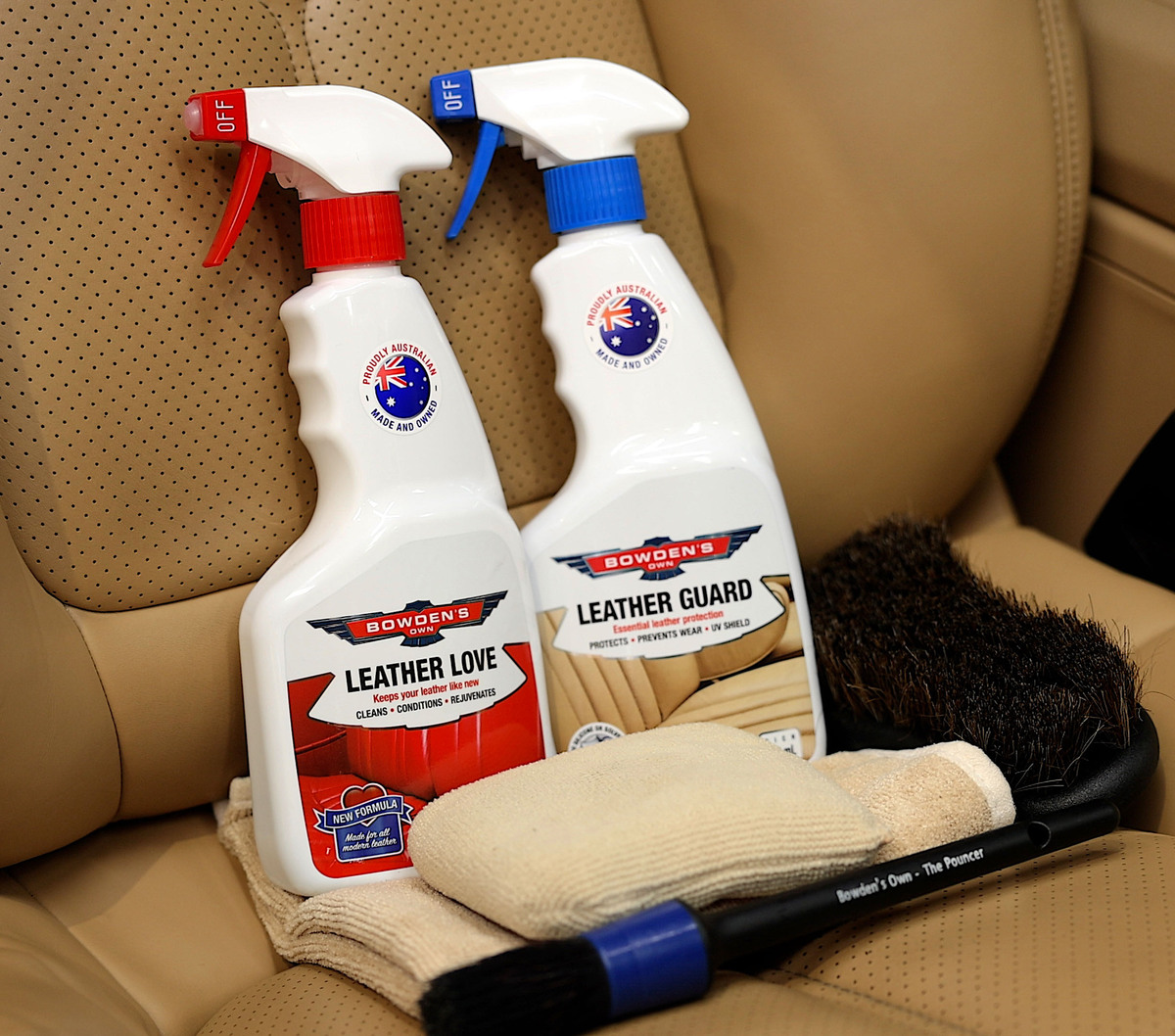 Any questions?
Looking after your leather correctly is an important part of taking care of your car. I'm glad we can offer an easy and concise how-to guide such as this one.
All of our leather care can be found at your local retailer. See the list of retailers below in our Stockists link for your closest store.
If you have any questions, please email us at info@bowdensown.com.au or call our office on 1800 351 308.
Happy detailing!
Brett Hobbs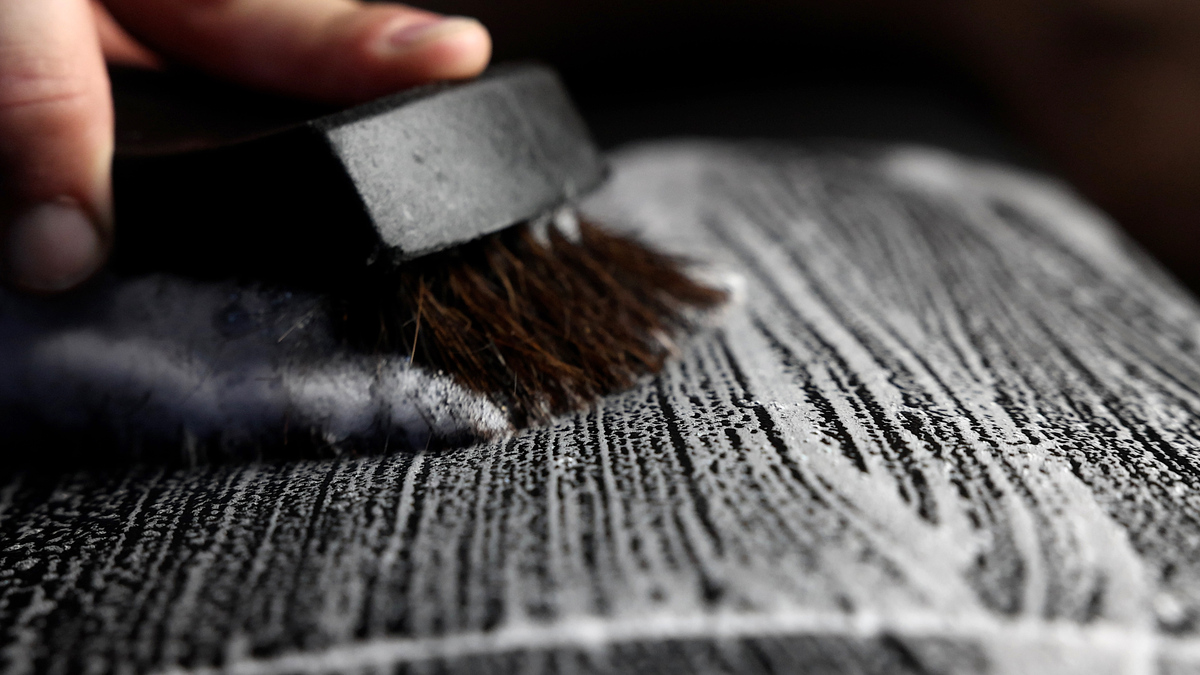 ---
How to clean sunscreen from leather seats and trims
How to clean sunscreen from leather seats and trims