Happy Ending: using our super hydrophobic finishing foam.
Our team are constantly researching new ways to create better and easier to use car care products, giving our passionate chemists the tasks of finding and even making new exotic ingredients to blend into our unique Australian made products. From that research we now have this new super hydrophobic finishing foam, that's come from over a year of intensive development and we believe it's one of best things we've ever created. It works that well and is so easy to use, that you'll feel like it's cheating!
Due to the combination of the protective bead porn, awesome shine and the massive grin you're going to get after its use, we have given it the very apt name of Happy Ending.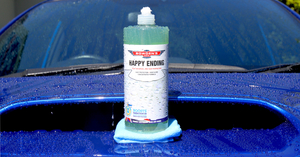 How does this fit into my car care system?
One of our more popular car care systems involves maintenance washing with a pressure washer, which can make your detailing a whole lot less work, as well as being more effective. This new finishing foam is to be used as a great way to complete this wash system, when used via the Snow Blow Cannon.
Happy Ending was made to quickly give a visible boost of protection to the car at the end of the wash, as well as creating a super high gloss and slippery smooth finish. All this happens from simply spraying it on, and then pressure washing it off, to leave a super hydrophobic coating, before drying the car as you do in a normal wash.
We tested and developed our final formula extensively over 8 months from winter, to the end of the hottest summer on record, all the while fine tuning it with our chemists and sharing the experience of getting it slowly right with our fans on our Instagram stories. We find it works best on good quality, modern clear coat paint. Brand new cars are especially amazing in the effect it creates.
It's not SiO2 or Ceramic
We are proud to say that the main active ingredients have been custom made for us right here in Australia, designed to work the way our chemists required to create a super hydrophobic finish in our harsh summer environment. It's quite unique too, as these ingredients are not the popular "SiO2" (Nano sized silica particles) you're seeing in many new products, nor are we using the much hyped buzz word of calling the foam a "ceramic". Mainly as we are tired of seeing this term being used in a plethora of recent consumer products, that we believe is incorrectly done to only help sell their wares, and further confuse an already complex matrix of enthusiast products. But, we do say the Happy Ending is that good with its durable protection that "you won't believe it's not ceramic".
Use to maintain our waxes, sealants and proper ceramic coats:
Happy Ending is pH neutral, water-based and also biodegradable. It's safe to use over any of our waxes or sealants - in fact, it's a great top up for them with its better durability and hydrophobic effects, especially our newly released Bead Machine. The formula also works fantastically to maintain and revitalise any professionally applied ceramic coating, keeping them working like new. These types of coatings are true ceramics and use a very different and expensive type of chemistry which Happy Ending is compatible with.
Another cool attribute is that it can make both the Snow Job foam and Wheely Clean more effective at cleaning, as the Happy Ending creates an even coating on the surface, making it harder for any dirt and grime to stay stuck to it.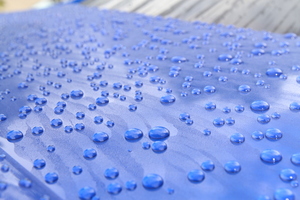 Getting started
To get to a Happy Ending, we need to make sure the surface is first clean of dirt and grime and ready for the final foam. For a nice safe wash to minimise swirls and scratches, we begin with a touchless pre clean using the Snow Job foam. You can read more about this in this link here: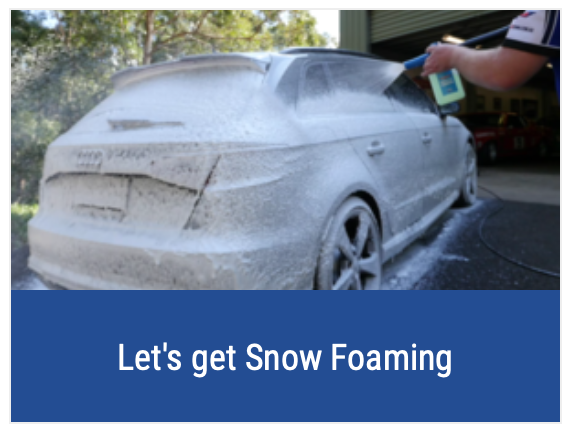 Then we move onto the luxurious two bucket wash in this link: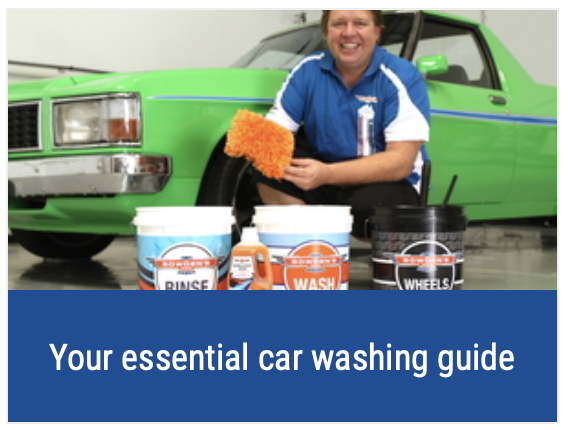 Now you have a nice and clean car, but it's important you don't yet dry it. The car needs to be wet to give it a proper Happy Ending.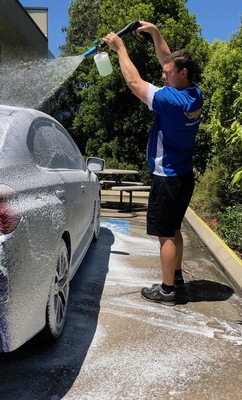 How to give a Happy Ending
Before we begin, there are some important things you must follow, as this product is very concentrated and cures quickly when it dries. If you're someone who dislikes following product instructions, we don't recommend this product for you. Please take note of this first important section:
DO NOT USE ON HOT/WARM PANELS, IN THE DIRECT SUN AND NEVER ALLOW TO DRY. Only use on wet panels in the cooler morning or afternoon, preferably out of strong wind. It is not suitable for fabric or vinyl convertible tops or ute tonneau covers. Nor is it ideal for poor quality, single stage, porous or oxidised paint. If your paint feels rough when washing, we suggest you quickly clay bar or use our Claying Rubber with the car wash before use, as this product will bond better to uncontaminated, good quality surfaces.
1. Mix the Happy Ending in a Snow Blow Cannon bottle (a separate Happy Ending labeled bottle is available - part code to order one from our resellers is BOHCB). It handily uses the same dilution ratio of 9:1 as the Snow Job foam. If using the same bottle as the Snow Job, rinse it out with water first. Then add 900ml of fresh water, before turning the Happy Ending bottle upside down above the cannon bottles inlet and open the pop top, to ensure there is no wasted product when filling. Add 100ml of the Happy Ending using either the measuring marks on the cannon bottles label, or from watching the 100ml increments on the side of the Happy Ending bottle. You don't need to rinse out the brass cannon unit after use with our Snow Job, as the formulas won't contaminate or affect each other in small amounts.
2. Carefully screw the Happy Ending mixture bottle to the cannon unit and attach to your pressure washer. Adjust the cannons top air knob to full clockwise (-) and adjust front nozzle to give a medium arc, a little bit wider than you would use with the snow foam.
3. Apply the light foam to the roof and then work to the bottom. It's safe for all glass, exterior plastic trims, wheels and tyres. Slowly walk around the entire car till it's covered. Note that this product doesn't create a thick foam. Do your best to try and avoid applying directly to the windscreen. On larger vehicles like trucks and vans, or in warmer conditions, we recommend that you do half the vehicle at a time.
4. Once finished, quickly remove the cannon from the lance and change to the lances power wash fitting. Immediately begin to THOROUGHLY pressure wash the product off, especially on the glass. Start from where you began applying, use a methodical, overlapping motion from the top of the car to the bottom, doing a couple of passes over each section to activate the bead porn. The bead porn effect is activated by the friction from the strong jet of water over the surface. You'll notice it gets better over time as the product cures on the surface. Work right around the car till you're finished. If you wish for more water beading after the first application, re-apply as per above to the separate areas for complete satisfaction.
5. Now use the new found surface tension to help dry the car. Do this by taking the end off your hose and flooding the panels with water, sheeting the majority of the water droplets from the now coated surface. Dry the car with our Big Green Sucker drying towel, with 6 to 8 mists of Boss Gloss as the drying aid in each side of the towel. Boss Gloss used this way will not affect the super hydrophobic surface. It's at this stage where the smoothness of the surface will become apparent, and also how much easier the drying has become. It's very important to use a drying towel for this job and ensure a perfect finish - never air dry the car or blow dry the car down after applying Happy Ending.
6. Quickly clean the windscreen and wipers with Naked Glass and a big softie cloth to prevent the chance of the wipers smearing the next time you use them.
7. The protective finish and beading lasts for up to two months on daily driven cars - longer on cars that are better pampered or have better paint. Any left over Happy Ending foam mixture can be left in the cannon bottle and reused up to 3 months later. Store it in a cool area out of direct sunlight and use a cap or some race tape over the top to dust seal it. Note that the cannon bottle uses a unique machine thread, so no cap exists that can create a 100% perfect water proof seal. So just be sure to store it upright.

An extra tip for before you begin packing everything away - re-attach the cannon to the pressure washer and run just water though it, to flush the Happy Ending from inside the unit. This can be done by using it without the cannon mixture bottle screwed on, or by simply turning the top blue mixture knob all the way to positive, so only water goes through the unit.

On the slight chance that you get any streaking or uneven patchiness when using Happy Ending, simply wipe over the marks with the Big Green Sucker using a bit of extra pressure on the towel to remove these "high spots". If the marks are left to dry, don't freak as the Paint Cleanse and Restore can remove them easily.
Now grab a cool refreshing beverage and enjoy the new awesome high-gloss shine.
NOTE: If you have a black car, the paint will retain more heat from the sun, and for a longer time than other colours. Happy Ending is best done on a black car before the sun comes up, or after it's gone down at night, and once the heat has dissipated from the panels. Doing half the car at a time is also strongly recommended.

More things to know
We have found that you use a lot less Happy Ending in the cannon compared to the Snow Job foam, being able to do 3 to 4 medium to large family sized cars per mixed bottle, so you should get over 30 cars per one Happy Ending bottle when used as we say.
Although the protection can last up to two months, we personally like to use the Happy Ending monthly on daily driven cars, to keep the water beading and shine at a higher level.
For the weekly washing you can use the Auto Body Gel, Wax Wash or Nanolicious Wash car shampoos on the coated surface. Be aware that all these washes will create an initial hydrophilic (non beading) finish, but the hydrophobic (beading) finish will return in a short period of time after rinsing them off.
We found that drying with both Boss Gloss in the Big Green Sucker and After Glow used in a damp Big Softie does not affect the super hydrophobic surface. Both become even more amazing to use after the Happy Ending, so you can still use either method for drying after the initial application.
If you don't use a pressure washer, have a look at our Wet Dreams - a spray on, hose off, super hydrophobic product. It is compatible with Happy Ending and can be a handy one to give quick touch ups of protective beading during your weekly washes.
As both Happy Ending and Wet Dreams are both more protective than Fully Slick, there is no added benefit to using it over the top. After Glow can still be used as a drying aid without affecting the super hydrophobic properties.
You can use Happy Ending on PPF (paint protection film) and vinyl wrapped vehicles. Due to the different nature of this surface, we find it needs two initial coats to get a good beading effect on the surface.
We do not recommend this for matte finished paint or matte wraps, due to the way it boosts gloss.
It's fine to use on trucks, vans, caravans, powered watercraft, boats and the like, just make sure to apply and remove it in sections at a time with anything larger.
For bikes, the Wet Dreams spray will be a better option as you can control where the product is going, which is better for the more intricate areas on them.
If the product dries on the car, or you accidentally miss a section when pressure washing off and find streak marks, don't freak. The marks can be quickly removed while fresh by rubbing over them with the Big Green Sucker (Use Boss Gloss with it still for lubrication) and a little bit of pressure. If you notice the marks days later or they won't come off with the towel, the Paint Cleanse & Restore will clean them off easily.
Be sure to wash the Big Green Sucker in our Microfibre Wash (hand or machine wash) while it's still wet, after each use. It can become less effective over time if the product is not washed from the material. This towel loves to be machine dried on a cool to mild heat setting as well.
The products colour can be affected by light over time, so store the bottle accordingly in a cool part of your home. Any colour change does not affect the way the product will work in any way.
The clear tiny floaty things you may see in the bottle are normal. We micro-filter this both during manufacturing and when filling, but what you're seeing is the concentrate of the Aussie made Nano-polymer. The important thing to know is that it won't block your Snow Blow Cannon.
Please do not use more than the 9:1 ratio we state - using more does not make it more effective. You can lessen the dilution ratio if you ever feel the need to though.
This product is highly complex and we have formulated it to match the water flow rate of the Snow Blow Cannon. It's not recommended to mix and use it with a trigger spray and bottle. For that use we have the Wet Dreams, which uses similar chemistry, but has a subtly different formula to work better when sprayed on.
If you like to use a windscreen washer additive, we'd strongly recommend to use our Wipe Out windscreen washer additive. It won't remove any of the protection left by Happy Ending on your paint work like some others can.
If you have a black car, use Happy Ending before the sun comes up, or after it's gone down, and do half the car at a time, to avoid any issues.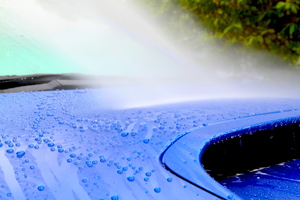 Streaking?
No, not the cricket match kind. Due to the nature of the type of product Happy Ending is (instant bonding and fast curing), there is the potential for it to leave streak marks if the instructions are not followed. If used in the sun, on hot panels, or the mixture is made too strong, can all lead to this happening. ALWAYS use this product out of direct sun, in the shade, on panels that are completely cool to the touch, and make sure your mixture is measured accurately.
If you do happen to get streak marks, there are a few things you can do:
If the marks are fresh, use firmer pressure with the Big Green Sucker and Boss Gloss while drying to remove any marks. If the marks are not fresh, and this method with the Big Green Sucker and Boss Gloss doesn't work, you can use the Paint Cleanse & Restore to safely remove the marks. Keep in mind if you do use this method, you will need to put some protection back on the area you used the Paint Cleanse & Restore on.

Any questions?

You can find ​Happy Ending at our supporting autObarn, Supercheap Auto and Repco stores, plus other independent resellers as well. The part code to quote is BOHAPPY and it's priced at $59.99 for the 1 litre concentrate. The separate Snow Blow Cannon bottle is $19.99 and part code is BOHCB. There is also a Happy Ending Pack with the 1 litre concentrate bottle, the extra cannon bottle, as well as a Big Green Sucker for $109.99, its part code is BOHAPPYP.
To find your local Bowden's Own reseller, click the stockists link at the bottom of this page.
If you would like more information about Happy Ending, or any of our other products, please shoot our team an email to info@bowdensown.com.au or FREECALL our office on 1800 351 308.
Love the bead porn,
Dan Bowden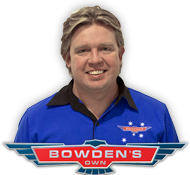 ---