Introducing Bead Machine, our super hydrophobic sealant
30 April 2020 Dan Bowden

Introducing the most protective product in our car care range - Bead Machine. Long lasting, easy to apply protection, that gives a fantastic shine and some pretty damn awesome hydrophobic sheeting and beading. We desired all of these in a spray sealant and it became our obsessive mission that began when we were creating our Wet Dreams and Happy Ending sacrificial sealants that were released this time last year. The extra year we have spent on this one has certainly been worth it!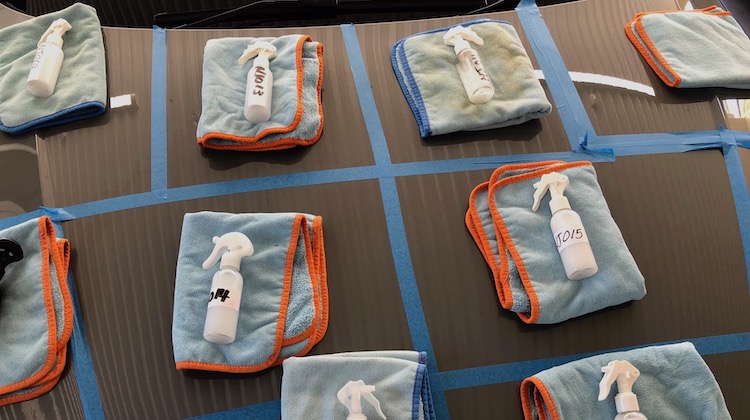 Early testing on the Audi bonnet in 2018, which plenty of Instagram story people would have seen the progress of over the last two years.
We began by assembling a large amount of ingredients and then blended 16 totally different formulas. From there we chose our two favourites looking at usability, water repellency, water sheeting, slickness, longevity, and the gloss levels with our digital meter. From those two, we did near on 100 slight variances (yes, we drove our chemists mad, again) and carefully evaluated and subtly perfected them over the last 2 years. We could not choose between our final two versions, but finally gave the nod to the one that had the greater longevity. So, we proudly now have a world class super hydrophobic spray sealant; Bead Machine.
This is another of our new generation of products that uses the latest and greatest water-based chemistry that's quite unique and proudly made right here in Australia.

Bead Machine and the amazing beading it creates.
The most protective in our range
We can easily say this from our real world, and long term testing of this formula on numerous cars over the last two years. We have seen on daily driven cars with good paint and preparation, that it will last for 3 to 4 months in most cases, with up to 8 months and still going on one more pampered car we have here. The durability has seriously amazed us for something that's so easy to use!

A super glossy & smooth finish
A lot of extra work was put into these 2 parameters. We have been using a digital gloss meter for quite some time to assess a lot of our formulas, and it was used extensively to ensure it genuinely added a true measurable boost of shine and gloss to your paint. We also love the feeling of smooth paint, and this is there in spades as well. Dirt and other grime will find it harder to bond on, which helps make your vehicle a lot easier to keep clean and we also made some changes to help it hold/attract less dust on the surface after use too.
Fast and easy to use
We worked a lot on the ease of use, and it was a tough one. Generally, the more protective the product, the harder it can be to use. It needs to be used as we say - in the shade, on panels that are cool to the touch, on smaller sections at a time. We like using it with two Big Softie microfibre cloths, misting 4 to 6 initial sprays into one folded low-pile side of the cloth. Then, buff off right after with the 2nd dry Big Softie cloth, again on the low-pile side. For the next application, just top up the already primed cloth with 1 to 2 extra sprays into it. Then, keep repeating the process till you've finished the vehicle.

Safe water-based formula, without any "ceramic" BS
No nasty or evil chemicals in this one - all earth friendly and safe to use on any hard and smooth surfaces around your car, truck or bike. Use it on your paint, glass, chrome, headlights, smooth plastic trims, piano black plastic and more. This is not a ceramic product, as we have mentioned in the past. The technology used in true, professional ceramic coats is another type of sophisticated and expensive chemistry and not something that can be blended into these types of spray on products. Although Bead Machine might share the same super hydrophobic characteristics as a ceramic coating, it is not, and unlike others, we won't make the confusing marketing claims that it is. We will cheekily say that it works so well that you "won't believe it's not ceramic".
Modern Aussie magic
We use a pretty unique grouping of modern ingredients, all sourced here in Australia, with some very local specialties in there as well (the local bunyips have received a good milking). Like our previous couple of super hydrophobic products, we don't use SiO2 or TiO2 nano particles in this to create the "lotus effect" water beading either.
Great for clear coated paints and more
We have used this on many different surfaces with great success. It works best on modern, clear coated paints that are in good condition, but also works on many other non-textured, super smooth surfaces like exterior side glass, mirrors, head lights, plastic trims, piano black plastic, chrome and wheels.

We have made this great new prep spray for Bead Machine
The new prep spray
In our testing, we found Bead Machine performed best on paint that was bare and super clean. Something a little different to our more forgiving older sealants and oil-based waxes. We had been using isopropyl alcohol (IPA) to clean and prepare the panels, but found it was flashing off too fast and not allowing a long enough work time to thoroughly clean any harder to remove oils and silicones. So, Flash Prep was created - our in-house chemist nailed this one in just 15 revisions. It's a smart blend of different alcohols that removes any silicones, polishing oils, handprints, and older waxes and sealants that could affect Bead Machine bonding to the paint. It is also compatible to use on ceramic coatings, as it won't remove or affect them. It's fast and easy to use, with no oily residue and is also nicely lubricating to help prevent micro scratches or marring too.
It's not just for Bead Machine either - we use it before our plastic trim restorer: Mr Black, as well as some other new products we could have coming later this year. It even smells ok for this type of product!
How does Bead Machine fit into my car care system?
There are several ways that we see this fitting into your system.
First off, this spray is good enough to use by itself, as a stand-alone form of protection. So, apply it after a wash/dry to the clean and Flash Prepped surface, then top it up every few months or as you feel it is needed. I've used it just like this on my own drive car over the last 8 months and found I am getting just over 4 months of durability on a daily driver that's washed twice a week and garaged at night.
If you enjoy the process of layering products and love the warm glow of a carnauba wax, you can use Bead Machine over your existing carnauba waxes. This method is not the longest lasting, bit can still be done and is better than using the wax just by itself. Allow the wax to cure and harden for 3 to 4 hours and then apply Bead Machine on top. It will lock the waxes shine in with an extra level of protection as well. Reapply it every couple of months, or when you notice the water beading start to diminish.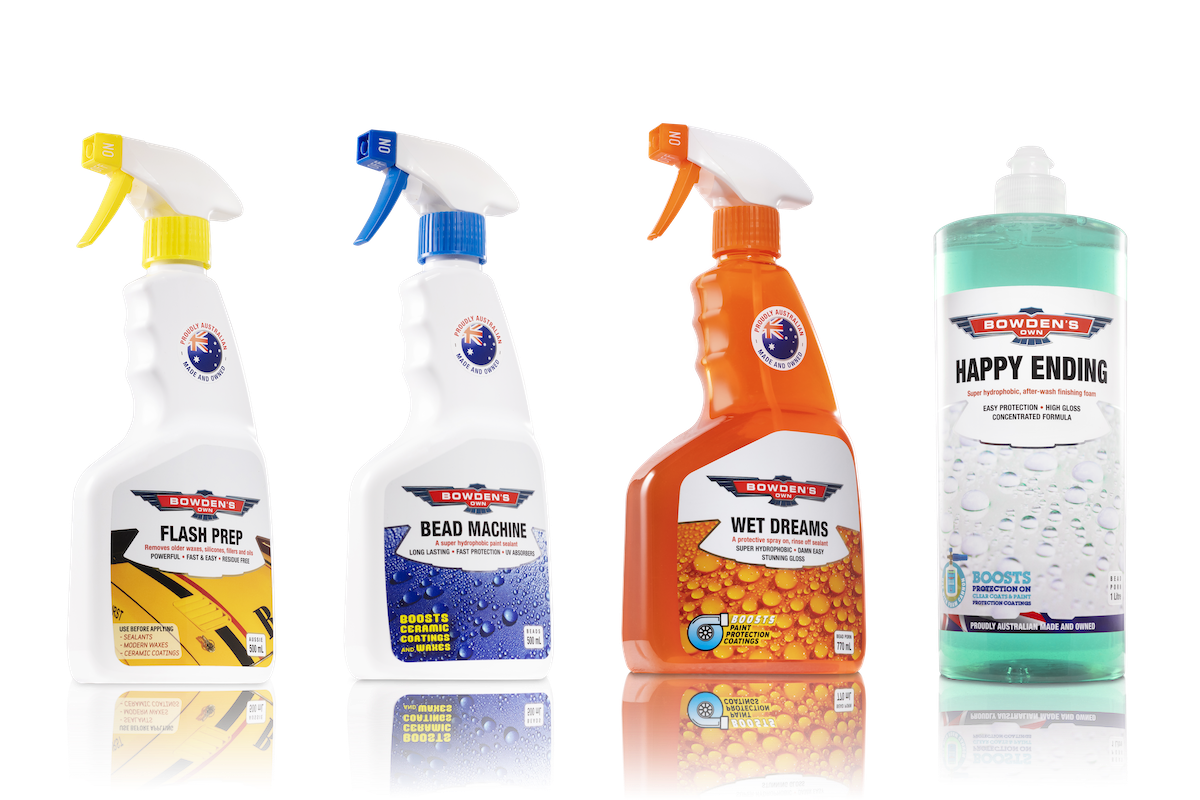 If you're a true fanatic and after the very best protection, longevity and shine, then use it with our popular after-wash products to maintain it. You start with more intensive preparation than above; first wash and then Three Way/Claying Rubber the car, dry it and then use the Paint Cleanse & Restore (the paint cleanser step is to remove embedded dirt - only needed if you have never used it before and the car is over 2 years old). Now use the Flash Prep spray before applying Bead Machine. Afterwards (the next wash), maintain it by using with one of our after-wash spray sealants; Wet Dreams or Happy Ending.
These have all been made to work together as a system to give fantastic, super hydrophobic bead porn and effective long-term results. With this system you can look at using Bead Machine once or twice a year and the sacrificial after-wash sealants on it every couple of months, or just when you feel you want more shine and super hydrophobic protection.
Is it compatible with professionally applied ceramic coatings?
Yes it is. It was formulated to work awesomely with true ceramic coatings. Our system is to first quickly use our Fine Clay Bar or Claying Rubber, then use the Flash Prep on the coated surface (claying and Flash Prep will not remove ceramic coatings), then apply Bead Machine to give it a great boost in protection, hydrophobic performance, and shine. Then, use Wet Dreams or Happy Ending on it every few months after a wash to further help maintain and prolong the life of the coating over the longer term.

The Snow Job foam becomes a lot more effective at touchlessly washing after applying Bead Machine.
What wash is best?
In our testing, all 3 of our washes, as well as the Snow Job snow foam are all great to be used to wash Bead Machine (after it has had a few hours to cure), with a slight edge going to the Nanolicious Wash and Snow Job combination. You will notice how much more effective the Snow Job foam will work for touchless washing, with less dirt and grime able to stick to the Bead Machine surface.

Bead Machine and After Glow is a pretty divine combo.
What can I use to dry it?
For drying after a wash, you can use either the Big Green Sucker drying towel and Boss Gloss as a drying aid combo, or After Glow with the Big Softie cloths, depending on what your personal preference is here. Neither will have a negative effect on Bead Machines super hydrophobic qualities, or protection

4 months after applying to the jetski and many long ocean rides later. Note the better bead structure on the perfectly smooth painted sections.
Is it only for things with 4 wheels?
No, it's not. We've been using it with great success on many other things like road and off-road bikes, mountain bikes, ski boats and jet skis. The Jet Ski is one that has amazed me personally the most, with it becoming so much easier to keep clean and staying cleaner for longer after months of ocean rides. I have seen 4 months of protection on the smooth plastics with no top-ups, which is awesome in that harsh marine environment.
For a detailed explanation of where and how Bead Machine fits into our current line up and if it's suitable for you, see our article below: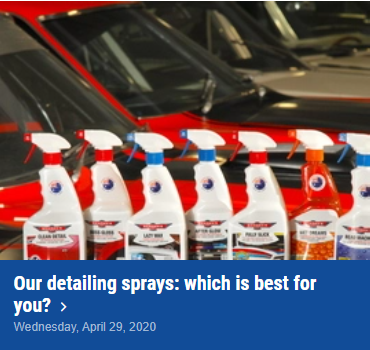 Where and when can I get it?
Bead Machine has an RRP of $33.99, which we think is great value for this type of product. You can find it right now at supporting autObarn and Repco stores across Australia, as well as a few selected Autopro stores as well. Our Beautiful Beads Pack will be available to be ordered soon.
With COVID 19 creating a bit of disruption to our normal ordering processes, it would be a good idea to call your local store first to ensure it is there. Use part code BOMACHINE with your enquiry.
Flash Prep is also in stores - RRP $20.99. Its part code is BOFPREP
We have The Beautiful Beads Pack available as well, with a 500ml bottle of Bead Machine and Flash Prep, as well as four Big Softie cloths to use with them both. Its RRP is $99.99 and the part code is BOMACHINEP
Click here for detailed guide on how to use Bead Machine.
Thank you for taking the time to read this article and I hope you soon get to enjoy the awesomeness of our latest gear real soon!

If you have any questions, please email info@bowdensown.com.au or FREECALL our office on 1800 351 308.
Love your car,
Dan Bowden
---
---