Keep it clean with these new wash tools
22 May 2019 Dan Bowden

Making the washing experience better and easier is something we always like to do. So we have a couple of great new wash tools all to make your washing faster, safer and more fun! Our Shagtastic Wash Pad has fast become one of our favourite washing tools for so many reasons, which is why it was further developed and evolved into these two new tools that will be great news for many fussy car fanatics - basically people just like us.
A big change is the new luxurious and expensive 3-yarn shaggy microfibre. We've been thoroughly testing it both at our shed and with some pro detailers for the last year, to make sure it's durable and more effective than the already great Shagtastic Wash Pad (that used a 2-yarn shaggy material). This new softer and plush deep-pile blend gives a higher level of cleaning power and absorbency, with three different lengths and denier (fibre thickness) fibres being chosen by us for this material. We find this combination of the thousands of fibres did the best job to create enough 'give' in the softer plush material so it doesn't push dirt into the paint, while still safely removing and suspending smaller dirt and grime particles away from the paint. This then allows the particles to easily wash out of the material into the rinse bucket after use. All these things contribute to the important task of minimising the chance of creating any light swirls and micro scratches in your paint.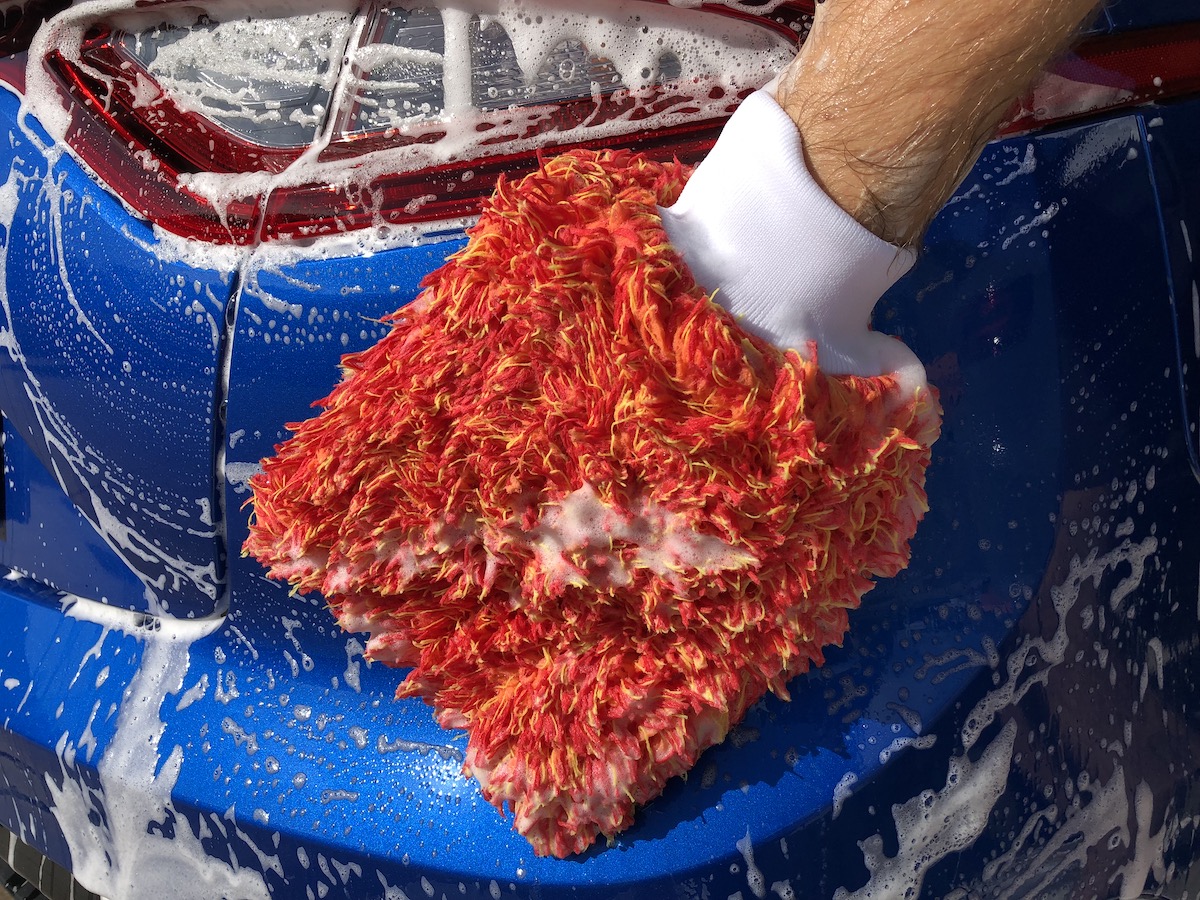 When you love doing it by hand - The Shagamittastic
This mitt is made for those who wish to use a high-quality wash mitt, for better touch and feel when washing, as well as having something to get into tighter more intricate areas around the car like grills, air intakes and vents and tail lights areas. It's got a slightly larger surface area than the Shagtastic Wash Pad for faster cleaning and is lightweight enough with its thin layer of inner sponge to cushion your hand, while allowing the easy release of water and suds to prevent your arm becoming fatigued while using it. The mitt head also has an internally stitched middle divider to help comfortably position your fingers, so your hand - big or small - won't be flopping around inside it. It's got a stonking build quality too, with double reinforced and recessed stitching for the elastic cusp and internals, so you'll have many years of easy detailing that all car enthusiasts love and need!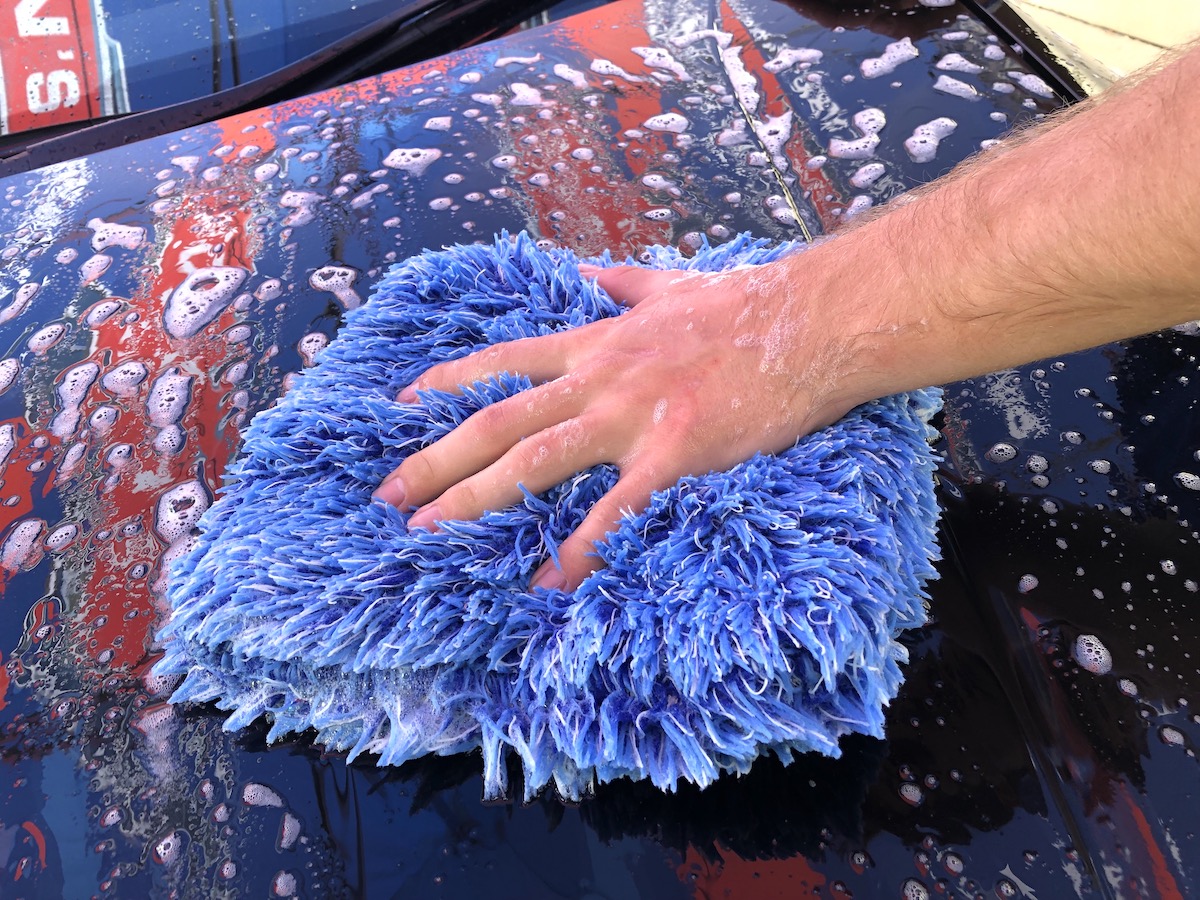 Because bigger can be better - The Wash Pillow.
We have lusted after a big sized wash tool for many years, to make the washing as fast as possible! We tested numerous sizes and varying thicknesses of these larger wash pads (including one huge version that has now become a cool lounge cushion here at work) before choosing this 25 x 25cm square with a thin profile using high density foam, so it wraps around the contours of a car, feels great to use and still lightweight enough to be easy work. For me personally, this is our best wash tool to date.
It holds a HUGE amount of suds, to dramatically cut down on the trips back and forth from your buckets, saving lots of time and effort. The massive surface area also means you will be able to safely wash everything in record time as well. With this larger size, it's become a natural fit for cleaning bigger vehicles like 4x4's, vans, buses, trucks, even boats! The internal foam is also stitched into the shaggy material to locate and prevent it from folding over on itself inside. It has the same fantastic build quality as the mitt, with important recessed stitching around the edges so you don't have to worry about it ever scratching as well as being very durable.
And the original Shagtastic Wash Pad?
The Shagtastic Wash Pad has also been given an update, with this new 3-yarn microfibre material. It's still the same size and width as the original favourite and you can easily pick it by the more plush and softer feeling material as well as the "NEW THREE YARN FABRIC" text in the bottom right of the packaging.
Which one is best for me?
There is a bit of personal preference here but narrowing them down from our experience and from the feedback of others who have used them:
The Shagamittastic mitt will appeal to those who have always liked to use a mitt. I personally prefer wash pads, but my brother likes mitts, neither of us are wrong, we just like what we like. I know one local pro detailer who likes its flatter profile the best and he does not even put his hand in it! If you wear finger jewellery this one is good as it will protect your paint from it. For those who like our Love Glove wash mitt, this new one is another huge level above it, with greater absorbency and cleaning power.

The Shagtastic Wash Pad is going to remain a firm favourite for many people, especially with the new material. This is as the size and thicker density is a bigger step up from the sponges they might have used in the past. All the female team members at our shed like this best, as it fits their smaller hands best as well.
The Wash Pillow as I mention above is to me the best thing we have ever made for washing. This big blue wonder will appeal to lots of people who are after the highest efficiency and speed for their washing.
Regardless of which one you like, all these wash tools are perfect partners for our 3 different lubricating washes and can all be machine washed with our Microfibre Wash as needed. Only drip or air dry them though, as the inner sponge material can be affected if put in a drying machine.
You can check the wash mitt and pillow being used together in our latest videos on the Wet Dreams spray on, rinse off sealant and below in our Happy Ending finishing foam:
Where can I get them from and how much?
The Shagamittastic and Wash Pillow are currently available at Autobarn and selected Autopro stores across the country. They can also be special ordered from our other resellers with part code BOSHAGM for the wash mitt and BOWPILLOW for the big blue pillow.
The Shagamittastic is $29.99 and Wash Pillow is $39.99, both are on the expensive side we know, but this new material was well worth the extra cost for how well it performs! The original Shagtastic Wash Pad is currently still the same price but will increase slightly in the coming months.
Thank you for reading this article and I hope you can get to enjoy using these new and updated wash tools soon!

If you have any questions, please email info@bowdensown.com.au or FREECALL our office on 1800 351 308.

Keeping it clean,
Dan Bowden
---
---