Easy and effective tar removal from your car
The great Aussie Road trip
The great Aussie road trip is a tradition for many families and the Bowden's are no exception. We travel countless miles each year, whether we're heading away for a holiday or running to an interstate race event with one of the cars on-board the old race transporters. Two of the most annoying things we face are tar flicking all over the cars, from the seemingly never ending road work projects. Then the relentless kamikaze bug attacks that rip into our cars leaving a scene that looks like some type of doomsday massacre.
We had tried quite a few different Bug and Tar products, but were never really happy with the ease of use or overall results they would give. Some notable rejects actually damaged the cars paint with harsh chemical concoctions, eating away at more than just the bug or tar splat marks.
So we began playing around with numerous formulations devised by our local chemists, who understand us in trying to find something that was giving results, not to the detriment of any surface it was used on. After a good period of evaluating and numerous rejections, we finally came up with this little beauty of a product we call Ta Ta Tar.
Basically it fits all of what we needed; being highly effective in removing stubborn road tar and heavy oil based grime, all the while not damaging the painted surface it is used upon (we even tested by spraying onto our cars and leaving it for days on end, with no damage occurring).

Step 1
Wash & Rinse
It's all pretty easy to use, even more so with this latest, faster and safer updated version that our chemists finished in mid 2015.
Firstly, we recommend that you wash down affected areas with our Auto Body Gel or Nanolicious Wash, then rinse off and dry with a chamois or microfibre drying towel. You need to make sure the area is clean, to minimise the chance of rubbing dirt or any other contaminates into the paint, thus scratching the paint.

Step 2
Gloves on & spray
Put some gloves on, then spray the Ta Ta Tar directly onto the affected surface. Leave it sit for at least 2 to 5 minutes for most normal situations. Watch as this awesome green stuff slowly melts away the tar dots in front of your eyes.

Step 3
Hose or wipe
Now you can either hose it off with strong water pressure, or wipe it away with a wet Dirty Deeds microfibre cloth. For extreme cases you might have to give it a second go, concentrating your efforts on the most heavily marked areas. On tar especially, you will be amazed to watch it slowly dissolve away. It can be quite dramatic on a white or light coloured car as marks you were not even sure were tar, tend to be removed as well.

For older, harder tar
For old tar deposits that have dried out on your paint (usually takes many months for this), we find our Fine Clay Bar works great at removing them quickly and easily. Another tip to remember is to remove the tar as soon as possible. Keep a bottle of Ta Ta Tar in the boot of the car for fast and easy removal when it happens! We have also found that Ta Ta Tar is quite good at getting rid of fresh sap and oily grime.

To finish it off
Ta Ta Tar is a very concentrated cleaner. It leaves a beautiful, non greasy finish, but it will remove the protective wax from your paint. So give the area you have just cleaned a quick coat with our Auto Body Wax, Lazy Wax or Fully Slick once you're done.
Job is now all done!

Removing racing rubber marks
We have also found that after a big weekend at the track, Ta Ta Tar will remove rubber marks from your paint, quick and easy. We get them on our cars after racing, mainly from other cars flicking the hot stuff off their tyres, marking our paint. We use it to clean down our cars after every big weekend at the track.

Any questions?
You can get these car care products at all of our great retailers nationwide. Find your closest one in the link at the bottom of this article.
If you have any questions or feedback about this article please contact me by email - dan@bowdensown.com.au or call our office on 1800 351 308.
Love your car,
Dan Bowden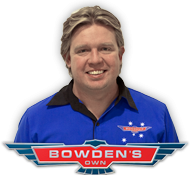 ---
Tree sap removal from your cars' paint and glass
Tree sap removal from your cars' paint and glass
The easiest way to clean Kamikaze bugs from your car
The easiest way to clean Kamikaze bugs from your car