Easy and effective tar removal from your car
The great Aussie Road trip
The great Aussie road trip is a tradition for many families and the Bowden's are no exception. We travel countless miles each year, whether we're heading away for a holiday, or running to an interstate race event with one of the cars on-board the old race transporters or doing a tarmac rally. One of the most annoying things when we get back is cleaning off the tar flicked all over the cars.
We have had a few different tar removal formulas over the years and with our never ending development with the chemists on the car care, we have come to this new Ta Ta Tar formula.
This little beauty of a formula is now citrus based, a change from the previous petroleum based formula we used to use. We have found it to be more effective, still safe or all the different finishes around a car, a lot easier to use and also a bit more enviromentally friendly.

Step 1
Wash, Rinse and Dry.
Ta Ta Tar is pretty easy to use, even more so with this latest, citrus version.

It will always work best on fresh tar, so keep it handy in your garage or car if you're on a road trip, to use as soon as it happens.
We do not recommend this product if you have a professionally applied ceramic coating, as it can affect some of these surfaces. For people in this situation, it would be best to take it back to the person who applied the coating to remove the tar and then reapply the ceramic coating back to that area if needed.
Firstly, it's important to make sure the area you are going to work on is clean, to minimise the chance of rubbing dirt or any other heavier particles into the paint, thus scratching the paint. So we recommend that you wash the tar affected areas with any of our washes, then rinse with fresh water and dry it off.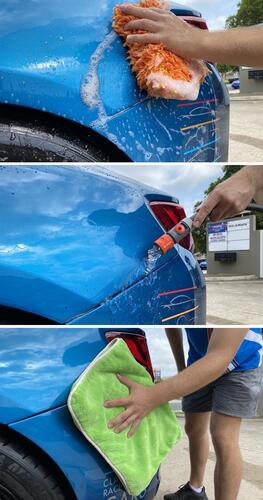 Step 2
Mist onto the tar
Spray Ta Ta Tar directly to the tar affected surface, enough to cover the tar dots completely.
Leave it to dwell there for at least 1 to 2 minutes.
Watch as this awesome formula does most the work for you, slowly softening and melting away the tar dots in front of your eyes.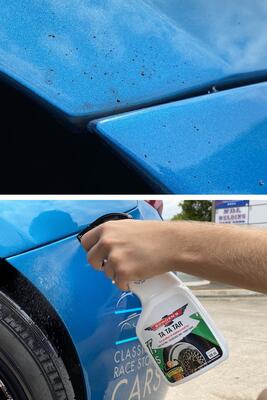 Step 3
Gentle Wipe Off
Now get damp Dirty Deeds low pile microfibre cloth.
Fold the cloth into quarters and mist 4 to 5 sprays of the Ta Ta Tar directly into the cloth.
Apply by wiping the Dirty Deeds over the tar affected surface in one direction, one wipe at a time. Work patiently and don't ever aggressively scrub as you will take the risk of introducing marring to the paint surface.
For more extreme cases with larger tar spots or older tar, you may have to repeat the above process, as bigger tar and older deposits will only have the outer skin of the tar penetrated and softened by the Ta Ta Tar. Just be patient, take your time and slowly remove these marks safely. If the tar is really old and rock hard, with no tar runs appearing after applying the Ta Ta Tar you will have to use a clay bar or our Claying Rubber to try and remove it from the surface.

Also remember to flip and turn the cloth to a clean side often, to minimise the transfer of the removed tar from the cloth back to the surface you're trying to clean. Repeat this process till all the tar is removed from the vehicle.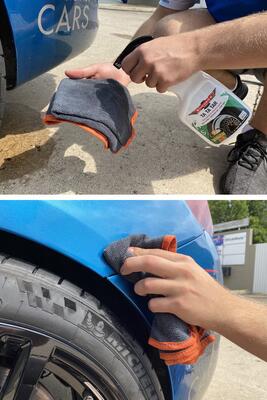 Step 4
A final clean and dry
Once the tar is all gone, you will need to give the areas a quick wash with any of our car washes to remove any final residue - then dry it once more.
As tar is a pretty difficult substance to remove, the Ta Ta Tar is made to be a VERY effective cleaner. Due to this, it will also strip off any previously applied waxes and sealants, so you will need to reapply any of our carnauba waxes or paint sealants for some protection and great shine after its use.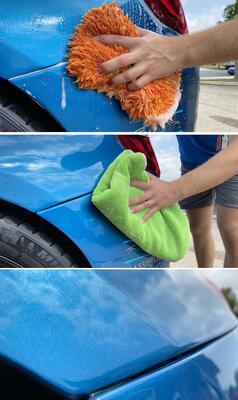 Also good for sticky goo and other residue removal
We have also found that Ta Ta Tar will remove lots of other different marks from your paint and glass, like sticky goo, chewing gum, sticker residue and tyre rubber marks can all come off pretty quick and easy.

We also use it to clean up really dirty, yellowing OEM white wall tyres, when the Orange Agent doesnt quite cut it as well.

Any questions?
You can get our new Ta Ta Tar from all of our great retailers nationwide. Find your closest one in the link at the bottom of this article.
If you have any questions or feedback about this article please contact our team by email - info@bowdensown.com.au or call our office on 1800 351 308.
Love your car,
Dan Bowden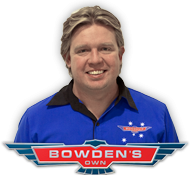 ---
Tree sap removal from your cars' paint and glass
Tree sap removal from your cars' paint and glass
The easiest way to clean Kamikaze bugs from your car
The easiest way to clean Kamikaze bugs from your car