For time poor enthusiasts - Lazy Wax
We like to wax easy
Over the past year, we've invested heavily into creating, and producing a high gloss, highly reflective and more natural based spray wax. Introducing; Lazy Wax. A spray on wax that is not only super easy to use, but contains natural, high quality carnauba wax for a deep and unparalleled glossy finish.
Lazy Wax is the quickest and easiest way to wax your car. If you don't have the time to wax your car by hand like a lot of us, simply spray Lazy Wax on your paint, then buff it off to a high sheen. It will leave a deep glow to your paint that you didn't think was possible, add a layer of protection from the elements to your car, and looks especially intense on darker coloured cars.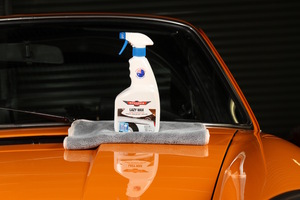 Is it different to your Carnauba Body Wax?
The Lazy Wax is a genuine alternative to the super popular Carnauba Body Wax cream we make. It uses the same amount of expensive T1 cosmetic grade wax in its formula (it's 100% carnauba wax) after we found on closer inspection that most spray waxes out there contain very little, if any wax at all! So we set out to make a difference and create a genuine, high quality spray on wax.
It was far from easy, as it took us over two and a half years to get to our final batch of 8 different formulas, these then went to our team of professional detailers and hardcore enthusiasts for the final grading. One formula really stood out amongst the pack and thats the one we finally chose to be blended and bottled.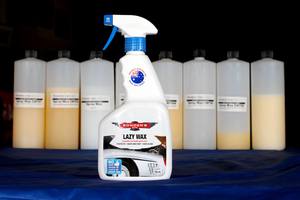 Preparing to wax
Good car care requires good preparation. Lazy Wax has very little cleaning power and needs a system of products to prepare and completely clean the surface you will be using it on.
If the car is dirty, wash and dry the car. Then if the paint feels rough, use the Fine Clay Bar or our Claying Rubber to bring it back to a smooth finish. Use the Paint Cleanse & Restore after this to further deep clean the paint surface and create something for the wax to bond to.
Always apply the Lazy Wax in a cool, shaded area. Make sure the car is completely dry as well. Direct sunlight and overly hot or wet panels can affect the way the Lazy Wax will bond with the paint.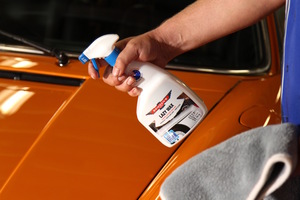 Time to get Lazy.
Work on one panel or section of a larger panel at a time (like 1/2 a bonnet or roof etc), initially evenly mist 12 to 15 sprays of the Lazy Wax directly into a folded plush Drop Bear towel. Wipe it with a microfibre cloth (our plush Drop Bear cloth folded into halves is perfect for this) into the surface in a side to side motion, east/west and then north/south to get an even coverage of it across the surface.
Let it sit for 15 to 30 seconds before removing the residue by lightly buffing it with a second, clean and dry Drop Bear microfibre cloth. Be sure to turn this cloth to a fresh side frequently.

For the following applications, only mist 2 to 3 sprays into the now wet side of the first folded Drop Bear towel and repeat as above.
Once done, you should step back and check out that stunning, deep glow to the paint. Enjoy a cold beverage if one is handy...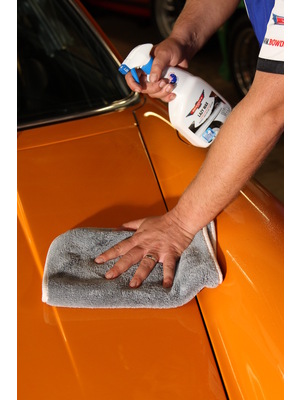 Final steps and tips
You will see that Lazy Wax will never dry white! So don't be scared to use it around the door rubbers and on black plastic trims as well. Its natural oils and waxes are great for a quick spruce up as well.
If you're a car show fan, you'll be delighted to know that Lazy Wax hasn't got any cleaners in its formula, meaning you can layer it for even more shine and depth. As it's organic in its nature it will take a little while for the wax to harden and cure, we find 3 to 4 hours depending on the temperature is generally enough. After this, apply another coat of the wax right on top.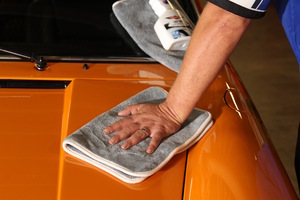 A sealant on top?
Another popular tip used by many enthusiasts (as well as ourselves) is to apply any of our great synthetic sealants like Fully Slick, Wet Dreams or Happy Ending on top of the Lazy Wax, this will offer even greater, longer lasting protection, plus give you all the benefits of the waxes shine and depth underneath. Again, you need to allow for the wax to cure for a few hours and then you can apply the Fully Slick right on top. In the case of Wet Dreams or Happy Ending, do it during the next wash, as per their directions.
Use Fully Slick after every 2nd wash, the Wet Dreams and Happy Ending every 2 months, or when you notice the shine or beading action begin to dissipate. It will double the protection of the Lazy Wax, meaning you will only need to reapply it every 6 months.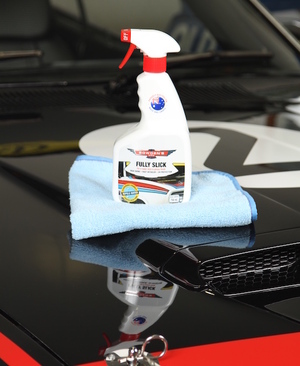 Any questions?
We love using the Lazy Wax and from the amount of awesome feedback we have received on this product, we know you will too. It's simple and easy to use application is a true winner, especially when it creates such a beautiful, reflective surface.
You can find the Lazy Wax in many of our resellers Australia wide. If it's not on the shelf, simply request it with part # BOLAZY.
If you have any other questions about this product, please feel free to contact me and my team on 1800 351 308 or email me at info@bowdensown.com.au
Love your car,
Dan Bowden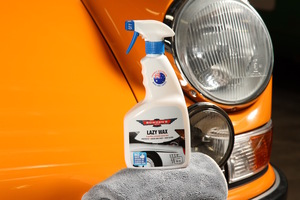 ---
Getting Fully Slick, with our spray on paint sealant
Getting Fully Slick, with our spray on paint sealant