Boss Gloss - the versatile quick detailer
One of our most versatile products is Boss Gloss. It can be used as a quick detailing spray to quickly clean dust off your car before or at a big event, add depth and shine to your paint, as a drying aid with The Big Green Sucker drying towel, a clay bar or clay towel lubricant, or even as a fast last step product to add that extra shine to your ride.
What is it?
Boss Gloss is a water based synthetic detailing spray that's ideal for both modern clear coats and older single stage paints. It wipes off fast and streak free on wet or dry surfaces, including paint, glass and hard plastics, even in the sun (with the right cloths and technique). It leaves a great shine and a now famous slick, smooth finish which is why it's so popular with many car enthusiasts now.
It won't strip off waxes or sealants, making it fine to use in the final step process a couple of hours after waxing, giving a nice boost in shine, as well as helping to remove any wax residue you may miss when you were buffing it off. This product is compatible to be layered over our other detailing sprays in the weeks to months after (except Clean Detail), to keep your car looking good and super shiny with each application to your paint.
It's formula is not made to be protective like the Fully Slick or Bead Machine spray sealants, with its goal to be more towards a greater level of shine, so it's our go to product at all car shows or events, or if we want a quick bit of gloss before a fun cruise.
Read on for our 4 favourite uses for this great detailing spray.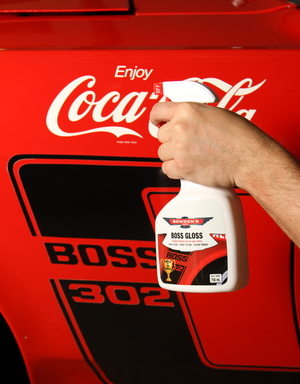 At car shows
We find Boss Gloss fantastic to use when you turn up to a car show, and just want to give the car a quick spruce up. We use a specific technique using Boss Gloss and the Drop Bear cloths. The way it's done is; if the car is in the sun, take a Drop Bear cloth and fold it in half, spray 6-8 sprays of Boss Gloss straight into the cloth (if the car is in the shade and the paint is cool to the touch, lightly mist the Boss Gloss straight onto the car, one panel at a time). Now this is the important part: follow this technique for this first clean. Grab a hand on each end of the cloth and gently apply an arms length away from you. Then using absolutely no pressure, slowly pull it in a straight line back towards you, while slowly rolling the cloth upwards at the same time.
This way you're continually exposing a clean surface of the cloth to the paint, further lessening the chance of any scratching. You will see the dust lines in the microfibre. It's important as you continue, that you always make sure to turn the cloth to a fresh/clean section with each pass, so the dust in the cloth is never in contact with the paint again. Once the cloth has had all 4 sections used, put it away to be washed and get a new cloth.
We use at least 5 to 6 cloths on a car that's got light dust on it, so it's good to have a few new cloths packed for each show.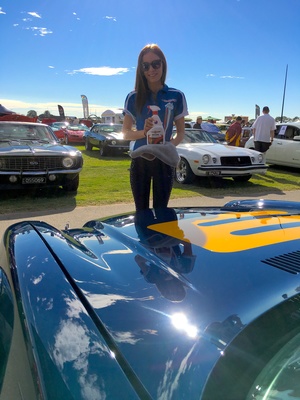 For in the sheds
If you're like us and have vehicles that get dust on them, but don't really need a full wash, or can't be washed for whatever reason, then you'll love Boss Gloss. It's our fastest and easiest to use detailing spray and gives a slick, smooth finish, and great show-car shine to your vehicle in no time at all, with minimal effort.
This is why we love to use it in our shed on the animals in there before car shows or Customer Open Days, to safely remove dust and dirt from our cars. We use Boss Gloss instead of Fully Slick or any of the other detailing sprays because it's the easiest to use out of the lot, and is the most lubricating, to help reduce the chance of micro scratching or marking the paint.
We use it the same way as we mention above at car shows, with lots of Drop Bear cloths being used to detail each car.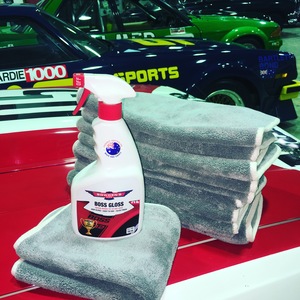 As a clay lubricant.
The formula has really great lubrication in it, making it perfect for the job of a clay lubricant.
It's an easy one to use with both the Fine Clay Bar and Claying Rubber when working indoors or outdoors. Simply spray Boss Gloss onto the paint or glass surface that you intend to clay and then use the bar or rubber pad on it. Once you're happy the area is free of contaminants, wipe it clean with a microfibre towel like the Big Softie cloth and move onto the next section. We have a full in depth article on both Clay Bars and Claying Rubber in the links at the very bottom of this article.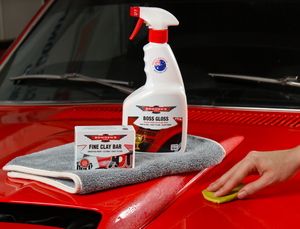 As a drying aid
We made Boss Gloss so it can also be used after a wash, to help dry your car as a "drying aid" with The Big Green Sucker microfibre drying towel (there is an article detailing this idea and procedure at the bottom of this article). Its hygroscopic nature means it helps suck and hold more water into the Big Green Sucker, as well as lubricate it so it glides better across the panels. Its best trick is how it helps any tiny water droplets dry from the car, leaving a nice spot free finish with a lovely boost of gloss there now to boot. We would never use the Big Green Sucker with out it.
It's pretty easy to use, by spraying a light mist of Boss Gloss 6 to 8 times on each side of the towel and then get into it. Spray a couple more sprays when you're half way through drying the car, only if you feel it needs it. Usually the first lot of sprays is more than enough to do the whole car!
Boss Gloss can also be used to dry your door jambs with a Dirty Deeds cloth. Simply spray 3-4 sprays of Boss Gloss into one of our Dirty Deeds microfibre cloths, and then dry the door jambs. This will leave a lovely, shiny finish and make them even easier to clean and dry next time you wash the car.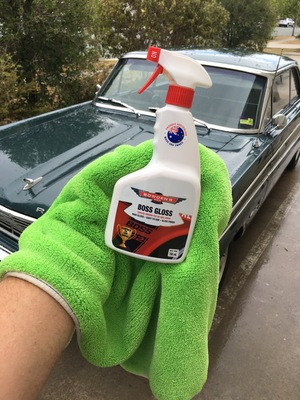 Any Questions?
Boss Gloss is one of the most used and loved products in our range, it's versatiltiy means it's a great addition if you're into car shows, or just want something fast to spruce up your daily ride. We know you'll love its easy going and quick to use nature just as much as we do.
You will find it on the shelf of our many retailers nationwide. Find your closest from the link at the bottom of this webpage.
If you have any other questions about it, please email our team at info@bowdensown.com.au or call our office on 1800 351 308.
Love your car,
Dan Bowden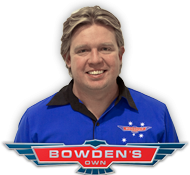 ---
The Big Green Sucker - This cloth really sucks.
The Big Green Sucker - This cloth really sucks.
Safest technique for cleaning off light dust
Safest technique for cleaning off light dust
Keeping it smooth with our Fine Clay Bar
Keeping it smooth with our Fine Clay Bar