Dash and interior plastics cleaning and protection
Why we hate shiny interiors...
When you go to a new car dealership, take a look at a brand new cars interior. You'll notice the dash and plastic areas all have a nice and natural mid sheen to them. Not a horrible shiny/glossy/greasy look that many 2nd hand car yard cars have, or cars owned by unfortuante people who use cheap, silicone based products and simply don't know any better. We believe that people who think shiny plastic is good on interiors need to be re-educated to how their car was when it left the factory.
We saw it as important to make a product that would rejuvenate and restore this brand new, factory fresh look and feel, which is why we created our new formula Vinyl Care.
Vinyl Care is great for your cars dash board and plastics, as it gives true UV protection, to help prevent plastic trim from premature cracking, fading and hardening. Its formula also helps rejuvenate and restore the look of older, sun affected finishes to an orginal look and feel.
The best thing about Vinyl Care is its low sheen finish, as it won't reflect a shine (when the sun hits the dash) onto the inside of the windscreen, making for a lot safer driving experience.
We're also very proud that it has no silicone - water or oil based - in its formula, so it's not negatively affecting the plastics and vinyl in the long term, nor is it greasy, sticky or dust attracting.
If you have a new or 2nd hand car, or are just hating the shiny products that have been applied previously, here's our way of cleaning that crass shine away from the dash and any non gloss plastics, bringing back the factory fresh finish.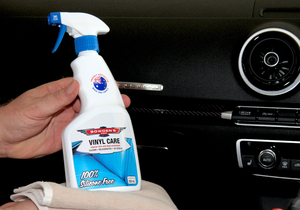 Begin with a deep clean
If the dash is shiny, has any grime build up, if you've been using other products on it previously, or you're using Vinyl Care for the first time on a car that's new to you, our first step is to deep clean it with our Orange Agent citrus based all purpose cleaner. This is a safe, pH balanced formula that's ideal for a more intensive clean on a lot of surfaces, with vinyl and plastic being some of its best.
Products that leave a shine all use silicones in their formulas, so it's essential to remove this before applying our low sheen Vinyl Care. If you don't do this step, you may get an uneven finish, even a "fish eye" type look as Vinyl Care will not layer on top of silicones.

To apply, spray Orange Agent to lightly dampen one side of the Square Bear microfibre applicator pad. Work in small sections at a time, gently applying in a circular motion to the surface, working it in reasonably well. Now this is the important bit; wipe off the Orange Agent with a folded, clean, Plush Daddy or Dirty Deeds cloth while it's still wet. You remove it while wet, so all the grime and silicones you've cleaned off are wiped into the cloth with the cleaning solution, as if you let it dry, it will bond back onto the plastic surface you're trying to clean. Be sure to inspect and then turn/fold this cloth to a fresh, clean side when you begin seeing any dirt and grime building up in it.
If you notice the microfibre applicator getting slightly dirty, (especially when cleaning more grime affected surfaces) you can hand wash it out in fresh water, then wring till it's dry/damp, apply Orange Agent and carry on cleaning.
Continue doing this system of cleaning, till the entire area is done.
It leaves a dry and pretty stark finish, so you'll now need to finish it off with the Vinyl Care.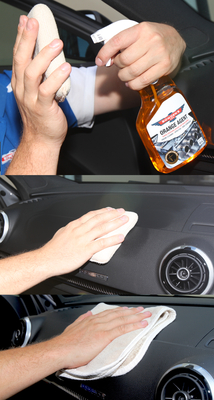 Protect and rejuvenate
Get the Vinyl Care and mist about 4 sprays into a fresh and clean Square Bear applicator. You use an applicator to ensure good coverage, as well as for making a lot less work wiping away over-spray if you spray it directly onto the surface. This applicator has special looped material that help a lot with deeper cleaning, while still being gentle enough that they will not damage the surface that is being worked on.
When applying product to the dash with the applicator, work in small sections at a time. Move across the surface in a gentle circular motion, as this gives you the best and most effective clean of the dash, especially if it uses a textured or undulating surface. You want to ensure the product gets into all these areas for the best protection and finish.
Like using the Orange Agent above, it's good to remove the Vinyl Care before it has dried on the surface, which as it dries quick, you'll need to work a bit fast... Use a clean and dry, folded low pile cloth like the Plush Daddy or Dirty Deeds cloth. We find when using this technique that it leaves a perfect finish on the more difficult textured or plain flat surfaces when used this way. It also further helps using this technique if you're using the product by itself, without the pre-clean of Orange Agent, as its more gentle cleaning solution won't dry with any grime back on the dash's surface.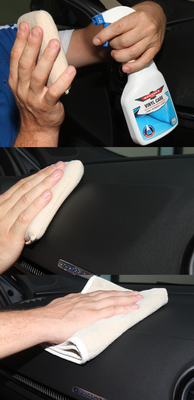 Welcome to a new looking dash
And you're all done! You should now have a great, low sheen, UV protected finish! You'll love how it won't leave that annoying glare on the windscreen, as well as to how much easier it is to look after with no dust being stuck to its non greasy finish as well.
To maintain this finish and protection, we recommend that you use the Vinyl Care every month over summer, and every 2 months in the cooler winter months. If your car is parked or exposed to the sun often, we'd double the application to every 2 weeks in summer and every month in winter.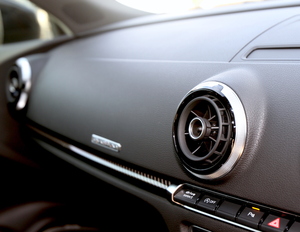 If you have any questions
You can find the Orange Agent and Vinyl Care in many of our resellers Australia wide. If it's not on the shelf, simply request it with part numbers BOAO and BOVC.
If you have any other questions about these products, please feel free to contact me and my team on 1800 351 308 or email me at info@bowdensown.com.au
Love your car,
Dan Bowden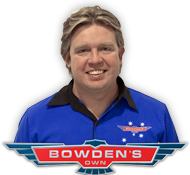 ---
Orange Agent - the many uses of this great cleaner
Orange Agent - the many uses of this great cleaner