The new Twisted Pro Sucker - A fast drying towel that really sucks!
16 November 2023 Dan Bowden

The fastest, easiest drying experience when washing your vehicle; that's the huge benefit you'll get from our great new Twisted Pro Sucker drying towel.
It's been a few years since we created The Big Green Sucker plush drying towel. It was, and still is, a huge part of our Safe Wash System and helps to dramatically reduce the chances of inflicting swirls and scratches into your paint when drying your vehicle after a wash. Its size, absorption and quality were perfect for what we were after in a drying towel.
We've been looking at different types of microfibre annually, for a towel that can rival or better The Big Green Sucker, and never really found anything that we felt came close from the numerous different combinations and types of microfibre that we looked at. Then, this came along - a new type of twist pile loop microfibre. We were blown away by its premium quality feel, super plush 1600 GSM thickness and most importantly, just how fast it was able to suck water up, cutting down our drying time significantly. We made this material into a range of different sizes and tested the hell out of them, to get something we now adore using.
Introducing the Twisted Pro Sucker - a manageable 70cm x 50cm in size that's dual-sided to hold a huge amount of water - nearly 5 litres in our tests! It's constructed with our tried and tested micro-soft edging and stealth stitching, with no stitching across the centre that you may see on other lower quality towels. This new drying towel is a key component to ensuring a great, safe drying experience every single time.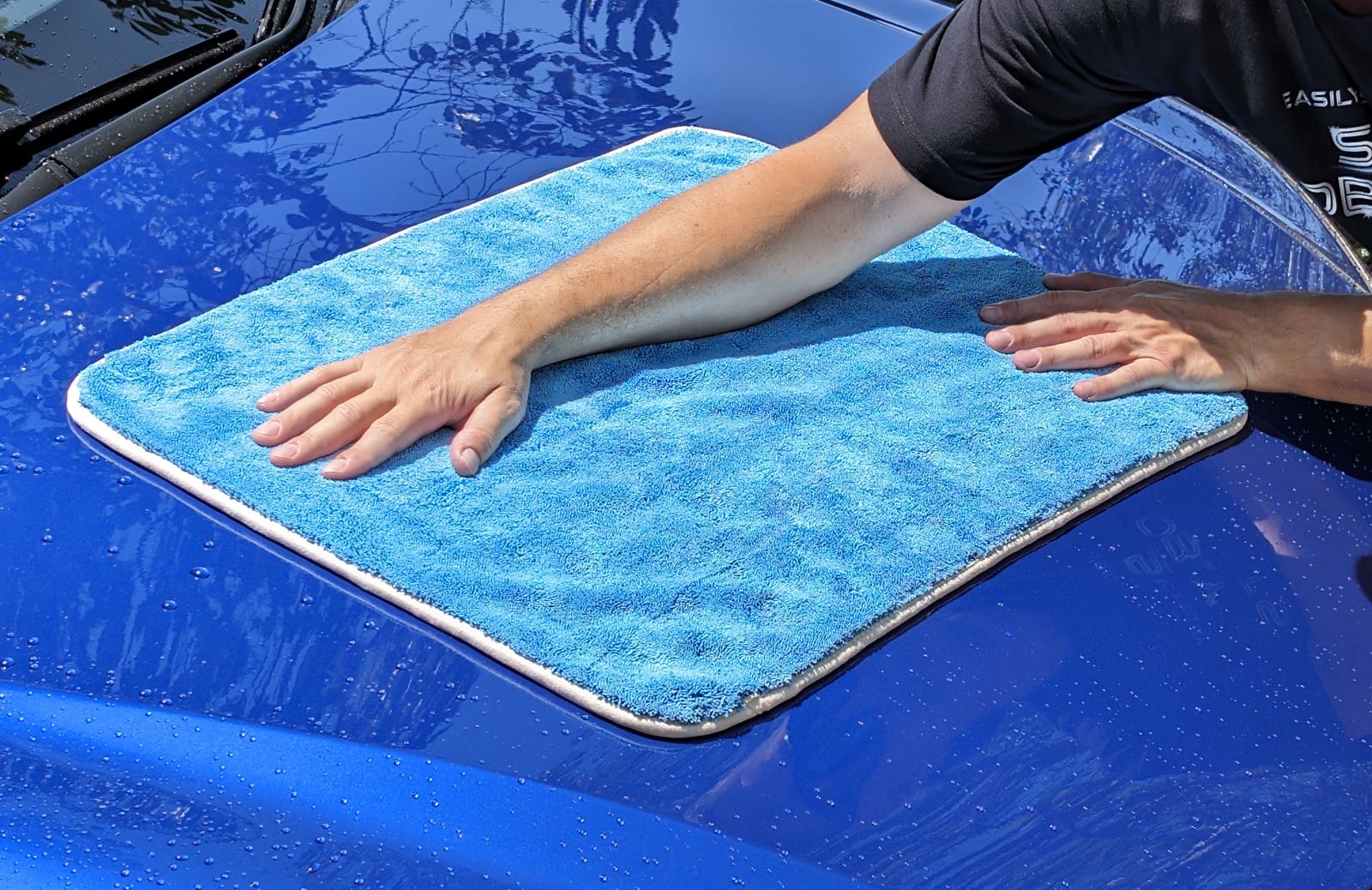 Twisted Pro Sucker's key features
Sucks water off fast and easy, drying your vehicle quicker than anything you've used before.
Uses a premium quality, super thick 1600 GSM twist pile weave microfibre with amazing absorbency.
A manageable 70cm x 50cm size that's dual-sided to hold a huge amount of water.
Soft and long twist pile loop material helps prevent errant dirt from ever scratching your paint.
Safe micro soft suede edges won't inflict scratches and swirls on delicate surfaces.
Bright blue colour, to quickly identify dirt and flip to a clean side before it can scratch.
Machine washable and durable, so it can keep on sucking for many years to come.
Also perfect to use for a final dry after using our rinseless wash; Dry Spell.
Use with our Boss Gloss spray for a beautiful drying experience.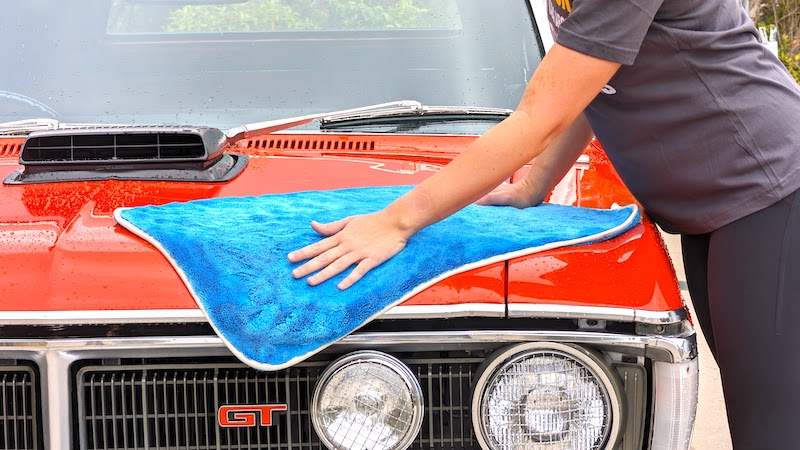 How much can this towel possibly suck?
We've used this now on a LOT of cars, SUV's, 4WD's, trucks, vans and even a plane. With no tricks, we can easily get two large cars done with this one towel, and even three has been possible numerous times as well. We can assure you that you'll have never sucked like this before! In absorption, we can pour 4.5 litres of water into it till it's pretty well full. If it fills up and you have bigger arms, you can wring it out, but we didn't make it from a dual-sided material for this reason. This was made to suck as much as possible and you'll be able to get your two car stable wash and dry done with one towel quite easily.
You say it's fast?
We're not big on making bold claims if it's not true, as it doesn't help us long-term with people being able to trust the gear that we love to create. This towel's twist pile is remarkable in just how fast it can be used - just one wipe over is all it ever needs and we see it saving us nearly 1/2 the time (yes we're serious) it would take us over using The Big Green Sucker, which was already a pretty damn great, fast towel! It'll be even faster if you're coming from a traditional chamois or older waffle weave towel.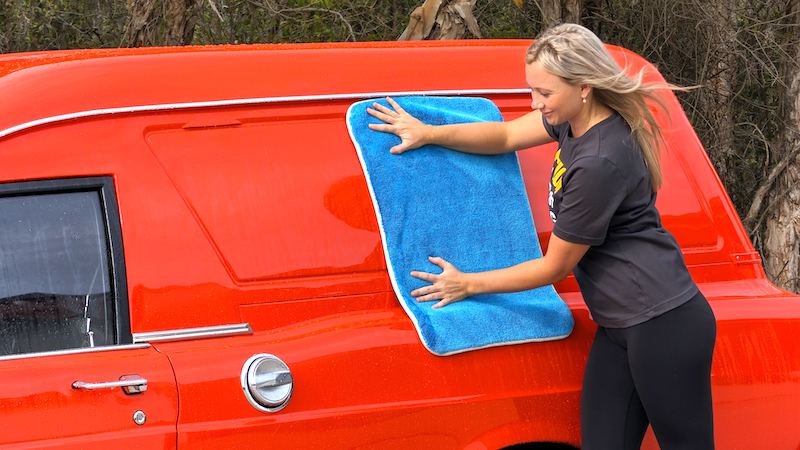 Also Washable?
Yes, it is. Machine wash this by itself using our microfibre wash and/or only with other twist loop material towels so you don't ever pick up lint in the material, which we have found it can do. Dry in the tumble dryer on low to medium heat, not hot air as it will affect the longevity and effectiveness of the fibres. If you can only air dry, run your hands over the material once hanging on the line to stand it up, you don't want it matted down as it won't be as nice to use the next time around.
Twisted Pro Sucker

vs

The Big Green Sucker

Something we know a LOT of people will be asking, so here's our honest take on what we've seen now. The Twisted Pro Sucker we feel is a step up from The Big Green Sucker in the speed of its use and absorbency, hence why we have given it the "pro" naming designation. That incredible sucking power from the massive 1600 GSM (GSM is Grams per Square Metre. The higher the number will generally mean greater absorbency, although the quality of the material itself will be the biggest indicator of how much water it will hold), really sucks water off faster and easier, making it perfect for quickly drying your daily driver. The larger size of the the Twisted Pro Sucker (70 x 50cm vs 70 x 40cm), and higher GSM means it can hold more water, making it a great choice for drying larger or even doing multiple vehicles when you're feeling a little more frisky.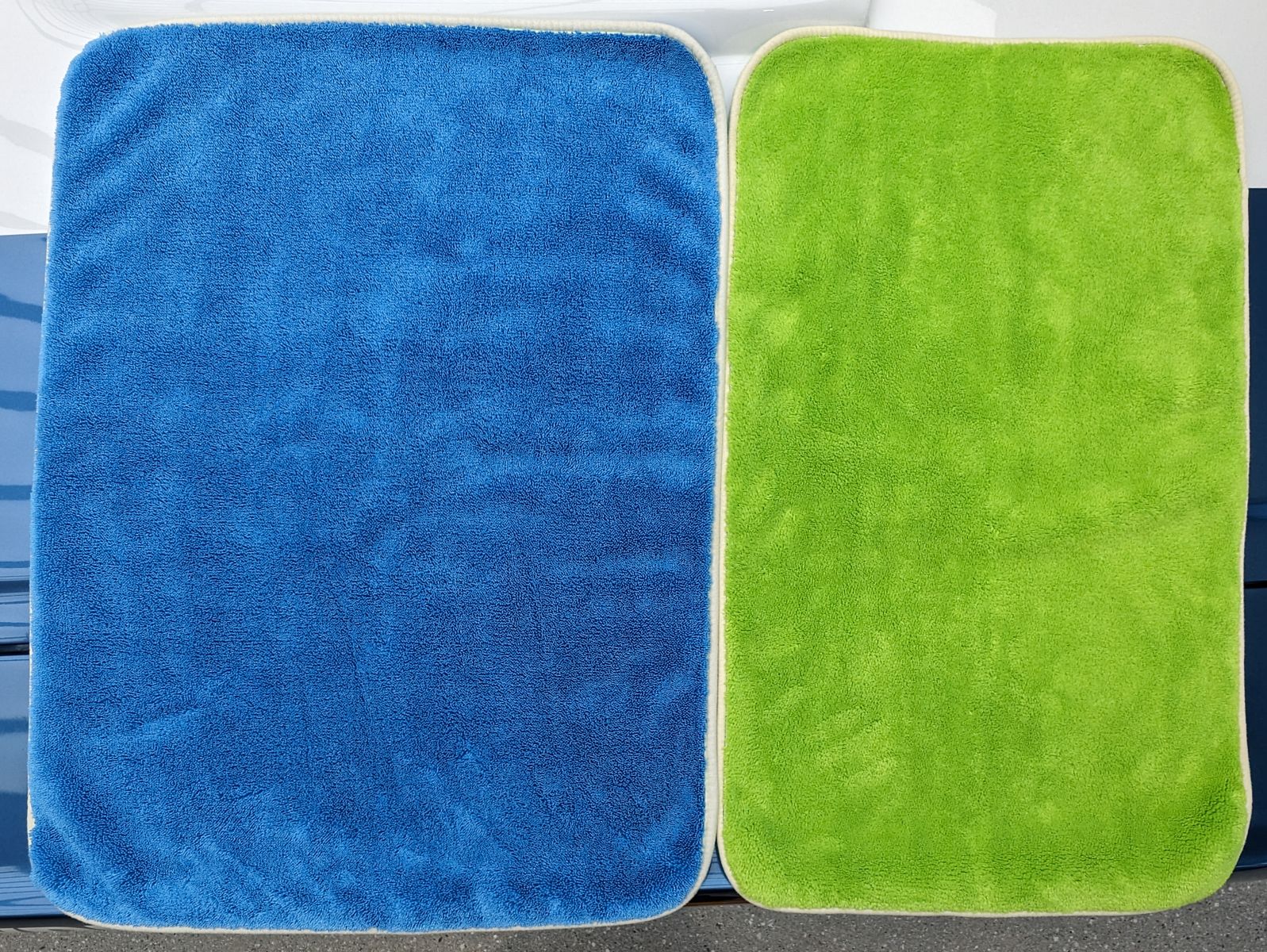 For those who love our plush The Big Green Sucker, don't feel the need to go buy and hoard a heap of them, as it's not going away! It's there for those who prefer the softer, plush feel on their cherished ride and the slightly smaller size that many are now comfortable with. The super soft feel of it makes it perfect for pampering that special vehicle in your life and doubling up as a makeshift soft comfort blankie on those long winter nights.
So for the geeky fans amongst us, here is some technical stuff that's easy to digest in a tabled point form:
| | Twisted Pro Sucker | Big Green Sucker |
| --- | --- | --- |
| Material: | Twist Loop Microfibre | Ultra Soft/Plush Microfibre |
| GSM: | 1600 | 1200 |
| Blend: | 70% Polyester, 30% Polyamide | 70% Polyester, 30% Polyamide |
| Edges: | Soft micro-suede | Soft micro-suede |
| Size: | 70cm x 50cm | 70cm x 40cm |
| Weight: | 640 grams | 320 grams |
| Water Holding*: | 4.5 litres | 3 litres |


Why the * on the water holding?
* We did a good amount of testing of this new cloth, including against other top-rated twist loop drying towels. There are some rather big claims made in their marketing that we had issues in actually replicating, namely the water holding or absorption capacity. Our tests showed this 1600 GSM material we use was by far the most absorbent, so we have, as always, given a truthful indicator of what ours can actually hold in the material and invite others, as always, to do the tests as we have and see this for themselves :).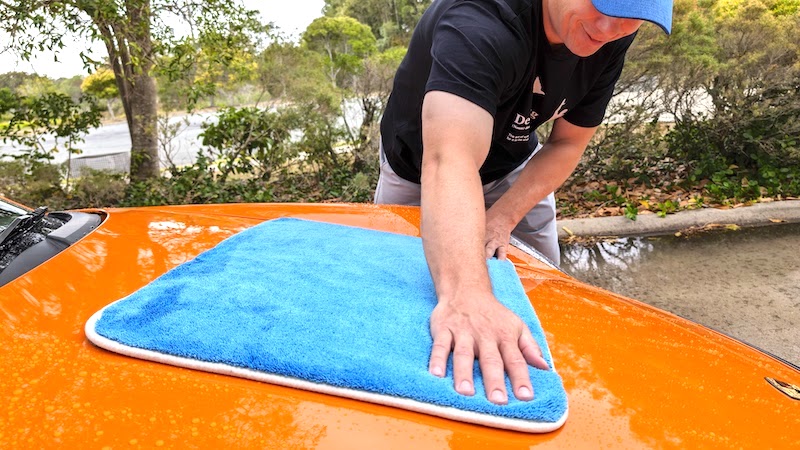 Twisted Pro Sucker vs
Twisted Juicy Sucker
The Twisted Juicy Sucker was our introductory twisted loop offering, being a single sided 800GSM at the smaller size of 70cm x 40cm, for those who don't like the larger cloths and wanted something lighter to use around the car. The Twisted Pro Sucker is 1600GSM and a double sided 70cm x 50cm larger offering which can hold a lot more water and get around multiple vehicles without getting saturated with water.
Where is it made?
We get this good question occasionally and it's a simple answer: South Korea. Now before people get the pitchforks out, be aware that there is no microfibre manufacturing here in Australia and the cost of ever setting a manufacturing facility up is way outside the scope of a smaller company like ours. So due to this, we partner with the best factories that use the latest German-made Karl Mayer machines, to custom make a super high-quality product to our exact car nutter specifications. We'd love to use and support local made as we do with so many of our other products, so if there is someone out there willing to invest a few million into setting up a manufacturing factory here in Australia, do contact us as you'll get at least one passionate local customer!

We have an article about it on our website for those needing a deeper dive into this info too: https://www.bowdensown.com.au/proudly-australian-made-owned
Hit a snag?
If you ever happen to snag one of the strands of the cloth on a sharp edge or a badge, be aware that this can unravel one of the twist pile loops. Visually it looks bad, but don't worry as it's a very easy fix, simply cut the thread off level with the material. Because we make this from a higher quality twist pile, its extremely tight weave design means it won't ever damage or start to unravel the cloth.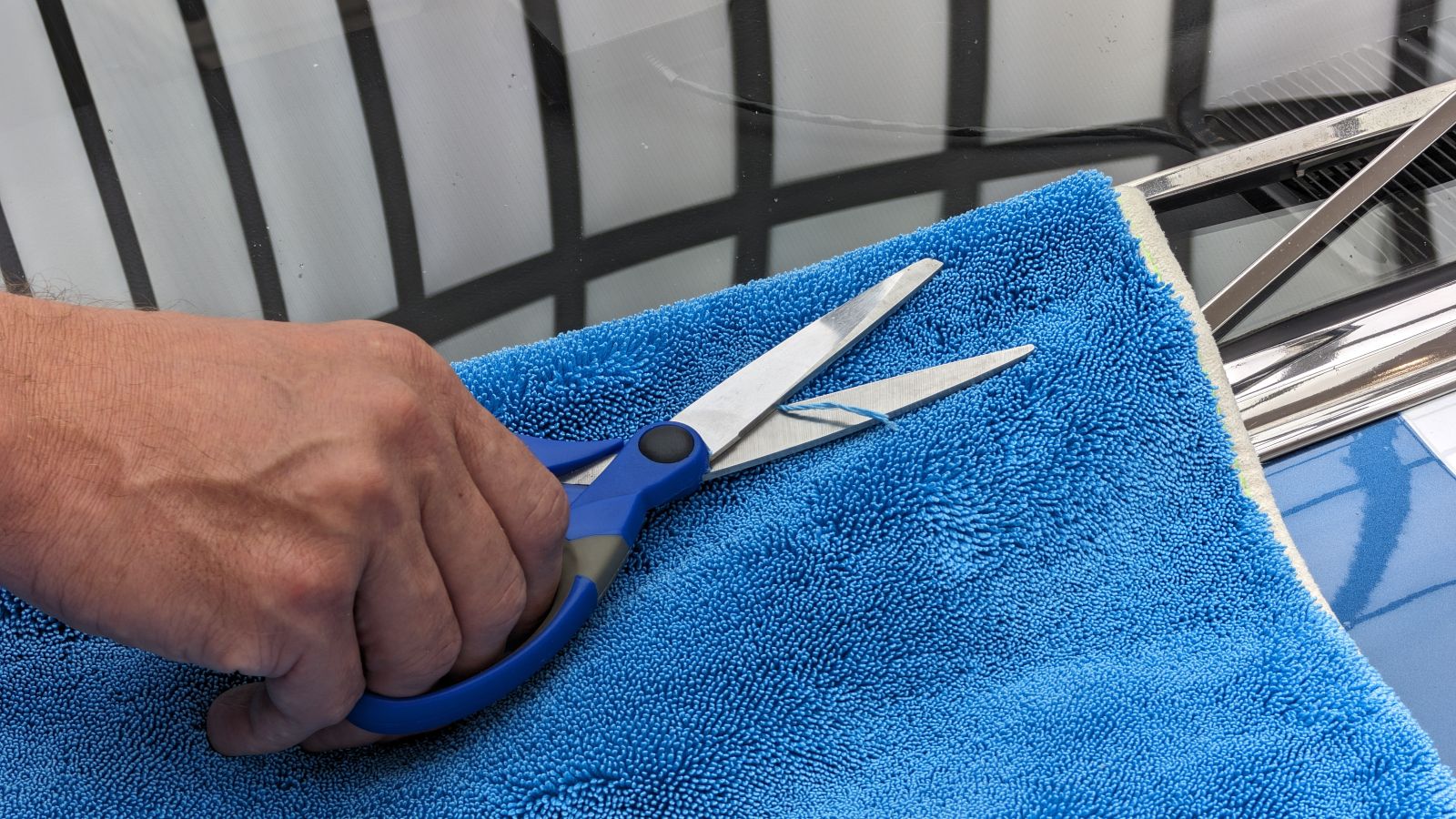 How much and where can I get it?
The Twisted Pro Sucker has a reasonable RRP of $49.99 and it can be found in your local Supercheap Auto, autObarn, plus selected Autopro and Repco stores initially and will become available in other retailers in the coming weeks and months. To find your closest retailer, see our Store Finder link HERE.
If your local retailer doesn't have them in stock yet, simply ask them to order one in for you! The product code to quote them is: BOTPS.
We absolutely love using the Twisted Pro Sucker as it saves us time while drying, cutting the detailing time down - so there is more time for driving or just wandering around after with a refreshing beverage and a goofy look, admiring our freshly cleaned ride. We hope you all enjoy using it as much as we do. We hope you all enjoy using it as much as we do.
For more info on using the Twisted Pro Sucker to safely dry your car, please check out our detailed guide below: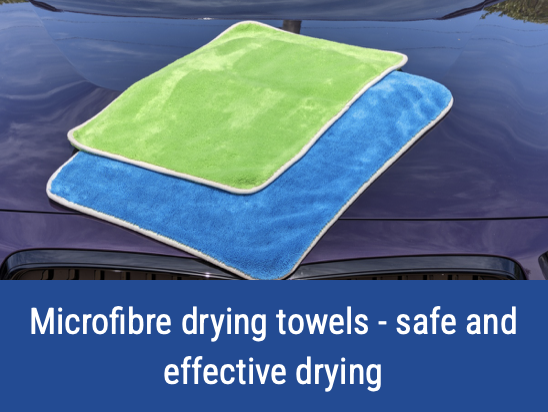 Happy drying,
Dan Bowden
---
Microfibre drying towels - safe and effective drying
Microfibre drying towels - safe and effective drying
---