Which car wash is best for you?
7 April 2017

Car washing is one of the most regular things you can easily do to really look after your car. When you use the right products, it can give a remarkably great finish as well as help protect your car over the long term. We've put a lot of research and development into making 4 different, high quality washes that have all been custom created with some great differences in their formulas, so read on to work out which one will best suit you.
All our washes have the following attributes built into them:
pH balanced so they won't strip your wax and sealants, as well as making them easy on your hands too.
All are biodegradable, phosphate free and earth friendly.
All have anti rust ingredients and important UV protection.
Uniquely, they don't have any silicone or salts in their formulas. Salt is a popular additive for most car washes as it cheaply increases sudsing, helps thicken the liquid to a gel like state and also acts as a water softener so it can create suds in bad quality water. We found some slightly more expensive additives so we never needed to use any salt, something we saw as a super important thing for any person who really cares for their car.
The Auto Body Gel, Wax Wash and Nanolicious Wash all have great sudsing and super high lubrication, which is there to help suspend dirt and grime you've cleaned off the paint from further swirling or scratching your paint while you hand wash.
Our four different wash formulas: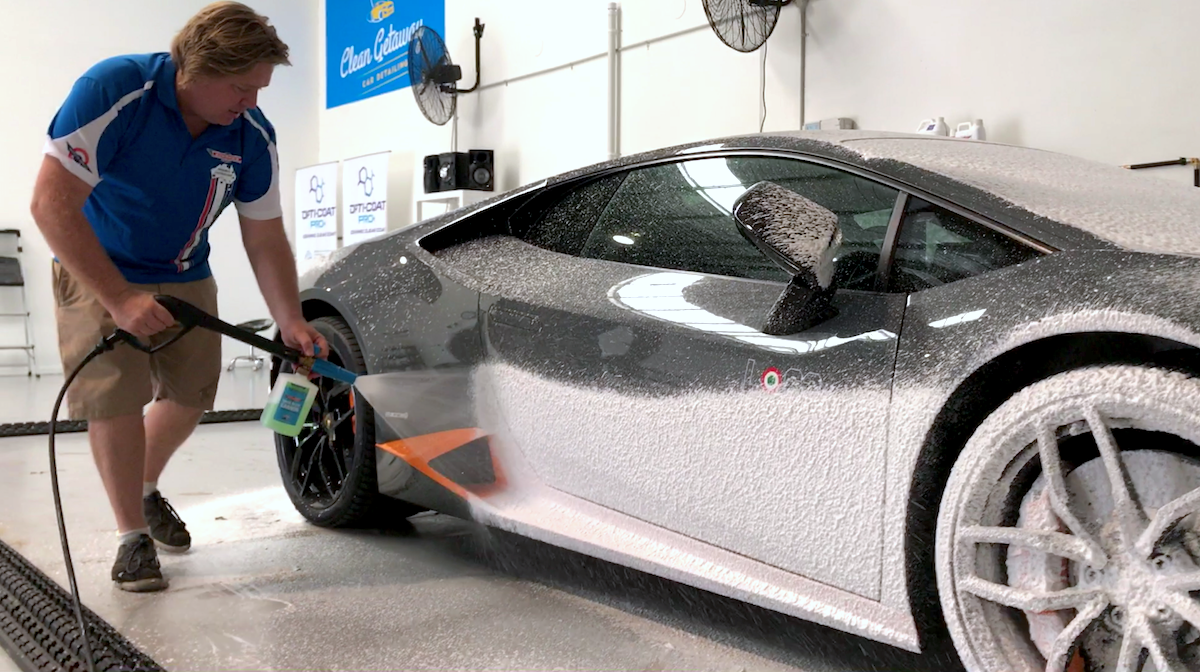 Snow Job

is a pre wash foam for car lovers who hate annoying swirl marks in their paint.
This unique snow foam pre-wash is formulated to be used with our Snow Blow Cannon and a pressure washer. It uses a purpose specific concentration of different detergents to make a lovely, thick foam to be sprayed all over your car. This type of foam will dwell for longer on the paint, so it can safely loosen any heavier grit and grime, making it easier to rinse off with the pressure washer. With this being a touchless wash system, it will dramatically reduce the chance of creating any swirls you'd get from more traditional hand washing.
Unlike other more agressive snow foams, we engineered Snow Job to be enthusiast friendly with a gentle pH balanced formula that allows it to be used for weekly/frequent washes. If your car has light dust or seaspray it can be a one step wash, but if it's been through rain or has dirt and grime that's been on there for a while, you'll need to follow it up with a second wash using one of our other washes below. It has safe, nanotechnology based ingredients to help maintain modern paint protection coatings, as well as helping make the foam last longer and remove the chance of it leaving detergent streaking when used as per its directions.
Snow Job contains no lubrication, so it's not recommended to be used as a bucket wash solution like our other washes. Likewise, the other washes in our line-up are not ideal to be used in the Snow Blow Cannon as they were not created to have that longer lasting level of delicious foam.
Snow Jobbing is fun and easy to do and will also let all your neighbours know you're a true die hard car fanatic every weekend when you wash your car!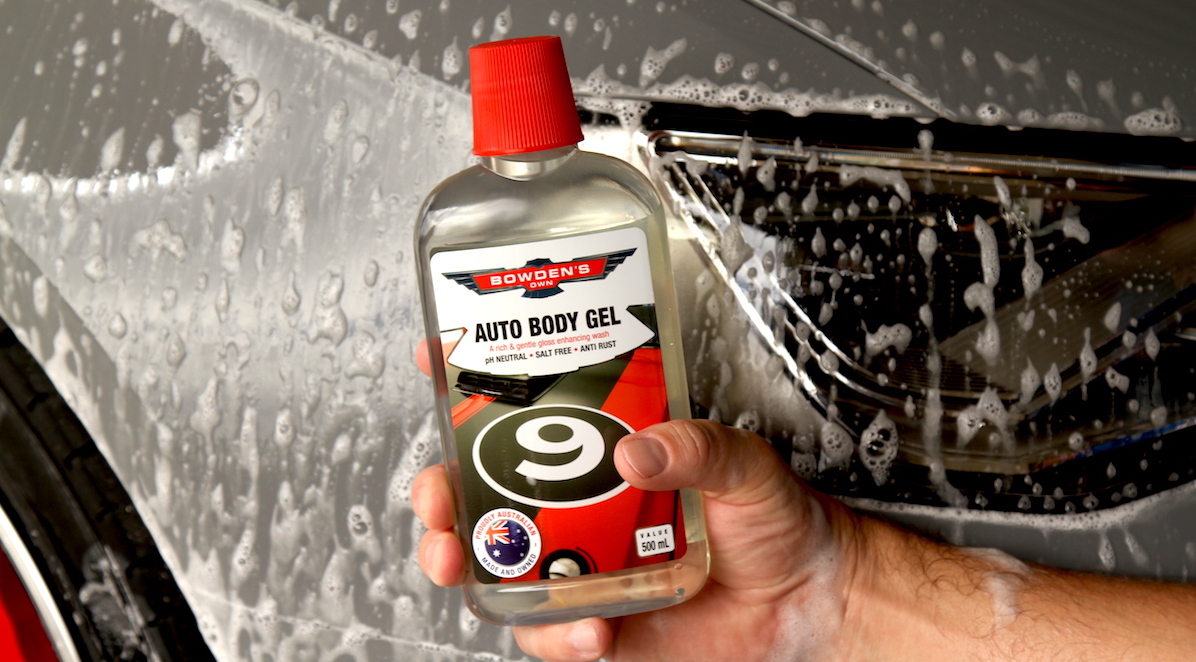 Auto Body Gel is our original, super gentle car wash shampoo.
We were led into making car care when we found out that all car washes had salt in them, so we created one that didn't! It's still our most gentle and pure wash, for those after a really delicate touch. It has become a favourite for many mobile pro detailers as it can be used on a hot day in the sun, and it doesn't leave streak marks if it dries. Sudsing is not as high as our other washes, but its lubrication is great. As it doesn't use any oil based gloss enhancers, it's ideal to use on any cars or bikes that have satin or matte finishes. Blended as a super concentrate, you'll only need one 30ml cap of it in 10 litres of water, making it extremely great value.
This is our most gentle wash, to pamper the most delicate finishes and leave a lovely, clean glow to your paint work. As it's such a great all rounder, it has many long term fans!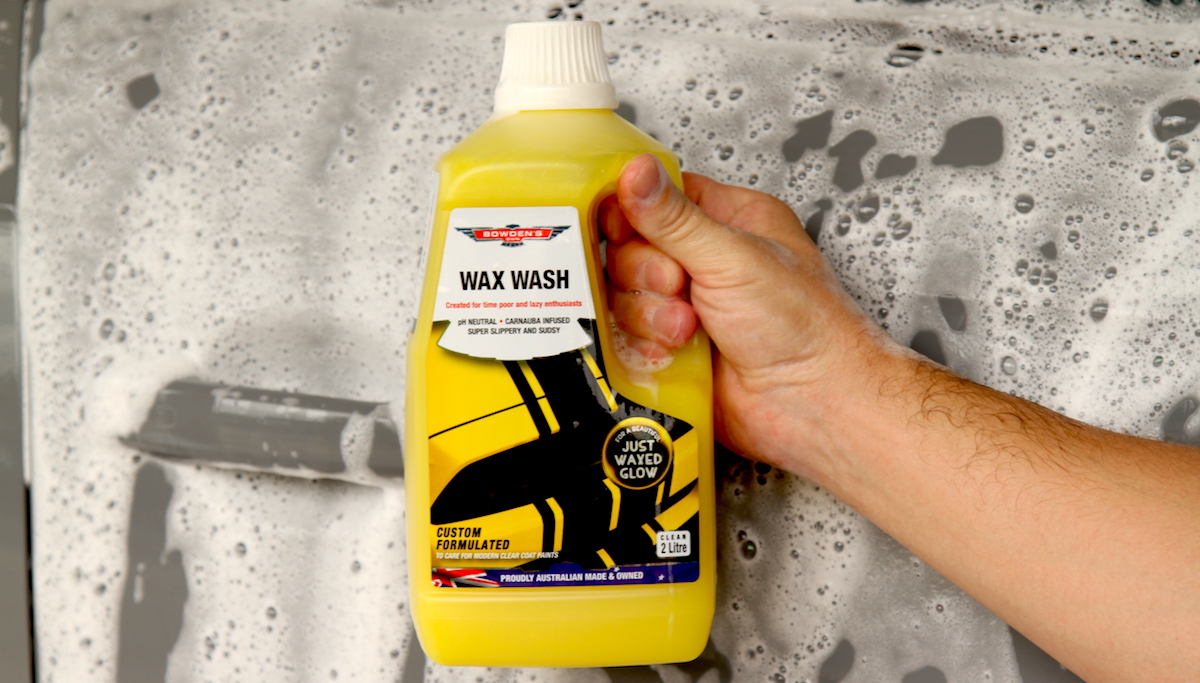 Wax Wash is for getting an easy carnauba wax shine with extra protection.
This is a product we never thought we'd make, as we found most wash and waxes were a very bad joke, offering no protection or extra shine; not to mention any wax in their formulas. We found a way to infuse real, T1 grade carnauba wax into a water based liquid while developing our Lazy Wax, which we also implemented into our Wax Wash.
It's a more naturally based wash that gives your paint a real boost in both shine and protection. With very high sudsing and super lubrication, it ensures that dirt is encapsulated and suspended in the suds to reduce any potential scratching of your paint while you're washing. We found another unique additive that when blended into this type of formula, will help keep any exterior black ABS plastic and rubber trims looking like new, especially over longer term use. We were also able to make it with our highest level of anti rust additives as well. It comes in a large 2 litre size and has been formulated so you need just one 50ml cap per 10 litres of water.
If you have a vibrant or metallic paint finish, you'll really love the boost in depth and extra glow this will give after each wash. And I know a lot of people will just love it for that banana milkshake smell!
We also make a fun limited edition Summer Wax Wash for the warmer festive period, which is the Wax Wash in a blue and more tropical Qld summer fragrence to it, as well as a slight bit of extra UV additves in there as well. You can find this one in a 500ml bottle at Autobarn, until the stock runs out.
Nanolicious Wash is our most advanced and highly developed wash.
This was made for the more hardcore car care fanatic. It came into being as my own personal dream wash formula, having our chemists find and blend the absolute best of every ingredient possible, making a wash unlike any other ever made. It's custom boutique blending at its very best, that took well over a year to perfect and from the amazing feedback we get from those who have used it, it was worth all the effort! It's got super tight and dense suds, epic lubrication, leaves a great protective shine and works great with our waxes and spray on sealants. It incorporates some safe nanotechnology ingredients that are designed to leave a hydrophilic finish to your paint work, so when you've finished washing, the water sheets away better and means less drying time for you.
Nanolicious Wash also helps to repair and maintain the hydrophobic qualities of all modern paint protection coatings. It takes a couple of washes to begin its magic, but it can rejuvenate the beading and protection on older coatings that you may have thought were long dead. Of all our washes, this is the most protective and has a slightly more advanced cleaning structure as well, making it ideal for daily driven cars. Like our Auto Body Gel, it's a super concentrate and you only need one 30ml cap of it to 10 litres of water.
It's one of the best boutique car wash shampoo's on the planet and something we are very proud of!
So which will be the best for me?
If after reading this you still can't decide, don't stress. Be happy to know that all of our washes have undergone an enormous amount of testing and refining, so you can be assured that whichever one you are using, you're getting a top notch product. Car care is a personal thing, so try any or all of them and get a better feel for what fits the best for you and your car.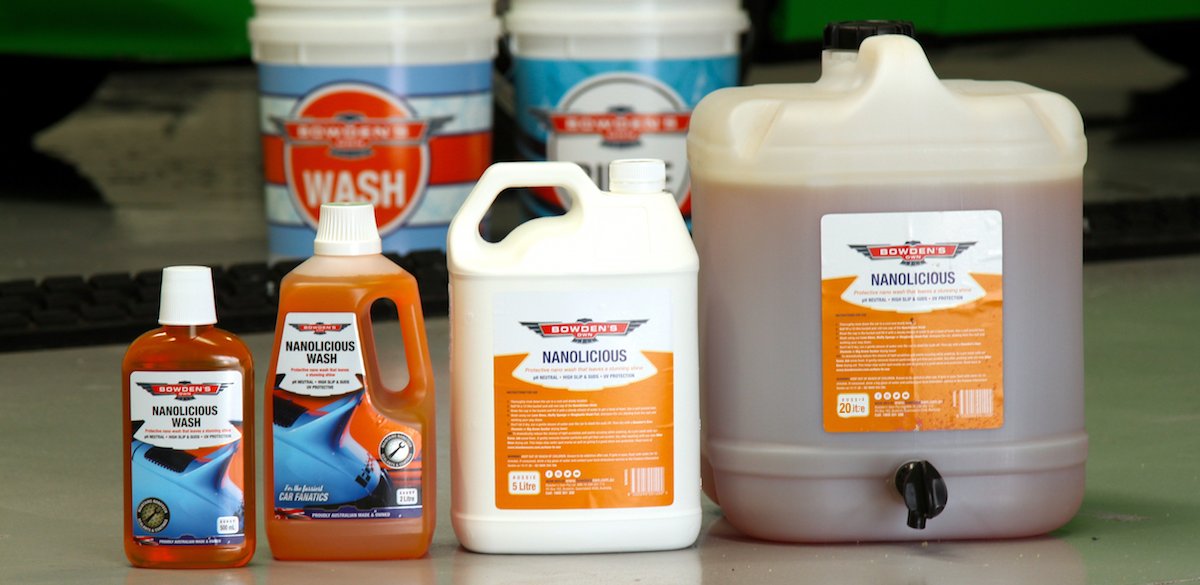 Other good news is once you know what's best for you, we have all these wash products available in bigger 5 litre or 20 litre drums as well! Pricing is on our website here, just add 5L or 20L to the end of any of the part numbers to get it specially ordered in for you from our supporting retail stores.
Be sure to combine any of our washes with our safe microfibre wash tools like the Shagtastic Wash Pad, Wash Pillow, or Shagamittastic Wash Mitt, the new 3 bucket wash system and The Big Green Sucker drying towel (with Boss Gloss as the drying aid) and you will have the absolute ultimate system for a better, easier and super safe wash of your beloved 4 wheeled friend.

If you have any questions, please email info@bowdensown.com.au or FREECALL our office on 1800 351 308.
Enjoy the better washing,
Dan Bowden
---
---