Cleaning naked Carbon Fibre safely
Cleaning naked carbon fibre safely
One of the more beautiful finishes that is being used on cars more and more often through the last decade, has been naked carbon. It's one of the strongest and lightest materials, and the way it's presented on many sporting transports, with both shiny and matte finishes showing it as a true highlight on any vehicle. It is however, quite different to look after in comparison to your paint and other areas on the car.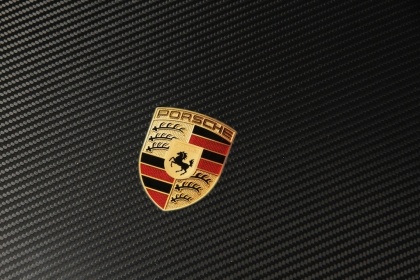 Naked and very nice
To keep your carbon fibre clean and looking great long term, it can be washed. Just be sure to use a pH neutral car wash, (our Auto Body Gel or Nanolicious Wash is bang on for this) and our safe microfibre wash tools. If you have a large area to clean our Wash Pillow is best suited thanks to its huge size. For more intricate areas (like around wing mirrors) we recommend our Love Glove or Shagamittastic Wash Mitt for easy cleaning. It can also be maintained and brought up with our Clean Detail or Fully Slick detailing sprays and given a slightly more intensive clean with our Paint Cleanse & Restore and topped with our Carnauba Body Wax if so desired.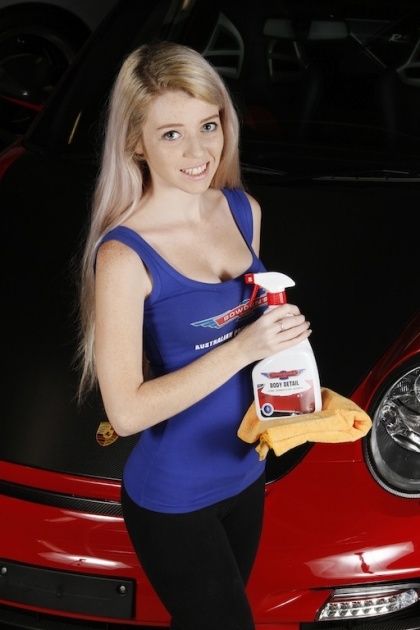 Came up magnificent with our Clean Detail and Auto Body Wax
The carbon gel/clear coat, depending on the finish, can be either quite reflective or matte and not as durable as your paint or other selaed surfaces on your car. So in both cases it's important to never use an abrasive polish on it, ever. As this will potentially swirl up and mark the areas with the abrasives used in them. For this same reason, only use the highest grade of microfibre cloths with edges/stitching that is not hard or damaging. The plush Big Softie or Drop Bear cloths we now have are exactly what you need.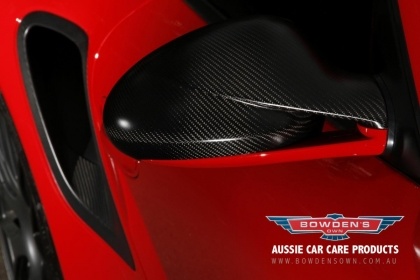 How to clean it
Spray, wipe & buff
Work in small sections at a time. Spray the Clean Detail or Fully Slick evenly over a quarter of the carbon bonnet (in our case here), working one area at a time. Let it sit for a few seconds, then wipe down with a folded Big Softie or Drop Bear cloth in fluid strokes, from the top to the bottom, being sure to remove most of the spray. Always inspect the cloth and turn to a new, clean portion each time. Then buff off the residue with a fresh, clean microfibre cloth to get that perfect finish. Everytime.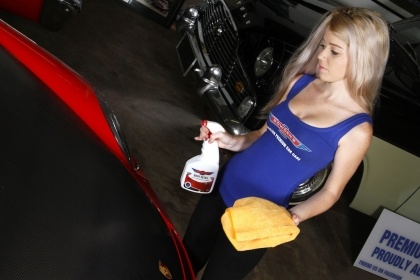 Protection for non matte surface
If the finish is gloss, or semi gloss, you can use our other products for a more intensive clean to bring back the beautiful depth and lustre to the carbon fibres encased in the gel coat. Our Paint Cleanse & Restore (non abrasive) and Carnauba Body Wax (again non abrasive) will work together for a great effect.
Apply as you would normally, the Paint Cleanse & Restore first with a Circle Work microfibre applicator pad. Work the Cleanser into the carbon fibres in a gentle circular motion, then let it dry for 1 minute. Buff off the residue with a clean microfibre cloth. Use the same procedure again with the Carnauba Body Wax, making sure to use a separate applicator and cloth to what you used with the Cleanser. There is no need to be aggressive with using these products, just be nice and gentle to get the best possible finish.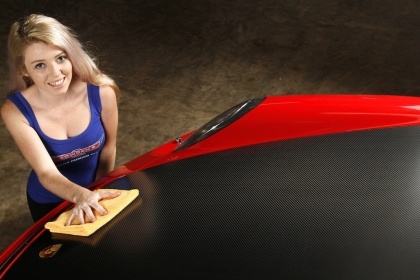 Matte Surfaces
If you have a matte surface, you can use our Clean Detail or Auto Body Gel to keep it clean. Do not use the Cleanser or Wax unless you are after a semi gloss finish. This finish created by the wax will of course not be permanent and for a few we know who use our products on the carbon, it is a pretty nice look.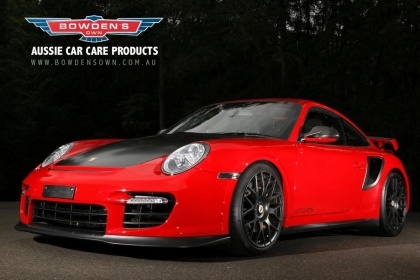 Any questions?
The look of naked carbon is a beautiful touch for many cars and it's good that we can offer these products so they can stay looking great for years to come.
You can get these great car care products at all of our great retailers nationwide. Find your closest one in the link at the bottom of this article.
If you have any questions or feedback about this article please contact us by email - info@bowdensown.com.au or call our office on 1800 351 308.
Love your car,
Dan Bowden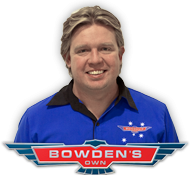 ---