The easiest way to clean Kamikaze bugs from your car
For anyone who has done any long drive around Australia, one of the biggest issues is the amount of bugs that go kamikaze over the front of your car, leaving one hell of a mess that can be a real pain to clean. Cleaning away the marks should be a good and easy job with a bit of help from the right products in our range.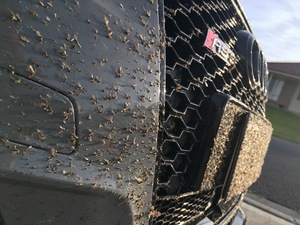 Easy cleaning with Bugger Off
We made an entirely new product in 2015, that was filled with the latest chemistry to be 100% targeted towards cleaning kamikaze bugs from your car. With the advent of so many modern cars having mostly plastic frontal areas and polycarbonate headlights, the old solvents everyone (including ourselves) were using, were no longer suitable, as they could sometimes etch into these more fragile surfaces. So we created this one that was fully compatible and safe for all cars, old and new. We call it Bugger Off.
It cleans bug splatter off fast, a must for every road trip.
Powerful citrus formula, with unique enzymes that quickly penetrate to break down & dissolve bug splatter.
Super effective, for easy use on your car, truck, caravan and bike.
pH neutral, won't remove good quality/durable waxes, sealants or paint protection.
Safe on all paints, plastics, rubber, fibreglass, headlights, fairings, number plates, grills, & bullbars.
Leaves a clean, non greasy finish, just rinse it off for a residue free finish.
Environmentally safe and biodegradable formula.
We also made a non scratching microfibre cloth to work with it as well, that we call the DeBugger. It has a unique diamond weave that dramatically increases the ease and speed of removing any bugs from your car when used with the Bugger Off.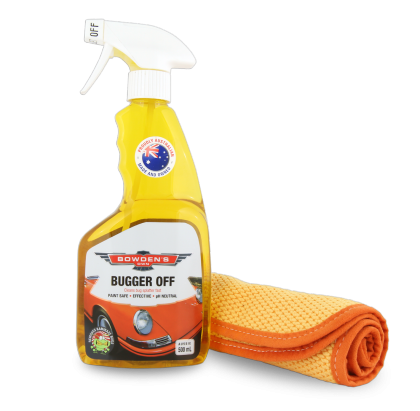 It's not a big bugger of a job
An important thing to remember is that bug strike marks need to be cleaned off as soon as possible. As the bugs slowly decompose, they have some nasty acids in them, which means if they are left on the paint surface too long, they can badly damage and etch into your paints' surface. It can become a very big bloody job to then remove those marks and is usually best done by a professional with a machine polishing system. So clean them off before it gets to this!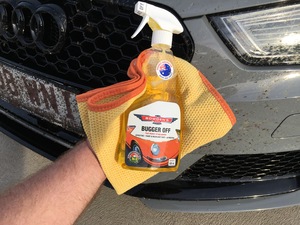 The products you need
Get the following products together: All your car washing gear, with Bugger Off and the Debugger Cloth.
Wet the bug affected area of the car down, to get some moisture back into the bugs, making them easier to remove.
It's important that you get the area clean of any dirt or grime that could scratch the paint. So quickly wash down the area with the Auto Body Gel or Nanolicous Wash. Then using either the Love Glove, or Shagamittastic Wash Mitt (both of which can get into areas around the grill a lot easier than our other safe microfibre wash tools) to clean it down. This alone will do a pretty good job at removing some of the bugs, but to finish it right, you need to clean the more stubborn marks with the Bugger Off.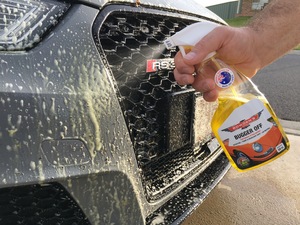 Fast cleaning
Rinse the freshly washed panel off with fresh water, then wet and wring out the DeBugger cloth with fresh water, fold in half and spray 5 to 6 sprays diectly into the cloth surface and use it to gently rub off the bug marks from the car. Keep turning the cloth to a clean side with each wipe, and rinse the bugs off with water once it gets full.
If its really a really bad level of bug splatter, liberally spray the Bugger Off over the still wet, affected area, doing a small section at a time. Focus on where the bugs are most concentrated. Let the product sit for about a minute, spraying a little extra if it ever looks like it's drying. Then as per above, wipe over with a damp DeBugger cloth.
Rinse the cloth out in fresh water and wipe over the area once again, before finally rinsing the panel clean with fresh water. Then chamois/microfibre towel dry the front of the car and you're done.
I know plenty of professional detailers who like to use a pressure washer for this job, using the strong stream of water to remove the Bugger Off and all the bugs with it. I must say it does this job well. However, the bugs that remain can get pushed back into the grill and other innards of the car, meaning there can be more cleaning later, in areas that are very difficult to access. So try and make sure the water pressure is directed away from those areas.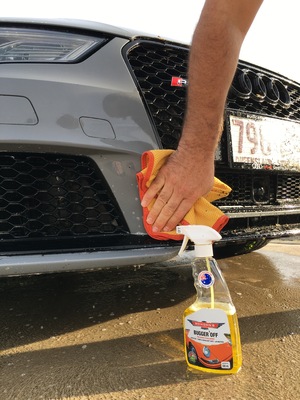 Leave it Slick
Now, the Bugger Off is pH neutral, so it will not totally remove your protective wax coat, however its still good practice to give a quick boost of protection with a wipe down using Wet Dreams, or our Fully Slick detailing spray. This will not only get the front end looking like new again, but will also make it harder for the bugs to bond to the car next time around. It's a good idea to use these protective sprays before your next big road trip to further aid fast bug removal.

It certianly worked a treat for us here.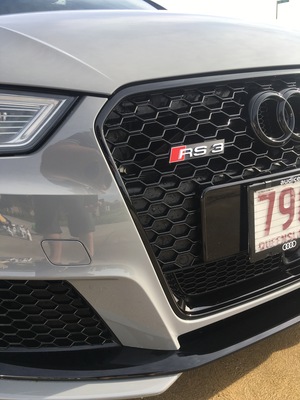 Any questions?
You can get these great car care products at all of our great retailers nationwide. Find your closest one in the link at the bottom of this article.
If you have any questions or feedback about this article please contact us by email - info@bowdensown.com.au or call our office on 1800 351 308.
Love your car,
Dan Bowden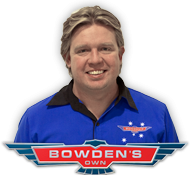 ---
Easy and effective tar removal from your car
Easy and effective tar removal from your car