Maintaining Ceramic Coatings with our car care products
With the rising popularity of ceramic paint protection coatings, one of the more popular questions we get is which Bowden's Own products are compatible and best to help maintain these coatings. We have a good range of products very suited for this task and we'll cover them all in this article.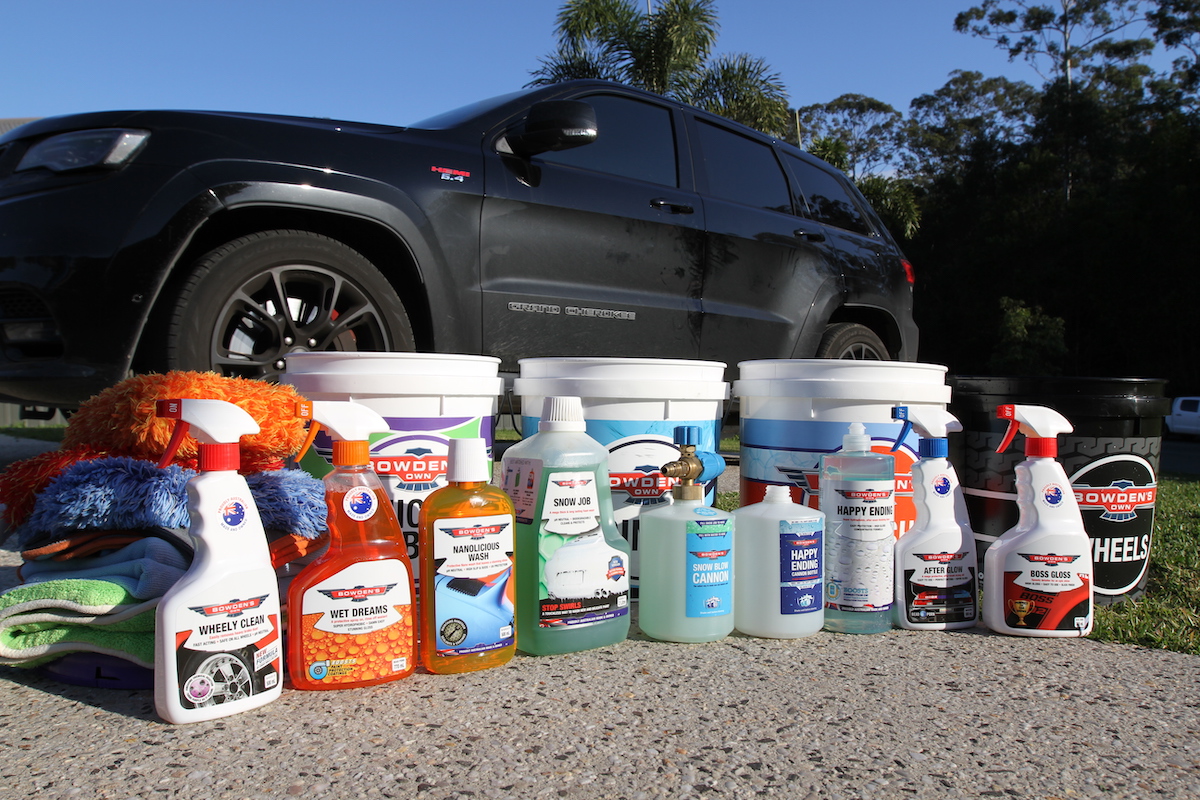 What is a ceramic coating?
These are a true wonder of science and there are now literally thousands of ceramic protection products/brands on the market, which pretty well all fit the guise of being a semi-permanent paint protective coating that is applied to your paint, wheels, lights, glass and other exterior surfaces. They are made using multiple highly engineered ingredients, all blended smartly to create a very thin, yet strong surface coating, adding an additional layer of protection that when looked after correctly, can last for many years. Don't look after it and they can fail just as easily.
Is a ceramic coating worth it?
The short answer is; yes.
A ceramic coating gives you a great, super hydrophobic surface that will make your every day driver easier to wash and maintain, and help it keep a nice shine. It's not a magic force field though, and will require regular maintenance to keep it looking and performing its best. It will also degrade over time and require top ups, or perhaps even re-application after a longer period of time.
Ceramic coatings are best applied by reputable professional detailers. The applying of the coating itself is quite simple, but the crucial preparation process before application is something very laborious and time consuming. It's something that many regular enthusiasts don't always have the time, knowledge, equipment and patience to do. So, getting an experienced detailer to do it for you makes a lot of sense.
What about 'ceramic' sprays?
There are a lot of consumer products now using the name "ceramic", (it's become a strong marketing buzz word) especially in water based SiO2 or TiO2 sprays. They might offer similar initial effects of a coating, but they don't have the long-term protection a true professionally applied ceramic coating will exhibit. From our talks and numerous dealings with scientists, chemists and manufacturers, a true coating is scientifically associated with a specific set of highly engineered (and expensive) ingredients that are currently only used in professional coating formulas. And this is what we will be talking about looking after and maintaining in this guide.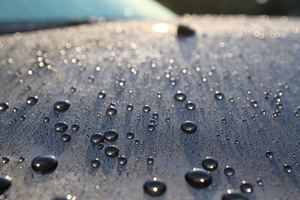 Start with wheel cleaning
Regular maintenance is always the most important thing when looking after your car. We recommend washing your car, coated or non-coated, once a week or fortnight.

Start the job by detailing your wheels, which if they have been professionally coated, will make our car care products work even better. Use Wheely Clean with its pH neutral formula per its directions, as it's safe for quality ceramic coatings. Always do one wheel at a time and leave the product on there for no more than one minute before pressure washing it off. If the wheels are really grimy and brake dust caked, it's a good idea to give them a quick brush with soft bristle brushes like our Flat Head and Little Chubby brushes, before rinsing them down.

A great next step is to use our Wet Dreams on the rims. Use it again as per the directions - literally spray it all around the still wet wheel and then pressure wash it off right after. This will put a nice sacrificial layer of compatible protection on the coating to help maintain it over the long term. Reapply every few weeks or as you feel it's needed.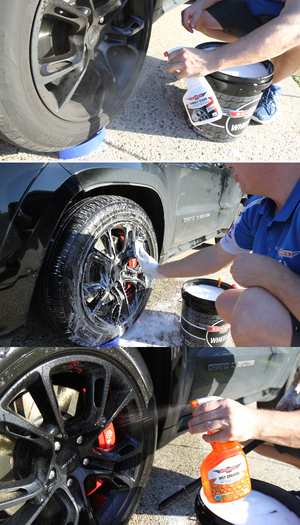 Pre wash - Snow Job snow foam
After the wheels are done, start your washing with a good Snow Job. The Snow Job formula contains specialist ingredients we added to work with ceramic coating systems and can even help rejuvenate them over time. The Snow Job pre-wash will help prevent swirls and micro scratches appearing in your coating, as it breaks down heavier grit and grime that might be present on your car and help remove as much as possible before your 2 or 3 bucket hand wash.

Having a well maintained coated car can sometimes allow for a single step wash system, as dirt and grime find it so much harder to stick to a coated surface. Always test after removing the snow by wiping a finger on the dirtier lower, rear section of the car, to make sure it is totally clean. If it is, you can go straight into drying it. If it's not 100% clean, play it safe and continue to the hand wash.
See our full article on using the Snow Job pre-wash snow foam with our Snow Blow Cannon below: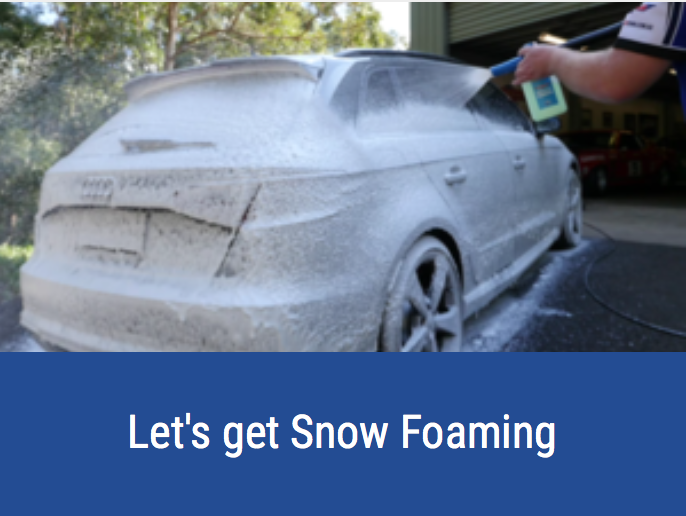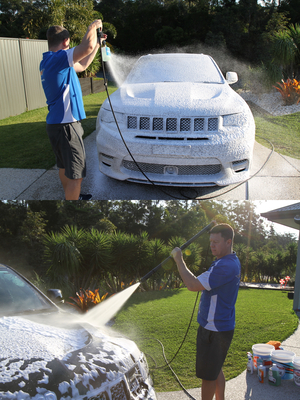 Hand Washing
This is an important step, because you don't want to inflict swirl marks into your freshly polished or ceramic coated paint job. For this step, we strongly recommend to use the 3 bucket wash method with Nanolicious Wash and one of our super plush wash tools like the Shagtastic Wash Pad, Shagamittastic Wash Mitt and The Wash Pillow. Use our bigger 15 litre buckets with the Great Barrier Thingy in the bottom of them to help further prevent swirl creating grime coming back into the wash tools. We recommend the Nanolicious Wash as the best for ceramic coated cars, as it contains ingredients that, like the Snow Job, help to maintain and rejuvenate ceramic coatings. When used on a regular basis, it will help your coating to continue to bead and sheet water consistently.
Our other washes; Auto Body Gel and Wax Wash, won't at all be detrimental in the longer term if you choose to use them, however, we still see Nanolicious Wash as the most suitable wash for ceramic coated cars.
Read more about our wash method below: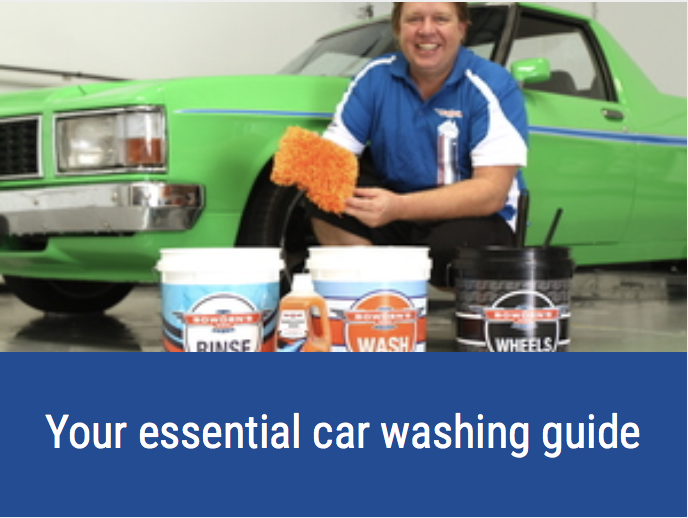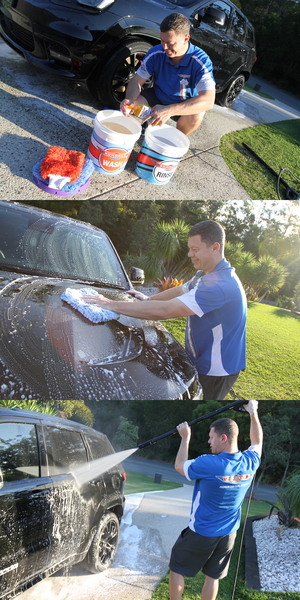 Boost the shine and protection
We have three super hydrophobic products that are amazing for coatings - Bead Machine sealant, Happy Ending finishing foam and Wet Dreams spray. You use these products after washing, to boost the coatings protection, slickness and shine. All coatings will take a bit of a hit in their performance over time due to the environmental conditions they deal with in Australia. The protection these products create actually mimics a ceramic coating, replenishing the hydrophobic nature to older coatings as well as keeping newer ones working at their highest possible level. Putting these sacrificial protectants on top of the coating every couple of months is one of the most beneficial things to keep your coating working its best over the long term.
Which one is best for me?
Choosing which one you need is pretty easy. If you like to apply something to the car after it's been washed and dried, then Bead Machine is for you.
If you use a pressure washer when detailing your car, then Happy Ending is what you need as it's applied with the Snow Blow Cannon, before being pressure washed off. If you don't use a pressure washer, then the Wet Dreams spray on and hose off system is the one for you. Read more in depth about these products by clicking the links below.
These can all be used in conjunction with each other, or you can just use the one that suits you best, or that you prefer using.
Using Bead Machine -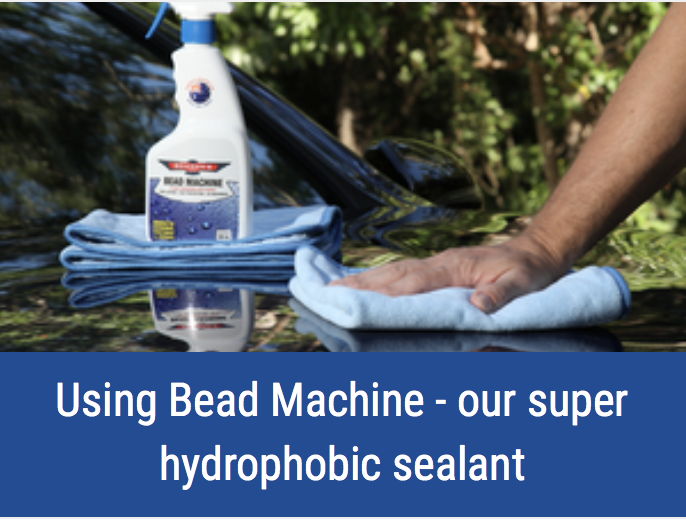 Using Happy Ending -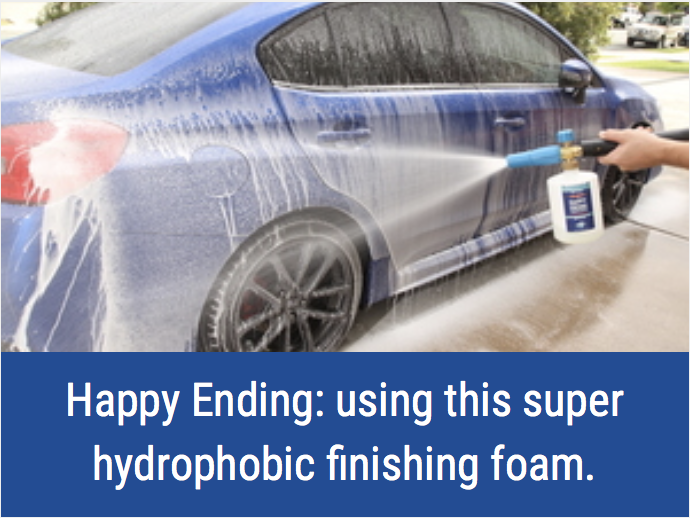 Using Wet Dreams -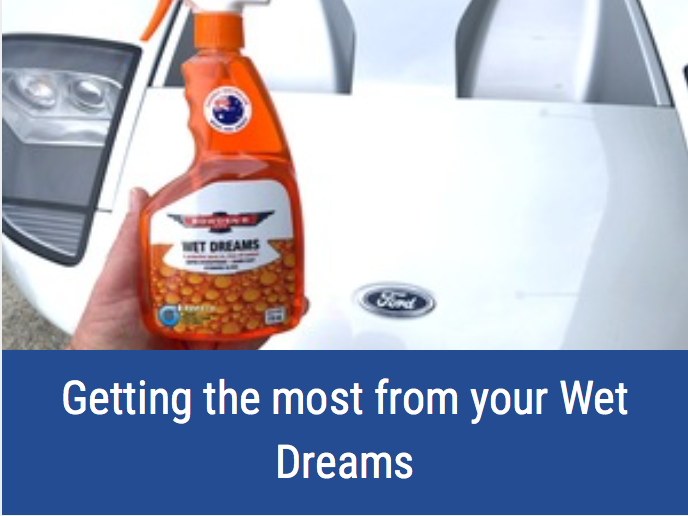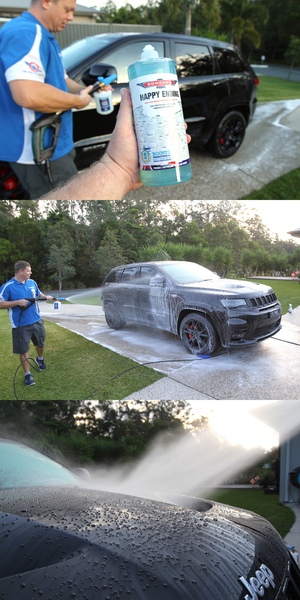 Safe Drying
You have 2 different options when it comes to drying - After Glow with the Big Softie cloths, or The Big Green Sucker with Boss Gloss.
After Glow is suitable to use as a drying aid for your ceramic coated car. Due to an anomaly in its formula, it won't negatively affect the hydrophobicity of a ceramic coating, or the super hydrophobic sealants Wet Dreams or Happy Ending.

You don't need to use both when drying a car either, choose the Big Green Sucker if you have time constraints and need to work fast around the car, or use After Glow if you don't mind that little extra time it takes to apply to get a flawless perfect finish, especially for darker coloured cars.
People also like using a small blower to dry their cars. This is fine, but DO NOT use the blower to dry the car the intial time IF you've used either the Happy Ending or Wet Dreams beforehand to top the protection up on your ceramic coating. Both of these products respond best to being wiped down after use to ensure a nice even surface is left.
After Glow -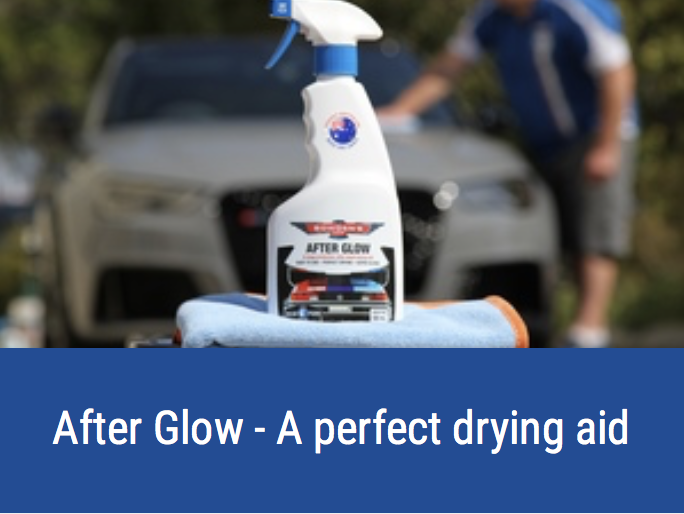 The Big Green Sucker with Boss Gloss -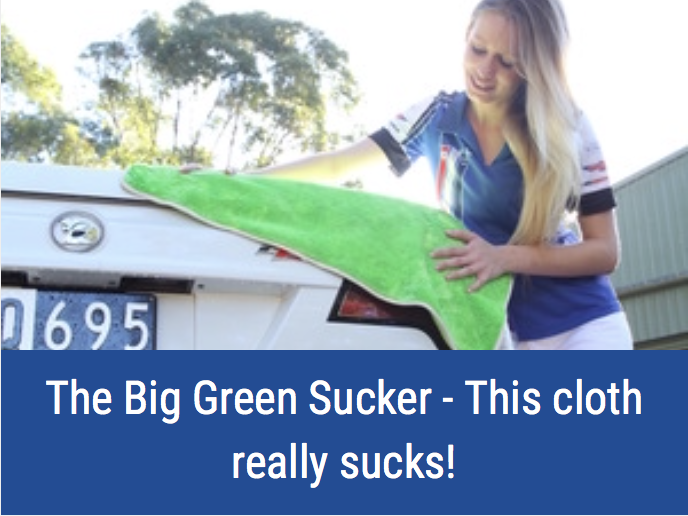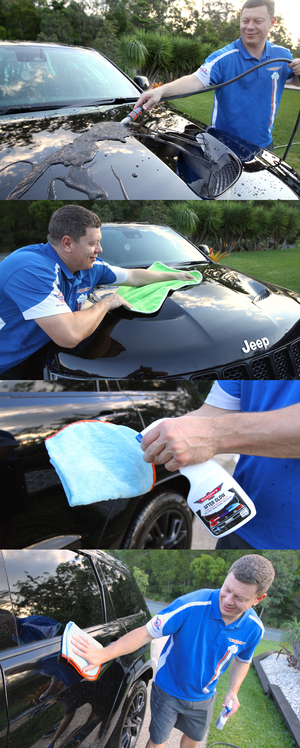 Extra information - any questions?
Here are some more often asked things to note with the compatibility of other products in our range.
If you get the Happy Ending on the windscreen, don't forget to clean the windscreen with Naked Glass to avoid your wipers smearing.
It's important to note that our Paint Cleanse & Restore IS NOT suitable for ceramic coatings.
Ta Ta Tar can also affect some coatings. Always ask the coating manufacturer or applicator if solvent type tar removal products are suitable before using this.
Three Way decontamination spray, Claying Rubber and the Clay Bars are suitable to use on a ceramic coating. In fact yearly use is a great idea as contamination build up over time is one of the main things that affects a coatings performance.
Bugger Off is pH neutral and fine for bug cleaning.
Orange Agent is fine if you need to use it on wheels or grime cleaning as well.
All of our sealants like Fully Slick are suitable to use on a ceramic coating, though there is no need to use a carnauba wax, so there is no real need for Carnauba Body Wax or Lazy Wax. This is because a wax can affect the hydrophobic nature of a ceramic coating.
Something that's often forgotten is the windscreen washer additive, we made Wipe Out washer additive so it would not affect or etch and damage paint and ceramic coated surfaces. It's well worth using for that single reason alone, not forgetting the fact it's a really effective cleaner.
Wheely Clean is safe to use on ceramic coated wheels - this is a good way to clean your wheels as a touch free solution.
I hope this article has helped you. If you have any more questions in regards to ceramic coatings, drop us an email - info@bowdensown.com.au or freecall 1800 351 308.
Happy detailing!
Brett Hobbs

---